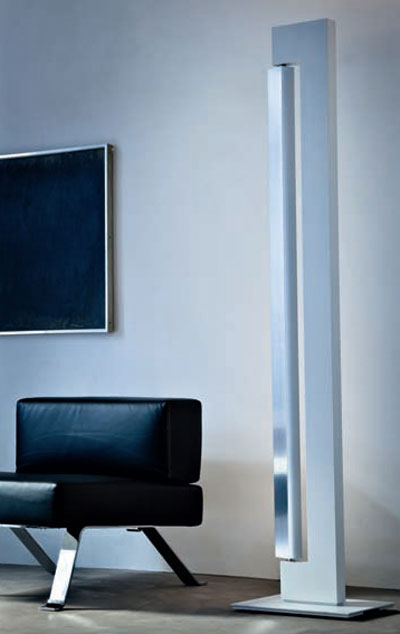 The
Nemo Cassina
brand is a benchmark name with designer lighting producers which inspired the golden age of Italian design. This Italian Lights manufacturer offers a contemporary collection with the edition of some 60's and 70's design icons, together with some classic
Italiana Luce masterpieces
. The lighting collection is one which tells a story, a story which is created for customers with dedication and care and a responsibility for products which are like dreams. Why not
dream about an amazing design
for
our floor lamps
,
our wall lamps
,
our ceiling lamps
, or
our desk lamps
? Our dreams can become reality and this contributes to a better quality of life. [inspired by
the DarkLightDesign intro
].
This particular model, the Nemo ARA MK3 Floor Lamp, is a Designer range floor standing light in pearl white finish. This is a dual light source floor lamp with fluorescent strip inside the adjustable aluminium diffuser and a halogen uplighter. The Nemo Ara MK3 floor lamp's fluorescent light distribution and adjustable vertical axis serve for excellent lighting and great ambience. Optionally, a halogen light source is also available for extra indirect illumination. This Nemo Ara Floor Light is an ideal fitting for providing general lighting in living rooms, meeting rooms, offices and hallways - the dimmer is incorporated.
Designer range floor light from Nemo Cassina;
Materials: the structure is in aluminium;
Finishes and colours: the Nemo Ara body is in pearl white;
Dimmer: the Ara Halogen light intensity comes with a foot dimmer;
Notes: Nemo Ara has a Double switch;
Manufacturer: Nemo Lighting, Italian lights;
Structure: white; diffuser: light grey;
Dimensions: 178cm tall, 36cm wide;
Designer: Ilaria Marelli, designer range floor light;
Lamps used: 1 x max. 300W R7 114mm linear halogen, and 1 x 80W G5 T16;
The 300W lamp is a dimmable halogen lamp for the Nemo Uplighter;
Dimmable floor light from Nemo Cassina;
This is the ARA MK3 Floor Lamp by Nemo Cassina;
Model: Nemo ARAKWL23, Nemo ARA MK3 Floor Lamp;
Type: Aluminium Dual Source Floor Lamp;
The Nemo Cassina ARA MK3 Floor Lamp -