The Raised Floor Box FLOORBOX with three compartments offers a simple and efficient method of installation.
It is a great solution for a large dining room or conference room, where you have a table or some tables in the middle of the room and you need power supply for the laptop, the monitor, the printer, the computer, etc.
Instead of having an extension cord running through the room (which can be either dangerous - if it is above the carpet - or unpleasant - if right under the carpet), you can install a 3 compartment floor box where you can put the wiring devices you need!
If you need data sockets, single sockets or twin sockets, or any other wiring devices, you can simply install them within the floor box.
Both the standard three and four compartment box features an optional two gang switch socket outlet with two earth terminals and two/three empty modules.
Virtually any combination of modules can be factory built prior to delivery for immediate installation.

FLOORBOX 3 compartments Floor Box - Features
The FLOORBOX Raised Floor Box Outlet comes in a standard depth of 83mm, other depths are available on request;

Each box is supplied complete with a

trim/lid

to accommodate carpet or tiles up to 6mm in thickness;
Lids are reversible allowing cable outlets in either direction;
Hinged lift up flaps allow the box lid to shut completely with no pressure on the cables;
Knockouts accept 20mm and 25mm flexible conduits;
Available pre-wired with Tap-off tested, further reducing installation time;
Steel load-plate withstands working loads to PSA MOB PF2 PS January 1990 specification for raised floors;
All Boxes are supplied with an internal earth terminal;
3 Compartment Floor Box - rectangular shape;
Frame and Lid Assembly;
Depth 83mm; Three compartment box;
Mounting Plates 185 x 95mm;
Plates are provided in a format to enable fitment of standard accessories;
Ideal for a large conference room, in commercial or industrial environment, in large dining rooms, etc;
Install the switched socket outlets, the data sockets, twin sockets, etc - inside the FLOORBOX;
Buy online the FLOORBOX - a three compartment metal box for wiring devices fitting.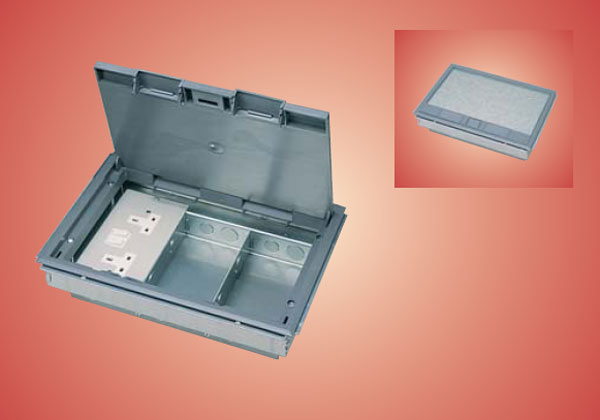 With a protective lid and a stylish look, the FLOORBOX three compartment floor box will definitely look great in your large dining room or the conference room!
Especially in the Manor Houses today or in conference venues, be safe and make it look good with the FLOORBOX 3 compartments floor box!
Virtually any combination of modules or wiring devices can be either factory built or simply installed into the three compartments available!