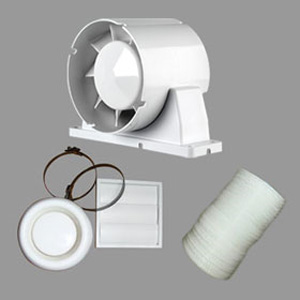 The Airflow Aura fans
are a competitive range of wall mounted fans ideal for toilets and small bathrooms.
The Airflow AUSHWTKT
in particular is
an Aura in-line shower fan
(Product Reference Airflow 9041419).
The Airflow AUSHWTKT
is a highly reliable and powerful low energy in-line axial fan in a modular design for ease of installation & maintenance. This
Aura In-line shower kit
with adjustable timer is designed to provide extraction levels that comply with the latest Building Regulations ADF. The fan is manually operated by basic switching (switch not supplied) with
adjustable timer overrun
and
fits in-line
with
flexible ducting
for a quiet and discreet installation. Supplied with installation kit -
the Aura bathroom in-line fan kit
.
The entire Aura range of Airflow fans are slim, compact, attractively styled, easy to wipe clean and ducted over short lengths.
The Aura In-Line Axial Bathroom Fan Kit Features
This model was designed for ventilation of small and medium size rooms;
You can use the Aura AUSHWTKT fan for both air supply and air extraction;
Powerful 100mm in-line axial fan for shower rooms;
Powerful ventilation up to 108m3/hr;
Quiet fan: Compact and quiet in operation;
Optional fastening bracket;
Power supply: 230 volt/1ph/50 Hz;
CE, IPX4 rating and double insulated;
Complies with the Building Regulations;
Ductable up to 3m: cable ties and 3m flexible ducting included;
Application: ideal fan kit for remote extraction from toilets, en-suites and bathrooms;
Adjustable timer included;
3 year manufacturer's warranty;
Manufacturer: Airflow, model: Aura AUSHWTKT, Airflow 9041419;
More technical specs and details(pdf file, Airflow 9041419 kit);
What does the Aura AUSHWTKT bathroom axial in-line fan kit include?
The Aura Extractor fan: in-line eco friendly extractor fan with timer;
Ducting: 3m flexible ducting;
Accessories: Chrome and White Halogen lamp & grilles;
Cables: Four duct cable ties;
Grille: White external grille.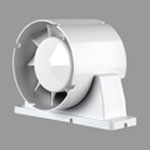 Please note:
the Airflow fans
exceed the requirements of the latest building regulations helping to combat the harmful effects of dampness and condensation and by
extracting airborne pollutants
such as odours, cooking smells, humid and stale air. The potential hazards to health for occupants and possible damage to the fabric of the building can be largely eliminated. This particular model,
the Aura in-line Axial Fan kit with timer AUSHWTKT
, is an ideal solution for remote extraction of the stale air / odours from toilets, en-suites, and bathrooms. Buy it online at SparksDirect -
Airflow Extractor Fans
.