Many of our customers have asked us about these two finishes, which
Heritage Brass
promised to bring in starting from January 2012, and now we have finally put them online! Most people love their wiring devices to have "concealed fixing", that is, not to have the screws visible - this is what Heritage Brass calls,
The Heritage Studio Range Concealed Fixing
.

Also, most people prefer
the Polished Chrome
or
the Satin Chrome
finish as the main finish for all the wiring devices in the house. Still, there are some people who love
the Bronze finish
or
the Antique Brass
finish - which give a more traditional style, old-looking aspect to the devices. Still, this range of accessories features slim elegant styling and concealed fixings.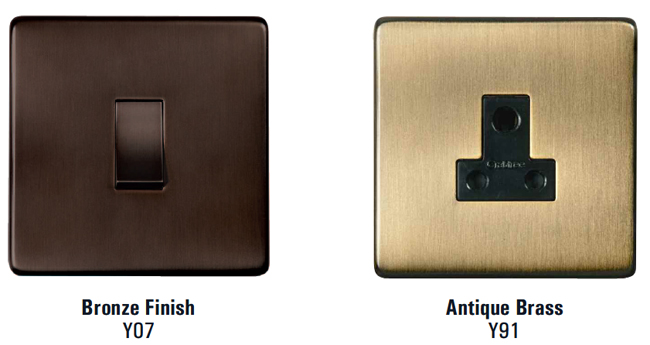 The concealed fixings and the grid system construction make
the Studio Range
an attractive, flexible and easy to install option for both new and retrofit projects. You can now order the YO1 range (Polished Brass), the Y02 range (Polished Chrome), the Y33 range (Satin Chrome), the Y07 range (bronze finish), and the Y91 range (Antique Brass) via the,
Screwless Flat Plate devices
.
Popular Screwless Switches and Sockets
Among all the wiring devices which come with no visible screws, there are some particular models which are more popular - in all the available finishes. When talking about the Studio range from Heritage Brass in Bronze or Antique Brass, these are: