As a proof of how the electrical industry is moving on with the time and current up-to-date needs, more and more wiring devices manufacturers are now making "USB chargers" or "USB sockets".
We all have one or two or even three devices such as Android phones, iPhones, iPads, Android tablets, or other smartphones, and these all need to be charged. I'm not sure who carries around the entire charger for the iPhone, the iPad, or the Nexus phone, but I know that many of us may have a USB cable with us - just in case!
It's easy nowadays to charge our smartphones directly by plugging it into the PC or laptop (even though it takes longer to charge), but it is so much easier when you can charge your smart phone right from the wall socket!
More and more switches and sockets manufacturers now provide a USB charger, that is, a USB socket with the regular 13A socket, and we were introducing some of the USB sockets from Heritage Brass here.
Today we would like to introduce some of the newer USB sockets that we have on our website from some of the most popular manufacturers.
USB Socket Charger by Forbes and Lomax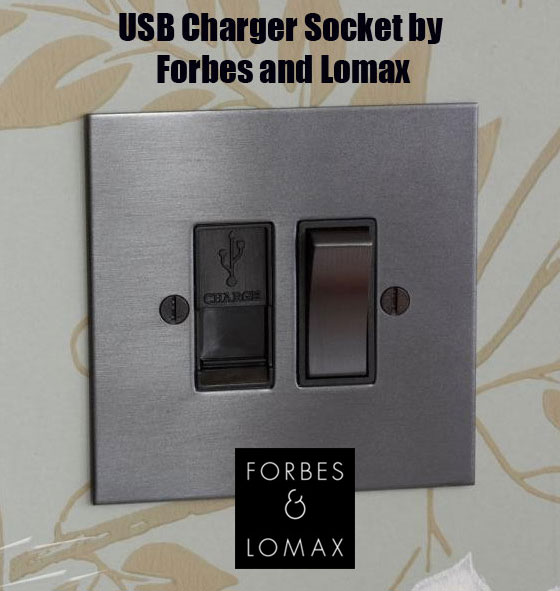 The USB charger sockets from Forbes and Lomax come in all their finishes like stainless steel, painted plate, unlacquered brass, antique bronze, and invisible plate.
They took this thing seriously, and they made some dedicated USB sockets - single or twin USB charger sockets (with or without a rocker switch) for wall mounting, offering 5V 1A charging capability for each socket.
They are ideal for home office, study, bedside table, or anywhere at home or office where mobile devices are used, and come in all the beautiful finishes Forbes & Lomax is popular for.
Schneider USB Sockets (USB socket charger)
GET Schneider recently came out with a range of flat plate and white plastic twin 13A switched sockets with 2 x USB sockets.
They combine the great looks of the Ultimate range with the flexibility of charging your smart phone via a wall socket, allowing you at the same time to use two switched UK plug sockets. The two USB sockets have a combined 2.1A 5V DC output, so if you plug-in only one device you get more "electric juice" but when you plug two, the total output is divided between the two.
This makes it a very convenient (and frankly, quite affordable) wall socket with two USB chargers.
BG Nexus Single / Twin USB Sockets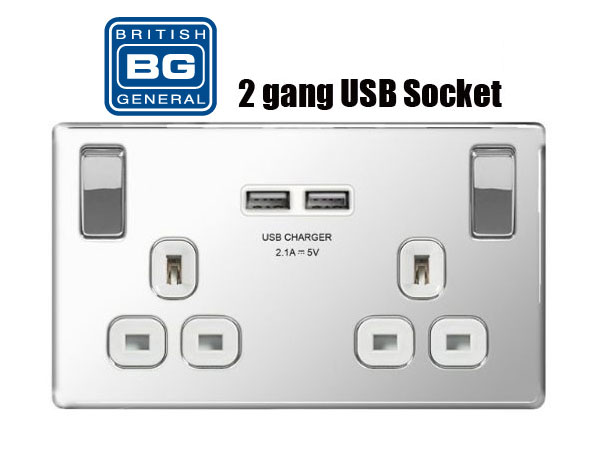 BG Nexus has some of the most affordable and quite good-looking USB charger sockets in both a single and a twin version, with the added benefit that the single 13A socket comes with 2 x USB charger sockets!
The twin USB charger sockets come with the rocker switches on the outside - a different design than the regular twin sockets, causing it to stand out and look quite stylish.
The single or twin USB sockets by Nexus come in either metal plate (flat plate or raised plate) or white plastic plate, complementing the wide range of UK wall sockets and switches by this company.
MK Electric USB Sockets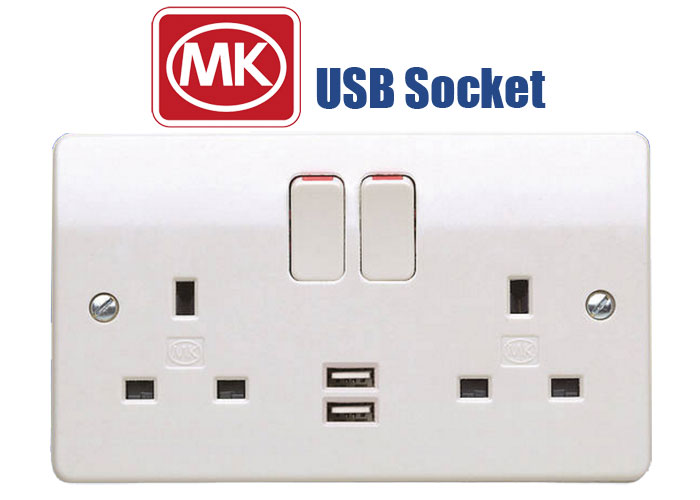 We don't bring every USB socket that MK Electric makes, but we have a few in our offer.
For those who love the high quality and standard set forth by MK and who want to match the MK Logic Plus switches and sockets they already have, it's worth taking a look at the MK twin 13A sockets with 2 x USB sockets.
The design of these sockets is also unique: the rocker switches are inboard as usual, but the USB sockets are one under the other right under the switches.
This is not a problem, since the USB cables are usually quite thin and long, and this design offers users easy access to power for charging their devices.