The black lamps are now in vogue and very fashionable - not just as light fittings shedding light when mounted on the wall, the ceiling, or on the floor, but even more, adding to the modern design / the architectural design / the old design of the venue / room.
The Vanila range of black lamps from Nordlux Lighting is a stylish range of interior black lamps which are perfect for a modern house or office! Below we are introducing these two lamps with their respective pictures - as they are being installed at home or in the office.
You can purchase the Nordlux Vanila Black Lamps at SparksDirect - the NX332 Vanila Black Table Light and the NX302 Vanila Black Wall Mounted Spotlight.
The NX332 Nordlux Vanila Black Table Lamp
The Nordlux Vanila NX332 Table Lamp
is a cool table lamp in a black finish and a stylish design - for venues ranging from modern designs to architectural or contemporary styles. Black table light for interior use - black conical shaped shade, stylish base, ready to be placed wherever you need it as a table lamp, table light, or desk light.
This Nordlux 72695003 Vanila Table Lamp - with a stylish design - takes 1 x 40W E14, is IP20 rated, has a cord 2m long, with a switch on lamp, and is of metal construction. Buy it online via Nordlux Vanila NX332 Black Table Lamp.
The NX302 Nordlux Vanila Black Wall Lamp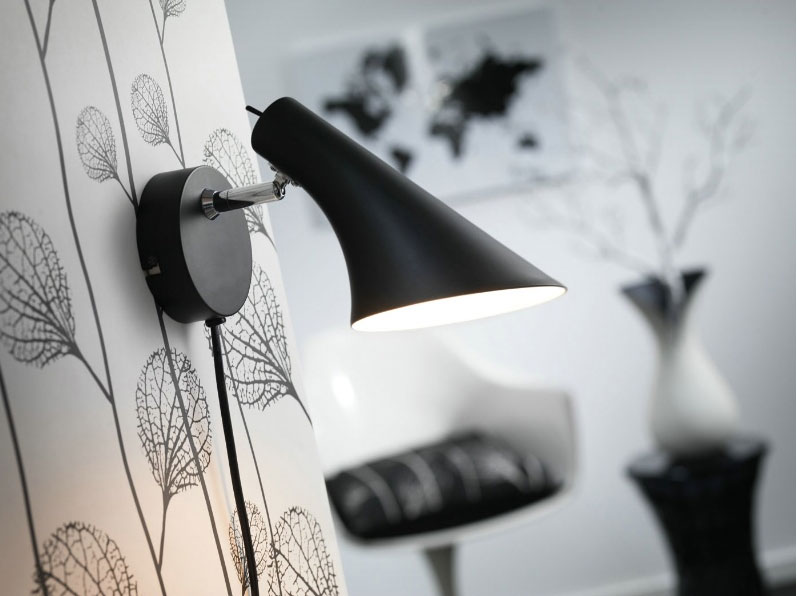 The Nordlux NX302 Black Wall Lamp
is a single spotlight for wall mounting, in a black finish and a conical shade, ideal for the modern home. Single Spot on a round base - everything in a modern black finish -
the Nordlux Vanila Black Wall Spotlight
has a switch mounted on the lamp and also has a cord(which can be removed).
This Nordlux Vanilla 72711003 black wall spotlight takes 1 x 40W E14, has a max. 26cm projection, is IP20 rated, comes with a black cord 2.1m long, and is of metal construction. Buy online the Nordlux Vanila NX302 Black Wall Lamp - single wall mounted spotlight in a stylish black finish.