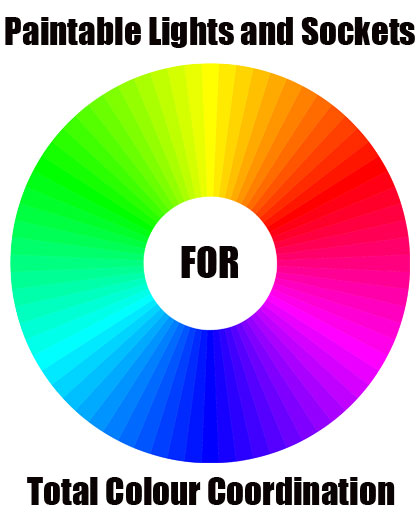 Why would people paint their light fittings?, one would ask, and the answer is quite simple, To match the colour of their wall or ceiling! Besides the standard wall lights, ceiling lights, and some LED lights - which come in a specific finish that cannot be changed or modified - there is such a range of light fittings called "paintable lights".
Paintable lights are usually made of plaster or ceramic (in the case of the wall lights and some of the downlights) or in a primed white colour, allowing you to paint them in the desired colour to match the design of the room.
The fitting itself is quite stylish, modern, and nice, but just in case you want to paint it, you can do that. It's the same with switches and sockets: both Heritage Brass and Forbes and Lomax provide a wide range of paintable switches and sockets, allowing you to match your sockets to the colour of your wall - total colour coordination! Let's see some of them in more detail.
Paintable Wall Lights - Ceramic and Plaster Lights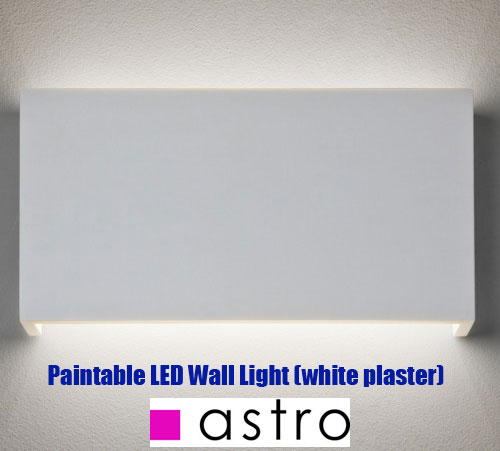 Astro Lighting has a wide range of plaster wall lights that are paintable; starting from the classy Amalfi stepped ceramic wall light to the more modern LED wall lights (see Bologna and Rio), these fittings give you the full control over their colour.
Do you want a discreet up-and-down wall fitting that matches the exact colour of your wall? Try the Astro 7172 Rio 325 plaster light coming complete with the LED lamp.
Do you prefer a discreet down-light with a brighter up-light? See the Ovaro 0554 ceramic paintable light, the lovely Parma 625 plaster wall light, or the Veneto range of plaster wall washers.
Take a look at them by searching "paintable wall lights" on our website.
Paintable Ceiling Lights - Surface or Recessed
When it comes to the ceiling lights, there are all kinds of chandeliers, pendants, downlights, etc which are either flush, recessed, or surface mounted. But if you want to paint your ceiling light to match the colour of your ceiling, you could try one of the adjustable square or round downlights from Aurora (see the square DLL884W or the round DLM774W paintable downlights).
If you prefer the surface mounted fittings and you don't mind their projection from the ceiling you have a great selection from Astro Lighting: see the Osca square or round plaster ceiling lights (coming in a fixed or adjustable version, as needed).
Most of these allow you to use an energy efficient GU10 LED light bulb. See them all online at paintable ceiling lights.
Paintable Switches and Sockets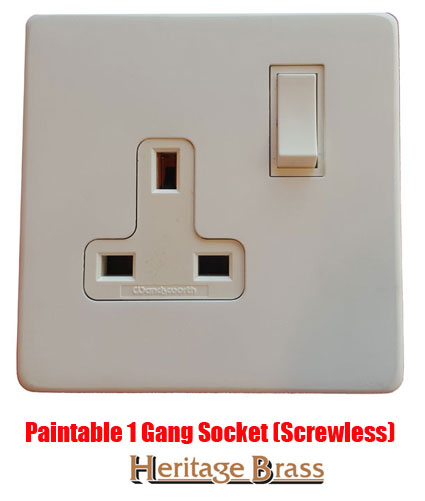 Switches and sockets usually come in a polished chrome, brass, stainless steel, white plastic, or even glass finish, but sometimes you may want to paint the plate of your socket or dimmer to match the colour of the wall.
Heritage Brass has a wide range of "Primed White" switches and sockets, a range of plates finished in a high quality white primer designed to enable total colour coordination of decor schemes.
Basically, the front of the plate is painted with a white primer, and it can be painted to meet the specific requirements of the user, the architect, or the interior designer.
Furthermore, the primed white switches and sockets from Heritage Brass come in a screwless version and in the version with Allen screws (with an Allen key supplied).
Forbes and Lomax also provide a range of "painted sockets", a range created to complement their Invisible Lightswitch.
These plates are supplied with etch-primed face plate ready to be painted in the same colour as the wall so as to make them as unobtrusive as possible.
So if you're looking for paintable switches, sockets, or light fittings, there's a wide range of such items at SparksDirect.co.uk. And if you need more help in choosing them, you can always email us or give us a call.