You may have heard of Part P of the Building Regulations; in this article, we want to delve into what it covers, how it affects us, and what needs to be done in case of electrical wiring alterations at home.
In 2005 the UK Government introduced electrical safety rules into the Building Regulations for England and Wales. According to these regulations, most fixed electrical installation work in homes must meet the Building Regulations (by law).
Continue reading this guide to find out more about:
In particular, Part P of the Building Regulations states that anyone who carries out electrical installation work in a home has to make sure that this work is designed and installed to protect people from electric shocks and fire.
For example, if you want to make any changes to an existing electrical installation, including any parts that have been rewired, all such works need to be done by a Part P-certified competent person.
Then, in 2013 further changes were introduced, reducing the range of electrical installation work that is notifiable; these new regulations removed some requirements in the kitchen and outdoors.
What is Part P of the Building Regulations?
Part P of the Building Regulations makes sure that, in the design and installation of electrical installations in the home, people are protected when operating, maintaining, and altering the installations from fire and injury.
In particular, in areas and zones in the bathroom, there has to be appropriate protection against mechanical and thermal damage, and the electrical installations and wiring need to be done in a safe way, so as not to present an electric shock or fire hazard to people.
Part P of the Building Regulations in particular addresses electrical work and rewiring done in the bathroom, any addition or alteration to an existing circuit in a special location, the installation of a new circuit, and the replacement of a consumer unit; all these need to be done by a competent electrical person.
What is non-notifiable is any other work such as additions or alterations to existing installations outside special locations, maintenance, replacement, and repair work.
At Sparks we distribute a wide range of Hager Consumer Units (with the required RCDs, MCBs, and RCBOs) and BG Consumer units; these need to be installed by a registered electrician.
What are the Special Locations covered by Part P?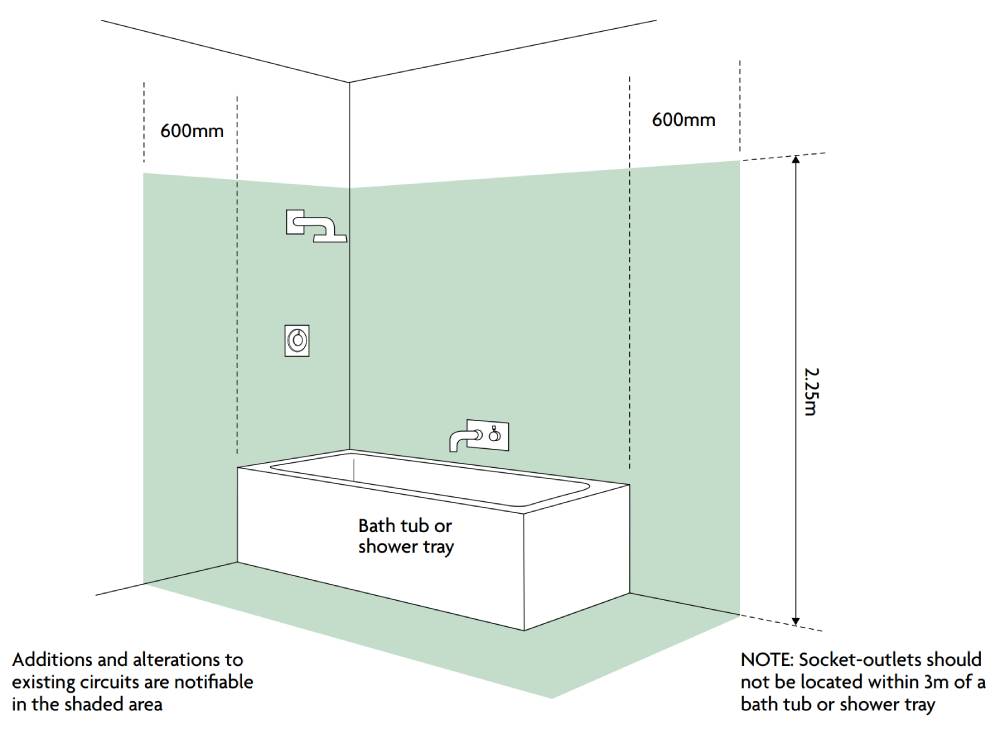 Here are the special locations covered by Part P of the Building Regulations
A room that contains a bath or a shower
The space surrounding a bath tap or showerhead where the space extends vertically from the finished floor level to a height of 2.25 metres or the position of the showerhead where it is attached to a wall or ceiling at a height higher than 2.25 metres from that level or horizontally where there is a bathtub or shower tray, from the edge of the bathtub or shower tray to a distance of 0.6 metres
Where there is no bathtub or shower tray from the centre point of the showerhead where it is attached to the wall or ceiling to a distance of 1.2 metres,
A room containing a swimming pool or sauna heater.
Furthermore, Part P of the Building Regulations applies to electrical installations in the following locations:
A dwelling-house or a flat and parts of the installation that are outside the dwelling (fixed lighting and air conditioning units attached to outside walls, fixed lighting and pond pumps in the garden, etc), in outbuildings (such as sheds, detached garages, domestic greenhouses, etc).
Common access areas of blocks of flats such as corridors and staircases
Shared amenities of blocks and flats such as laundries, kitchens, and gymnasiums
Business premises (other than agricultural buildings) connected to the same meter as the electrical installation in a dwelling (for example, shops and public houses below flats).
The Part P of the Building Regulations does not apply to electrical installations in locations such as:
Business premises in the same building as a dwelling but with separate metering
Locations that supply the power for lifts in blocks of flats (Part P applies to lift installations in single dwellings).
Note: We at Sparks do not offer advice on installing the bathroom ceiling lights, shower downlights, and shaver sockets; we only sell these, and you need to get a registered electrician to have them installed.
How to make sure Electrical Work Meets the Requirements of Part P?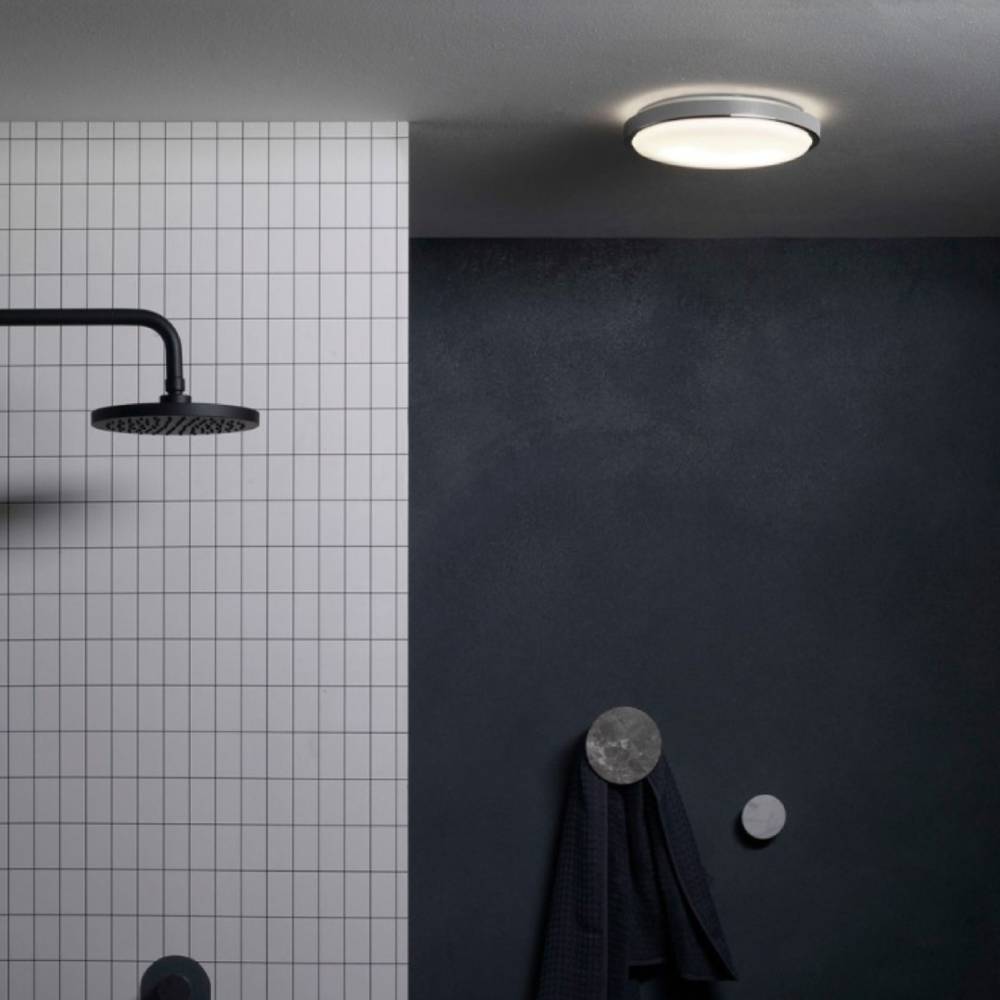 All the electrical installations in a home, garden, conservatory or outbuilding must meet the current Building Regulations.
However, any electrical work done in the special areas defined by Part P of the Building Regulations needs to be done by an electrical competent person, a Part P registered electrician.
The person responsible for making sure that electrical work meets the requirement of Part P of the Building Regulations is the electrician.
If any electrical work is done by a DIY or freelancer who is not registered, local authorities can make homeowners or landlords remove or alter any work that doesn't meet the Building Regulations.
How does Part P of the Building Regulations affect Me?
The Part P of the Building Regulations requires that a registered electrician is used to do safe electrical installation work at home, especially in the special areas defined by Part P.
Their work will meet the UK national standard, BS 7671 (requirements for electrical installations).
When they finish their work, the registered electrician will provide you with
An Electrical Installation Certificate or Minor Work Certificate that confirms that the work meets BS 7671; and
A Building Regulations Compliance Certificate that confirms that the work meets the Building Regulations.
What To Do when Electrical Installation Work needs to be Carried out in My Home?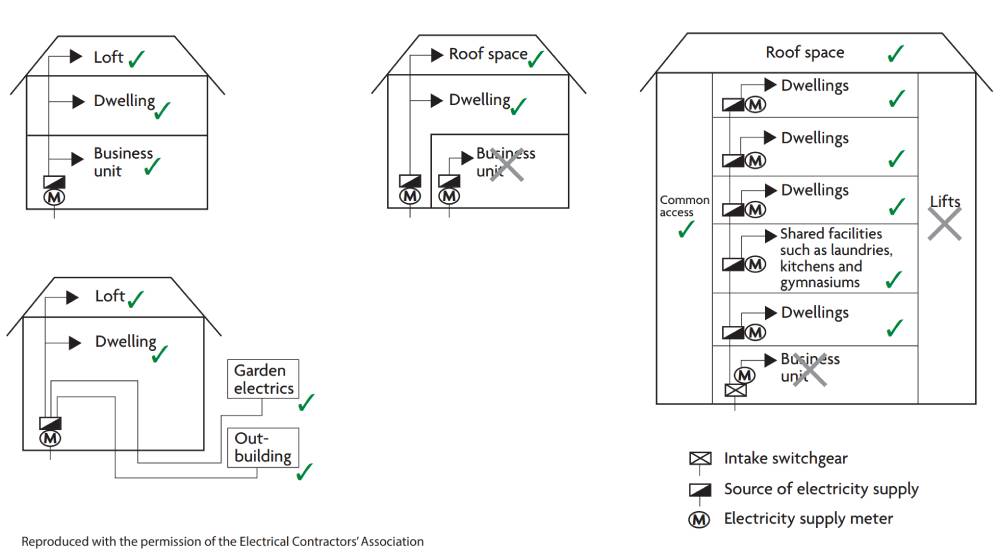 If electrical installation work needs to be carried out in your home, you need to make sure you know the current building regulations and act according to them.
This means that you need to either tell your local authority building control about the installation work before it starts or employ an electrician who is registered with one of the Government-approved Part P schemes.
You can find a registered electrician via this link. In the UK there are some defined competence self-certification schemes such as the Association of Plumbing and Heating Contractors (APHC), BESCA, Blue Flame Certification, NAPIT Registration Ltd and Certsure LLP trading as NICEIC and ELECSA, aimed at those who carry out installation work only as an adjunct to or in connection with the primary activity of their business.
There is only one body currently authorised to operate third-party certification which is NAPIT.
At Sparks we sell a wide range of Bathroom Lights and Bathroom Wiring Accessories such as shaver sockets, pull cord switches, etc; all these need to be installed by a government-approved part-p electrician.
Why use a Government-approved Part-P Electrician?
Some homeowners may think that they can undertake any electrical work in their house, no matter what it is; they like to tinker with things and DIY is their hobby.
However, when it comes to special locations in the home and around the home, it is best to be safe when doing any electrical work or installation.
Here are some of the advantages of using a registered electrician who is part-P approved to do the electrical installation work:
You won't have to pay any building-control charges.
The registered electrician can deal with everything for you.
The part-P electrician will arrange for you to receive a certificate that confirms the work meets Building Regulations.
You have access to a formal complaints procedure if the work doesn't meet Building Regulations.
You can choose to take out an insurance-backed guarantee when you have the work done, and you can make a claim if the work is later found not to meet Building Regulations.
Part P of the Building Regulations - Further information
This article was inspired by many of the following sources below, which we recommend for further reading: