The PIR - Passive Infrared Sensor - is an electronic sensor that measures infrared (IR) light radiating from objects in its field of view and then trigger a certain action in a device or light fitting.
They are most often used in PIR-based motion detectors, and they work in conjunction with lights, heating, ventilation, etc. Their main purpose is detecting the presence (or absence) of a human being (or a pet) in a certain area, and then switching ON or OFF the light, the fan, or the heat.
The PIRs are of different kinds depending on the lighting loads, location (indoor or outdoor, wall or ceiling), IP rating, usage, etc.
Some PIRs are integrated with the fitting: some light fittings come complete with a PIR sensor, and some fans have a PIR integrated for presence or motion detection.
On our website at www.sparksdirect.co.uk we have quite a large range of PIR sensors - the standalone units - to help you save energy and make sure you don't waste money just because you forgot to turn the light or the fan off.
Ceiling or Wall PIR Detectors from CP Electronics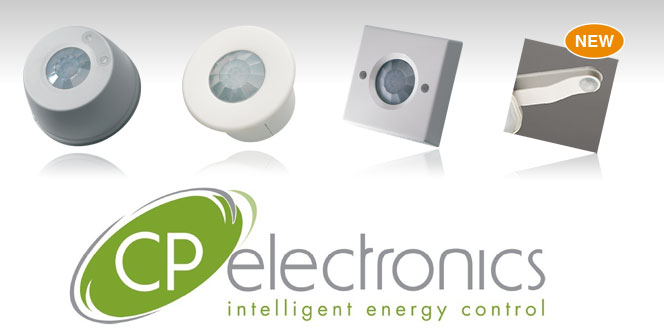 CP Electronics has quite a wide range of PIRs. One of them is the batten mount PIR, a miniature PIR that has been specifically engineered for mounting directly onto a batten style luminaire (see EBMPIR-MB), while another one is a retrofit PIR that allows previously uncontrolled lighting sources to benefit from presence detection and lux level (see EBMINT); these are both ceiling mounted PIRs.
For ceiling flush mounting CP Electronics has the GEFL PIR movement sensor that provides automatic control of lighting, heating, or ventilation loads, having a low profile and being almost un-noticeable on the ceiling.
If you prefer a wall-mounted PIR, the PDS-PRM no neutral wall mounted presence detector combines the PIR presence detection with a time delay function - it ideally replaces a wall switch so that, when the presence of a person is detected, the light turns on automatically.
PIR Occupancy Switches from Danlers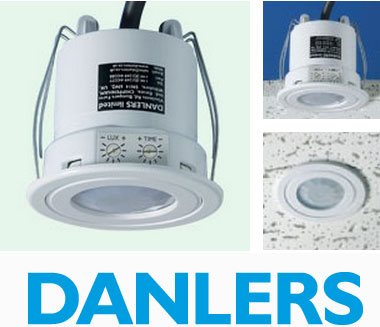 The Danlers range of passive PIR infra-red occupancy switches is designed for the automatic control of lighting, heating, ventilation or air conditioning loads. How it works: the PIR switch will switch on the connected load automatically when an area is occupied, and then switch it off automatically when the area has been vacant for a chosen duration.
This has the benefits of reduced energy bills and automatic control. When being used to control lighting, the built-in photocell can be used to keep the lights off on bright days. Among the most popular ceiling flush PIRs from Danlers are the CEFL PIR (ideal for false or plasterboard ceilings) and the CEFL Sealed version (ideal for bathrooms and damp areas, sealed bathroom version).
They also provide a wide range of batten mounted PIRs with the new "intelligent" photocell and a range of 5-10m detection; they are cost-effective solutions.
Furthermore, they have some ceiling directional PIRs (which can be rotated and lowered, ideal for corridors and aisles), wall PIR detectors, and even some PIR occupancy switch modules (ideal for building into luminaires and for wall/ceiling mounting).
Other PIRs: mini PIR, Outdoor PIRs, and Integrated PIRs
Besides these two main British Manufacturers of PIR detectors and sensors there are many others, such as the outdoor
BB2002
black outdoor wall-mounted PIR (up to 2000W, covers approx. 10m range, can be manually operated) and the
BB3027
(2000W black PIR for corner-mounting outdoor, 270 degrees, 10m coverage).
For indoor lighting control and with a £1 size is the BEG Luxomat PD9 - circular detection area, ceiling mounted or directly built-in lamps, or the ceiling mounted PD3FC circular mini occupancy detector which can be remotely controlled.
For small spaces such as wardrobe lighting you can always use the LEDPC in-line photocell for LED striplights or the PIRSENSO mini PIR motion sensor for switching ON/OFF the lights up to 250W (10 sec - 3 mins PIR cupboard switch).
The choice is yours: where and for what do you need a presence detector? Is it for indoor or outdoor? Is it for LED lamps, fluorescent fittings, or regular halogen or incandescent lamps? Take a look at the PIR solutions we at Sparks can offer you, and let us know if you need more information!