Patio heaters. We all have seen them and enjoyed the warmth they give out. Recently I was walking by a small restaurant in Central London when a "heat of wave" hit me. It was so pleasant to have warm air come my way, since it can be quite chilly these days. As autumn comes in and we're getting closer to the end of the year, the weather becomes colder and colder. It's time for both businesses, restaurants, cafes, night clubs, and also the home owners to consider some kind of outdoor patio heating.
At Sparks we have a great range of heating solutions, and when it comes to patio heaters we rely on BN Thermic with their HWP2 patio heaters (in white or black) to give us the warm comfort we need when we sit or do things outside on the patio.
Patio Heating from BN Thermic for both Domestic and Commercial Applications
The HWP2 range of patio heaters from BN Thermic are a stylish means of providing comfort heat in both indoor and outdoor locations.
You can have a professional quality patio heater at home or in a commercial application including pub gardens, pavement cafes, golf driving ranges, and restaurants.
And what's best about this is that they are completely safe to install and to leave outdoor all year round! Here are some top reasons to use a patio heater:
Provide safe, instant comfort heat in outdoor locations.
Ensure the maximum use of outdoor facilities even during a cold weather.
Minimal maintenance: especially when compared to gas systems!
Low running costs by selecting from a range of control options.
Smart modern design to complement the external decor.
Typical Applications of a Patio Heater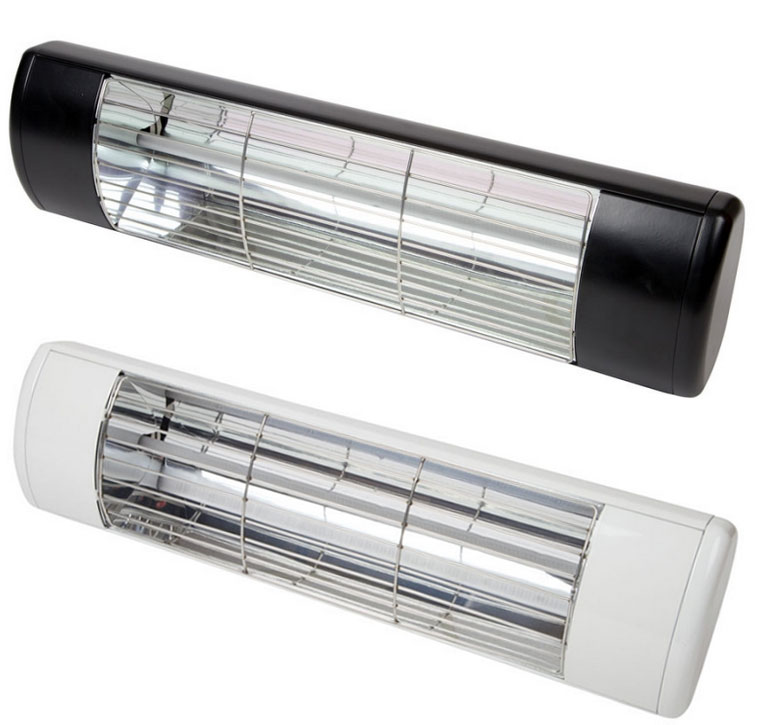 Here are some of the most typical applications of a patio heater - both in pictures and in words.
Patios – both commercial and domestic; whether at home, at the restaurant, at the shops, or at the cafe, we need to stay warm!
Pub gardens - why let your customers freeze while eating their lovely dinner at the pub when you can provide a warm environment for them to enjoy their meal?
Pavement cafes - the hot tea or coffee is not enough to make your customers warm; try a patio heater!
Golf driving ranges - you know where the golf players stand when they practice - why not make sure they are warm when they use the golf driving range?
Nightclub queuing areas - having customers complain when queuing up to get into the nightclub or club is awful!
Smoking areas - Maybe not all the smoking areas need heating (we need less smoking!) but at least the most popular areas need to be heated up!
Tube stations - see the picture above: why not heat up the tube stations or platforms with a patio heater?
How does a Patio Heater work?
According to BN Thermic, the
manufacturer
of the popular
HWP2 patio heaters
, here's how these heaters work:
HWP patio heaters use quartz heat lamps to produce shortwave energy. This energy is directed at the required target area by a precision designed parabolic reflector. Shortwave energy moves in straight lines from the reflector to the target area without heating the air in between. However once the energy is absorbed by solid bodies, which could be objects or people, it is experienced as heat. Shortwave energy cannot be blown off course by breezes and draughts making it ideally suited to outdoor use. As HWP patio heaters are 100% effective the instant they are switched on, there is no need to pre-warm an area. For this reason it is a good idea to use control devices that ensure that an occupied area is not heated. Typically these would be time delay switches or movement sensors. See the 'controls' tab for full details of the BN Thermic range of patio heater controls.
Patio Heaters - Features and Benefits
Ideal for outdoors: the IP55 rating allows the heater to be installed and left outdoors throughout the year.
Solid and safe: the construction is of aluminium with stainless steel safety grille.
Long life lamp: High quality halogen lamp with 7000 hours average operating life.
Replacing the lamp: the halogen lamp is easily replaceable.
Finishes: choice of black, white or silver finish.
Wall or Parasol mounting: Wall mounting bracket and parasol clamp supplied as standard.
Heat Efficient: the open fronted design provides a 25% increase in heating efficiency when compared with glass-fronted heaters.
Suspension: the convenient rear mounted lugs facilitate suspension.
Easy to control: you can simply use the patio heaters with an existing switch, or you can purchase a push button timer (2mins to 2h setting), a movement sensor (yes, they work with a PIR), or even a dimmer (0-100% heater output - how great is that!).
You can safely and securely (and warmly) purchase
the HWP2 range
of Patio Heaters at Sparks - see the
Heating Solutions
section.