What is the perfect ceiling fan for both winter and summer? And what kind of ceiling fan can make one happy, not being boring or bland?
We would like to introduce you to the Turbo Swirl II Ceiling Fan from Westinghouse, a fan designed to make both children and adults happy, both by its design and its function.
In the UK we do not have a lot of hot days but when it gets hot, sometimes it is really hot.
Only a few weeks ago we had seriously hot weather for a few days, and we all can testify that we're not prepared for such hot weather.
Not many houses, for example, have air conditioning, and not many homes or offices have ceiling fans. Some do, but most of them don't, so they have to open the window (or close it because it is too hot) and use a desk fan or a standing fan.
But what if you have a ceiling fan that ventilates the air and can be used both in the summer and in the winter?
The Perfect Ceiling Fan for Winter or Summer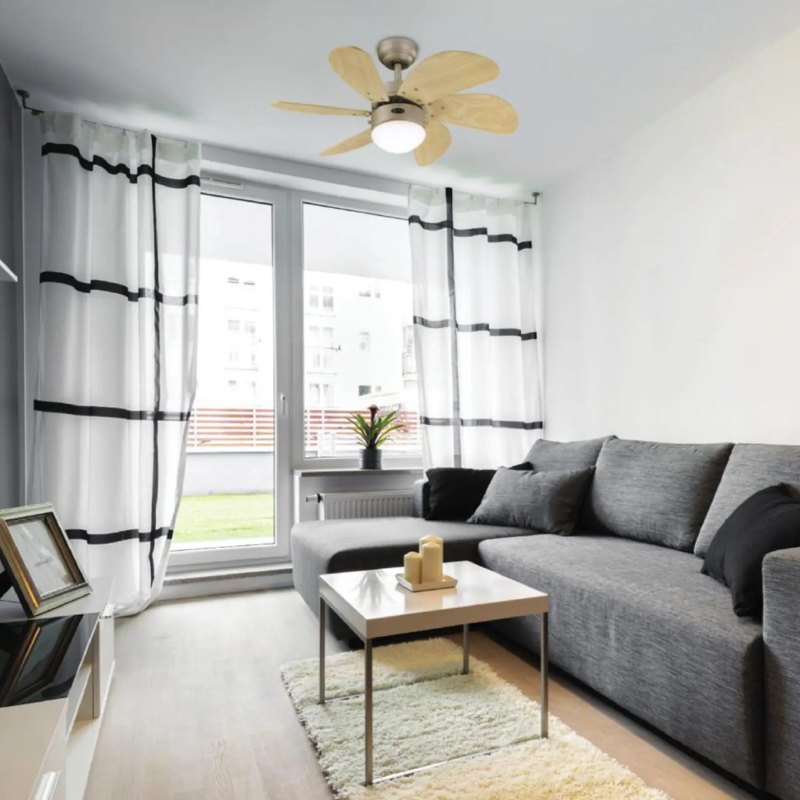 Once you install a ceiling fan - not an extractor fan for the bathroom but a ceiling ventilation fan that can be used during summer - you may be able to use it mainly during summer days.
But what if there is a ceiling fan that can be used both during winter and summer? Such a fan would be a perfect ceiling fan, isn't it?
Well, there is such a fan, and it is the Westinghouse Turbo II six-blade ceiling fan. Let us give you the rundown of this perfect ceiling fan that can be used both for winter and summer.
What Are The Main Features of the Turbo II six-blade ceiling fan?
Here are some of the main features of the Turbo II six-blade ceiling fan:
It has a high-quality and virtually silent AC motor to ensure comfort throughout the year.

It offers a comfortable cool climate in the summer and an optimum heat distribution during winter. During the summer, the air is cooled down to a pleasant level. During winter days, the fan evenly distributes the air that has been heated so that the heat is not just at the top of the room but it is distributed evenly.
It can be controlled via a remote control or a wall switch, according to preference.
It is great for rooms up to 12 square metres, so it fits perfectly in the bedroom or in the children's room.
It has three-speed levels, and there's a summer and winter switch.
It is ideal for rooms with height of 3.5m or more, since it has a certain projection from the ceiling.
It has a small diameter - only 76mm - but it provides high performance for rooms with a size of up to 12 m2.
It has a low-lying motor housing with a white glass lampshade for additional light. The lamp needs to be ordered separately and it works independent from the fan.
It comes with an extended warranty from the manufacturer - 10 year motor warranty and 2-year warranty on all the other parts.
The Benefits Of Versatile Colour Options for Westinghouse Turbo II ceiling fan
Happiness is a very subjective matter, but it can be helped by certain things that look nice, are colourful, and provide a lovely feeling.
One of the secret weapons of this Westinghouse Turbo II fan is that it comes with two sets of blades.
One set is colorful or white, which makes it ideal for a child's room, children's bedroom, children's play area in the house, etc. The other set is pine and pastel, for it is reversible; you can choose the pastel colours or the pine finish.
Depending on what makes you happy and what matches the design of the room, you can use the colorful, white, pastel, or pine blades.
The reversible blades can be installed to offer a cheerful design, which makes the ceiling fan an eye-catching feature on the ceiling.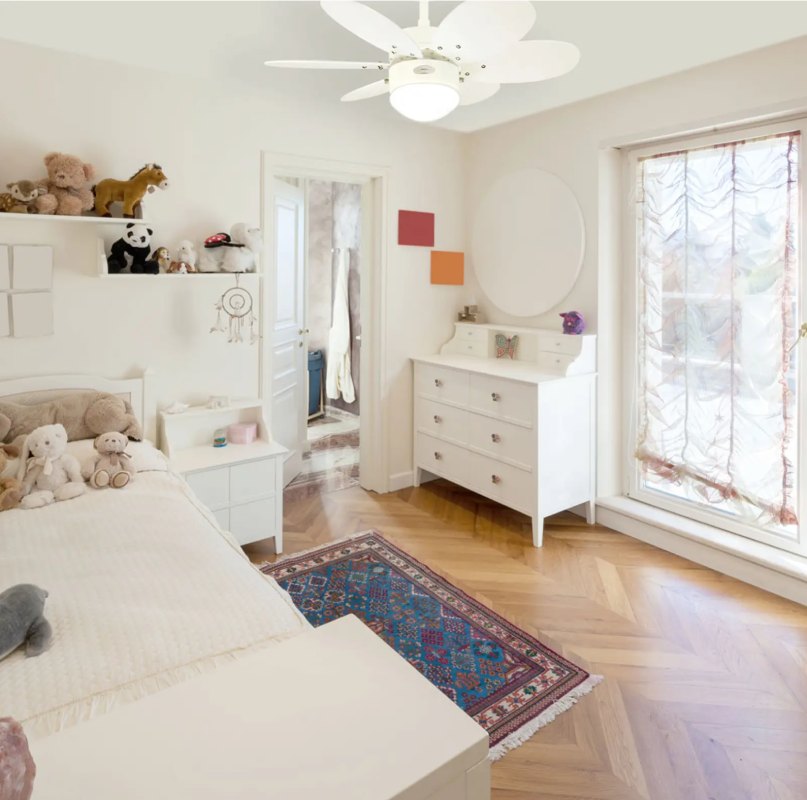 If your child's room is all in immaculate white, you can use the white set of blades for this perfect ceiling fan.
But if the design of your children's room is full of colors, the colourful blades will blend in perfectly.
And if you want it to be more classy to match the pine furniture and design in your room, why not use the pine blades.
Guaranteed, this Westinghouse Turbo II ceiling fan has been designed by the manufacturer and approved by many who use it to make both children and adults, both young and old, happy with its white housing, simple light, and six blades in a harmonious mix of colors.
Buying the Perfect Ceiling Fan for Summer and Winter
If this kind of ceiling fan with reversible blades to match the mood and the season is appealing to you, it can be purchased via Sparks.
And since it is so popular and in such high demand, it's best to hurry up and order yours today.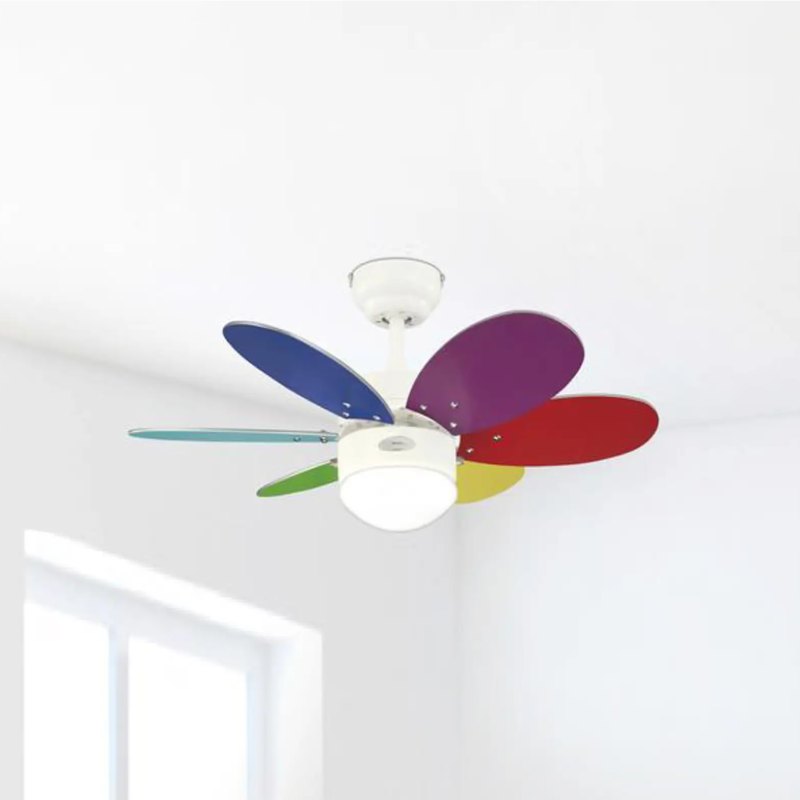 Only make sure you have the right space (the height of the room, the dimensions of the room, etc) and ensure that a registered electrician is doing all the wiring and electrical connections.
You will love this perfect ceiling fan, for it can be used both during summer and winter days, and if you want to change the finish of the blades, extra blades are included in the package.
Buy the perfect ceiling fan for summer and winter at Sparks today, and check out the full list of ceiling fans to see if any other suit your house or office ventilation needs.