The RA2 Select system from Lutron allows you to enjoy personalised smart lighting in your house. This system gives you comfort, increased peace of mind and control over your home - even when you aren't in.
Once purchased, you can implement this system by simply downloading the free Lutron app, available on the Google Play store (Android) and App Store (iOS).
Get up and running with Lutron RA2 Select
The Lutron app allows for convenient system setup. The app automatically configures light settings for typical everyday activities and chores, such as cooking and dining.
The device used to control the RA2 Select is called the 'Pico' and comes available either as a keypad or as a remote.
The engraved Pico 'scene keypad' gives every keypad in the home an intuitive name, such as 'Bright', 'Entertain', and 'Relax', with their own preset lighting modes.
Lutron uses its patented Clear Connect RF technology, which is highly reliable and safe from interference.
You can trust your system will work with precision and accuracy, free from conflict with neighbouring systems.
The Pico remote is easy to install, as you can flush mount it to your wall without the need to cut a hole, or do any wiring.
The screwless wall plate design adds a sleek, modern touch to the appearance of the keypad.
You are able to mount the Pico wireless remotes on a tabletop pedestal, and they are available in single, double and triple configurations.
This once again adds to the convenience of the RA2, as you can choose to have access to multiple remotes.
Features of the Lutron RA2 Select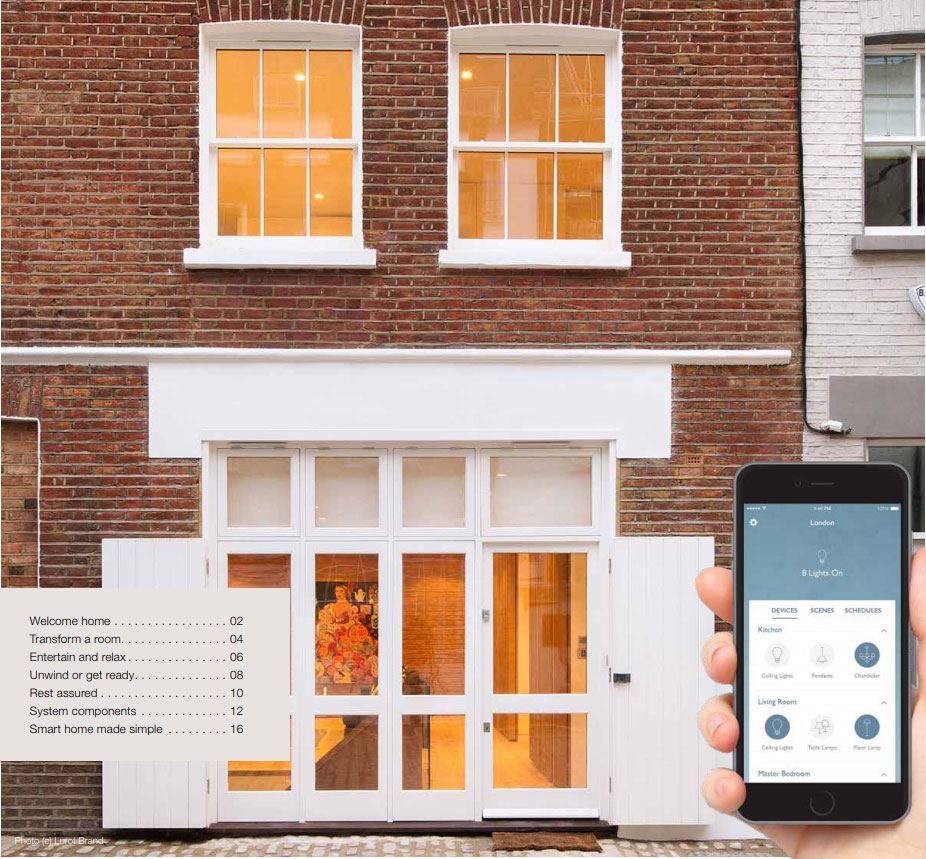 With the RA2 main repeater, you can control all your lights - using your smart phone or tablet - from anywhere in the world, using the Lutron app.
The RA2 enables you to schedule exterior lights to turn on or off before you arrive home at the end of a workday.
Then, you can switch on entry lights with the app's 'Home' button to present yourself with an illuminated path to your front door.
If you are heading out, the 'Away' button ensures that you will never leave the lights on for protracted amounts of time (and waste money on energy bills by doing so).
Furthermore, you can easily set the RA2 to optimum levels that emit just the right amount of light for your household chores.
Below is Lutron's table (page 4). It offers suggested light coverage for different household settings.
| | | | |
| --- | --- | --- | --- |
| Household setting | Ceiling Lights | Island Lights | Pendant lights |
| Bright | 100% | 100% | 100% |
| Cooking | 100% | 100% | 50% |
| Dining | 20% | 65% | 50% |
| Out | Off | Off | Off |
Full control of your home lighting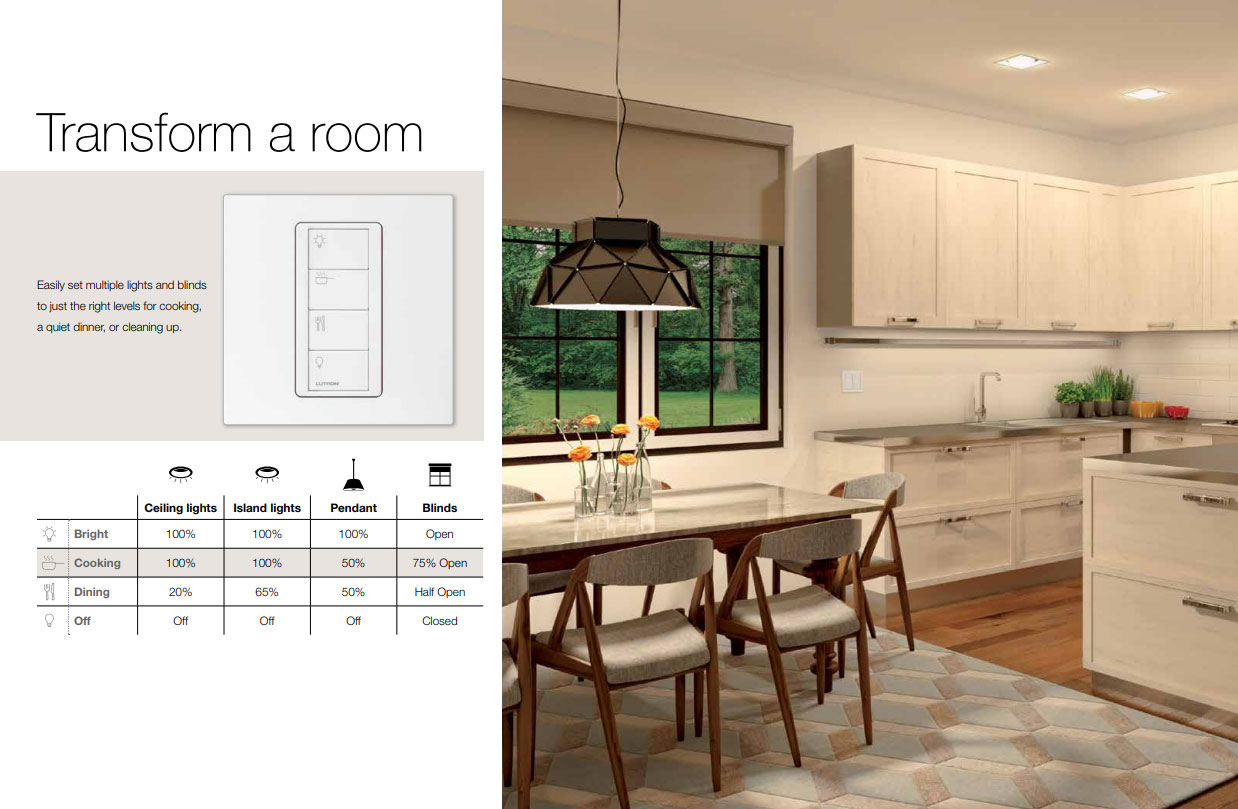 With the RA2 Select, you can fully get to grips with your home's interior lighting ambience. It gives you the ability to create the perfect atmosphere for entertaining friends, with light and audio control ready at your fingertips.
You could, for instance, watch your favourite movie without fear of glare disturbing your experience.
All you have to do is remotely turn your lights off - just as the opening credits start to roll.
It isn't just your social life that will be improved by the RA2 Select. It will give you a relaxing start to the day, by perfectly lighting your morning grooming routine.
This gentle level of light gives your eyes the chance to gradually adjust in the morning and to relax in the evening.
You can tinker with your bathroom lights brightness before you even enter the room, thus avoiding having to use an inconvenient pull-cord.
After your gentle morning start and relaxing end to the evening, you will likely be ready to fall straight into bed.
With the 'Goodnight' button, this is extremely simple; a single switch will turn off all the lights in your home.
If you were to hear a rustling disturbance in the dead of night, you need only hit the 'Alert' button to turn on the hallway lights.
This would certainly give a potential intruder a nasty fright. Lutron has thought of everything with their intuitive design.
For instance, if you are a nocturnal animal and your partner is not, you may fancy some night-time reading.
In this case, you can use a wireless Pico remote to turn on the lamp on your side of the bed. We here at Sparks sell many of the key components that make up the RA2 Select system including the crucial main repeater, and Pico remotes.
The RA2 Select from Lutron: a smart home system for modern living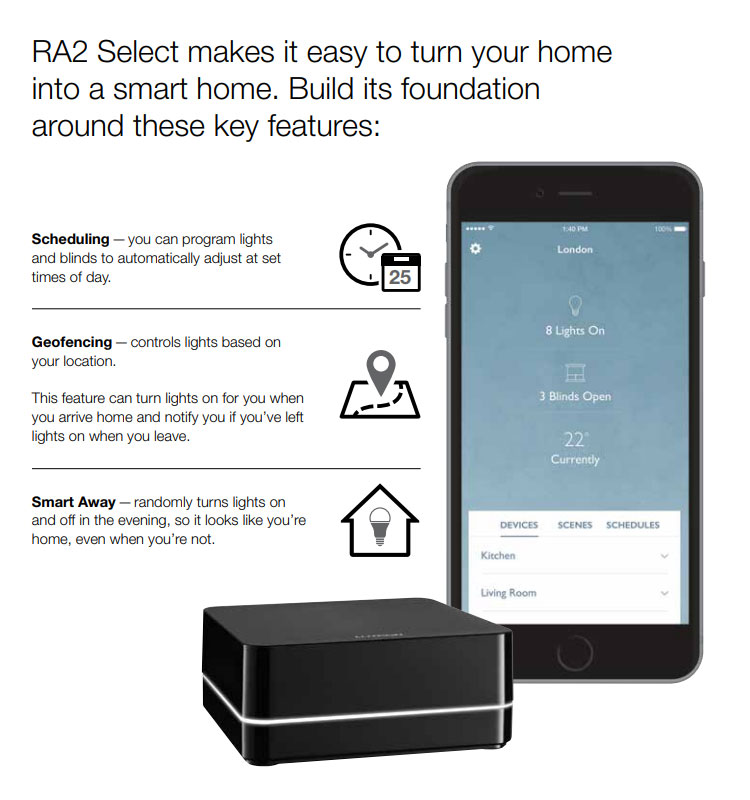 The RA2 grants you all the tools at its disposal to give you a smart home lighting system. You can achieve this domestic bliss by taking advantage of these features:
Scheduling: program the lights to automatically adjust at a certain time of day.
Geofencing: this controls the lights, dependent on your geographical location. The feature will automatically turn lights on for you - when you arrive home - and turn them off when you leave.
Smart Away: this feature turns lights on or off at random times during the day, to trick any would-be intruders into thinking there's someone home (when you're out).
The RA2 Select is compatible with a wide variety of popular home systems, including Amazon Alexa, the Apple Homekit, Google Assistant, Honeywell Wi-Fi thermostats, Nest and Sonos. This essentially means you can expand your smart home to become even more advanced if you already have any of the above systems in place.
The Pico keypad: Ultimate convenience and control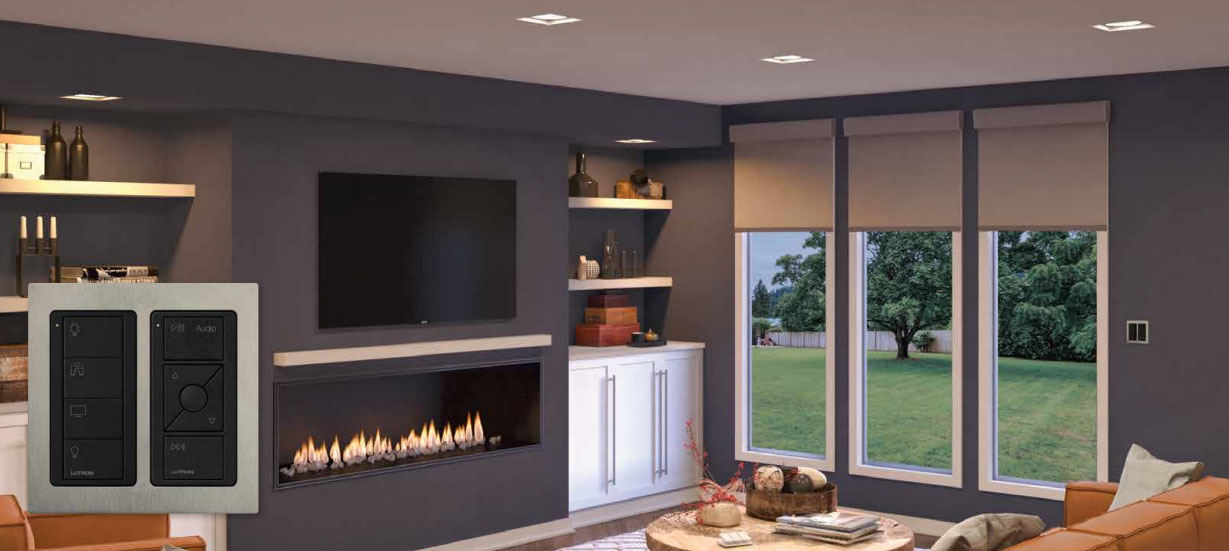 The Pico wireless keypad is battery-operated and requires no external power or communication wiring.
It provides easy access to scene control in the following Lutron systems: Caséta Wireless, RA2 Select, RadioRA 2 and HomeWorks QS.
Furthermore, they can be reconfigured depending on your needs, either as a wall-mounted keypad, or a tabletop keypad.
The keypad can provide control of lighting devices within a range of 9 metres through walls and has an impressive 18-metre line-of-sight range.
Every individual button on the Pico is programmable using the system's app or programming software.
They are available in gloss and selected satin colour finishes, to fit the setting of any rooms decor.
Lutron: know that you are in safe hands with the RA2 home system
Lutron is known for providing premium quality when it comes to installing and using LED lighting and lighting control systems.
More information about Lutron and their selection of LED lights can be found here. Careful inspections by Lutron have ensured that thousands of their bulbs, drivers and fixtures have been tested for compatibility.
LED report cards demonstrate strong performance results from features such as trim settings and the maximum number of lamps allowed.
The RA2 Select is a natural step forward for Lutron, a company that has always strived for lighting perfection. If you are a fan of smart home features, then we highly recommend you look into investing in this excellent smart-light system.