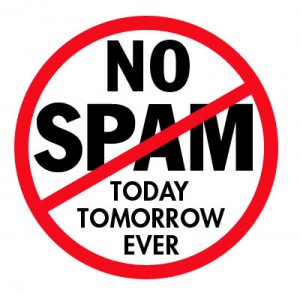 It's been a while since
we talked about spam
comments on our blog
. We finally managed to install the latest version of
Wordpress
and changed the theme - and this really helped, in the sense that we don't have THAT much spam comments... But here and there, once in a blue moon, a comment comes into "pending" that makes you just SMILE.
We used to collect and list these "interesting comments", but they have now become trickier - now people aim just for "a name and a link" to post as a comment, no matter what comment. So recently we started listing theses names (not the links!) so that we may SMILE together :) Of course, in the meantime they all got "trashed!" since, at the end of the day, these are SPAM comments!
Spam Commenters that make you smile
Here are some of the "real names" people who want to comment on our blogs would use:
ski goggles
Home security security systems offering alarm monitoring
dadaroatogs (louis vitton handbags for cheap)
DJapsheetetuff
Shefford plumbers
free discount cards
restaurant nunti bucuresti
pedometer for walking
free web hosting
Ambutbada louis vuitton outlet online
oriclesoore longchampbags sale
Assibrall androidmall
fast payday loans
furniture , decor,artwork,bedroom furniture,dining room furniture,home entertainment furniture,home office furniture
Discover more about Cholula
youtube video download
vimax funciona
health articles
Ambutbada
Chinappitiota Adidas shoes discount
If you take a closer look, some of them are search engine keywords, others are unintelligible words, while others are simply random words. Even though
the value of such links
has been much deprecated - just as the value of the links in tweets is not that important - why would people still try to place these comments? Yes,
the comments on a blog
are very valuable, but not these random off-the-topic spam comments.
These people always amuse us. As long as there's the internet with free speech, and as long as there's a software called "wordpress" running on your website, there is a way for such automatic and rubbish spam comments to be posted (or tried to be posted) there. Oh well, thank God for Akismet, our Spam Watch Dog, and part of the WordPress' own Jetpack! [picture source: No Spam!]