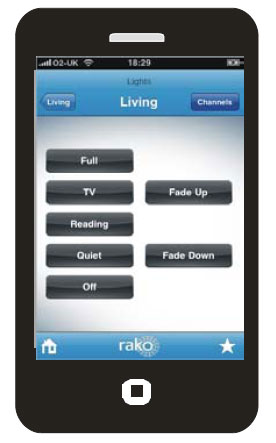 Recently, the people at Rako Controls have launched their iPhone App - remotely control and adjust the Rako Dimming system in your home / in the office from your iPhone, iPod Touch or iPad! Rako has released an iPhone App - which is now downloadable from the iTunes App Store - that gives you the control of a Rako installation from an iPhone, an iPad, or iPod Touch.
This app is giving you the control of any room, whether it be lighting or curtain/blind control.
The App gives access to all the available rooms, scenes and channels, all of which can be named for easy identification.
The App can be used with existing wireless systems, the new wired network or combined systems.
Minimal System Requirements
In order to allow the iPhone / the iPad / the iPod touch to communicate with the network
a Rako APR-Bridge
(for use with wireless-only systems) or WRE-Bridge (for wired systems) needs to be installed along with a wireless router for the Wi-Fi link with the iPhone.
The Bridge needs to be uploaded with a Rasoft programming file for the project.
The file can either be the existing project file, if available, or created using the Rasoft programming software (included) which requires a PC running Windows XP or Vista.
For advice on how to create profiles, edit options, and control the Rako Dimming System via the Rako App, do not hesitate to contact the people at Rako Controls.
More about the Rako Wireless Dimming Controls
Read more about the Rako Controls - wireless dimming system - by visiting the following articles: