When it is cold outside - as it is these days - people start working on their heating system, hot water systems, towel rails, and some even on insulating the house to make sure no heat gets out.
We prefer a warm house or office, and we make sure there's plenty of heating either via the underfloor heating system, the wall mounted heaters, the free-standing heating elements, or the towel rails.
It is good to be warm, but at the same time it is good to be safe and not waste too much money on electricity or gas.
Make sure leaving the lights, heating, or ventilation fan on doesn't make a hole in your pocket!
Think about it: have you ever left the heated towel rail on the whole day by mistake?
Have you ever switched to the immersion heater and forgot it was on for a while, until the electricity bill shows some serious increase in the kW used?
Have you ever forgot the wall heater or the standing convector heater on for the whole day or night, and then regretted it when the whole house was too hot, or you realize how much this would cost?
How a Run Back Timer Switch for Heating can Save you Money
There is a need for a switch that would provide a way to save electricity and money, while at the same time the heat would be on.
We do need the towel rail to be hot, but we don't need it hot for the whole day. In a school, a community centre, a college, or an office, we need to have hot water and warm heating elements, but they don't need to be ON 24/7.
One way to turn them off is to do it manually, but another way is to use a time lag switch.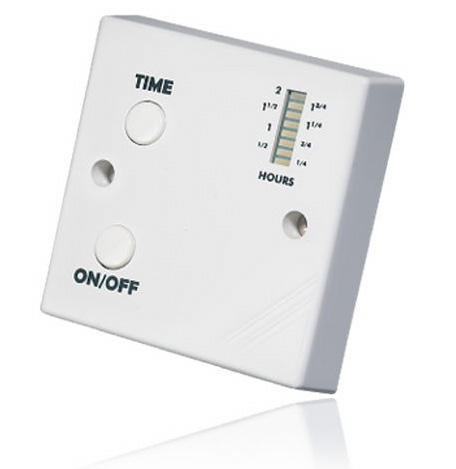 The CP Electronics RBT1, for example, is a high output run back timer taking loads up to 20A, and is great for use with immersion heaters and with towel rails.
It has an ON/OFF switch, and it allows you to make sure the heat, ventilation, or lighting load is ON only for 0min - 2h, with 15mins increments.
Do you need the heat ON only for 1h? Do you want to make sure the towel rail is not ON the whole day but only 1h or so?
You can manually adjust the run back timer to reflect this. And then you can see at any point in time how much time is left for the heating / ventilation / lighting element to be ON.
There are quite a few other time delay switches suitable for different needs to save you energy and money - check them out here.
Always remember: according to the current regulations, it is not recommended to install any wall mounted switch or any switch that involves touching in the bathroom; pull cord switches are OK, but no other switch is allowed in the bathroom - they all have to be installed outside the bathroom.
This is true with the time lag switches, which need to be installed on the wall outside the bathroom. Remember: Installing a Time Delay Switch Combats Forgetting the Lights ON!