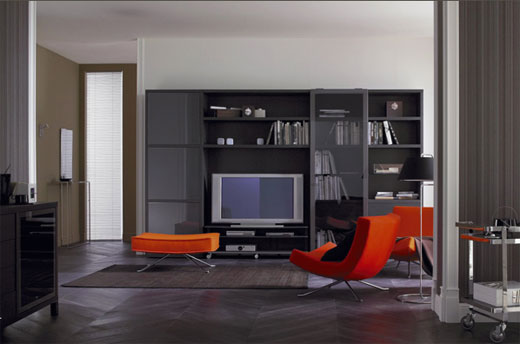 The following article introduces some of
the most interesting and high-tech solutions for your living room
- spice up your living room with these brilliant additions! Not just table lamps, but also HD TV's, underfloor heating solutions, replacing the fireplace, other gadgets - a lot of solutions to make your living room as modern as possible, ideal for you to spend time with your friends and family in...
Home design and home makeovers are always popular throughout the UK. In this article, we shed some light on why this is and what choices people tend to make when

designing their new living room

.

You could treat yourself to some new furniture, especially if your current furniture has started to get worn and torn. Many retailers will be able to offer you affordable deals, but you could treat yourself and look for some custom made furniture, although the prices are vastly more expensive, you get to create your desired furniture, based on your specification, including size, colour and materials.

You may want to think about installing a new fireplace or replacing an old fireplace in your living room. Reasons for the change could include the fact that you feel your current fireplace has become outdated, it may not be functioning correctly or it may not meet standard safety regulations set out by the government. So what's on offer to you? Stoves, gas, electric and wall fires will be the most popular to select from, and you will also have a choice of materials for your fireplace which include limestone, marble and wooden surroundings to name a few.

Under floor heating could also be installed to heat up your home during the cold winter months. This has both financial and sustainable benefits as under floor heating requires less energy to heat a room than traditional radiators, which in turn can help reduce energy costs on average between 15% and 40%.

With the constant introduction of new and exciting technologies, you would not be alone in wanting the latest iPod or HD TV, but if you are redesigning your living room, then why not treat yourself to a new TV? The TV is the focal point of many living rooms and you have such a big range of HD TV's on offer, which come in all sorts of different specs and sizes. The most popular choices of HD TV's are Plasma, LED and LCD TV's, with everyone having their own favourite for different reasons.

You may want to go all out and create the optimal viewing experience in your living room by purchasing a 3D TV. 3D movies are becoming increasingly popular, with box office hits such as Avatar and Toy Story 3 increasing its coverage and popularity. You can now go down the pub or sit at home and watch your favourite sports and programmes in 3D.

This can be accompanied by a surround sound system, which can really bring any occasion to life. Surround sound can decode where sounds should come from: with instruments heard from the sides, voice's directed at you and the sound of the audience behind you.  It is like seeing something live.

Away from technology and you may also want to look at the idea of purchasing or installing some new lights. If you are not on a big budget, then you could look at what floor lights are on offer to you which can include standing uplighters, omni-directional lamps, giraffe/ark/saddler shapes and glo-ball floor lights, which can help revitalise the atmosphere of the room.