The Internet of Things (IOT) has many appliances in day-to-day life, but with Aico 3000 Series it could grant you one of the most crucial functions an appliance can: saving lives via the miracle of wireless interconnectivity.
With the 3000 Series, Aico fuses cutting-edge intelligent design with SmartLINK and AudioLINK capability to create the most advanced alarm systems ever made. Available for all parties - landlords, contractors and residents alike - this is a comprehensive system that will save time and money, as well as ensuring maximum home fire safety.
Intelligent design for intelligent protection: 'Full Circle Protection' offered by the Aico 3000 Series
Full Circle Protection combines Fire and CO alarms and offers you all-encompassing protection: both in terms of initial fire protection and the analysis and monitoring of your fire alarm data.
https://www.youtube.com/watch?v=G74zKqABs34&feature=youtu.be
In 2018, Aico launched the 3000 Series of Fire and CO alarms, that included their innovative 'full circle' protection. The Managing Director of Aico stated that:
The 3000 Series represents one of the most significant advances of the Aico product range in recent years. It's the coming together of the very latest alarm technologies ... we refer to the 3000 Series as having 'intelligent simplicity' - we've built intelligence in to every alarm.
[gallery type="slideshow" link="none" size="full" ids="13545,13546"]
A prime example of Full Circle Protection is the Aico 3024 Multi-Sensor alarm from the 3000 Series.
The Multi-Sensor technology in the Aico 3024 contains two types of sensors: heat and optical, that guarantee you a complete fire response.
The infrared optical sensor is made of a bonded protective mesh which encapsulates the whole sensor to keep out potential contaminants such as dust and insects. This drastically reduces the risk of pesky and disruptive false alarms.
The heat sensor includes a new thermistor which gives a quicker alarm response when the monitoring temperature rises, and will trigger at the dangerous temperature of 58 degrees. 
The Ei3024 can be easily fitted with an Ei3000MRF module that enables wireless interconnection and data extraction, which brings us to two of the huge selling points of the Ei3024 and the 3000 Series: SmartLINK and AudioLINK.
How SmartLINK is integral to Aico 3000 Series 'Full Circle Protection' ethos
The SmartLINK is an extension of Aico's brilliant RadioLINK+ functionality, adding a whole new range of functions and features for your convenience in the IoT era.
Once you have plugged in the Ei3000MRF module, you will receive all the benefits afforded to you by RadioLINK technology: no need for cable runs and alarms interconnected via Radio Frequency (RF).
SmartLINK also offers 'Remote House Coding', making House Coding new alarms into the system even easier. House Coding simply ensures that when one alarm in the system is triggered, the rest are too, and a guide on how to set up a House Coding system can be found here. 
With Remote House Coding, you can easily expand the reach of your home alarm system, and save time on install as you can enter a unique code for each individual alarm directly onto the alarm itself.
Other useful features for the SmartLINK include real-time configurable notifications, forecast alarm replacements, and maintenance and remote alarm learn entry (which allows the installer to reactivate the entire RF system House Code from a single device).
How AudioLINK rounds off the 'Full Circle Protection' of the 3000 Series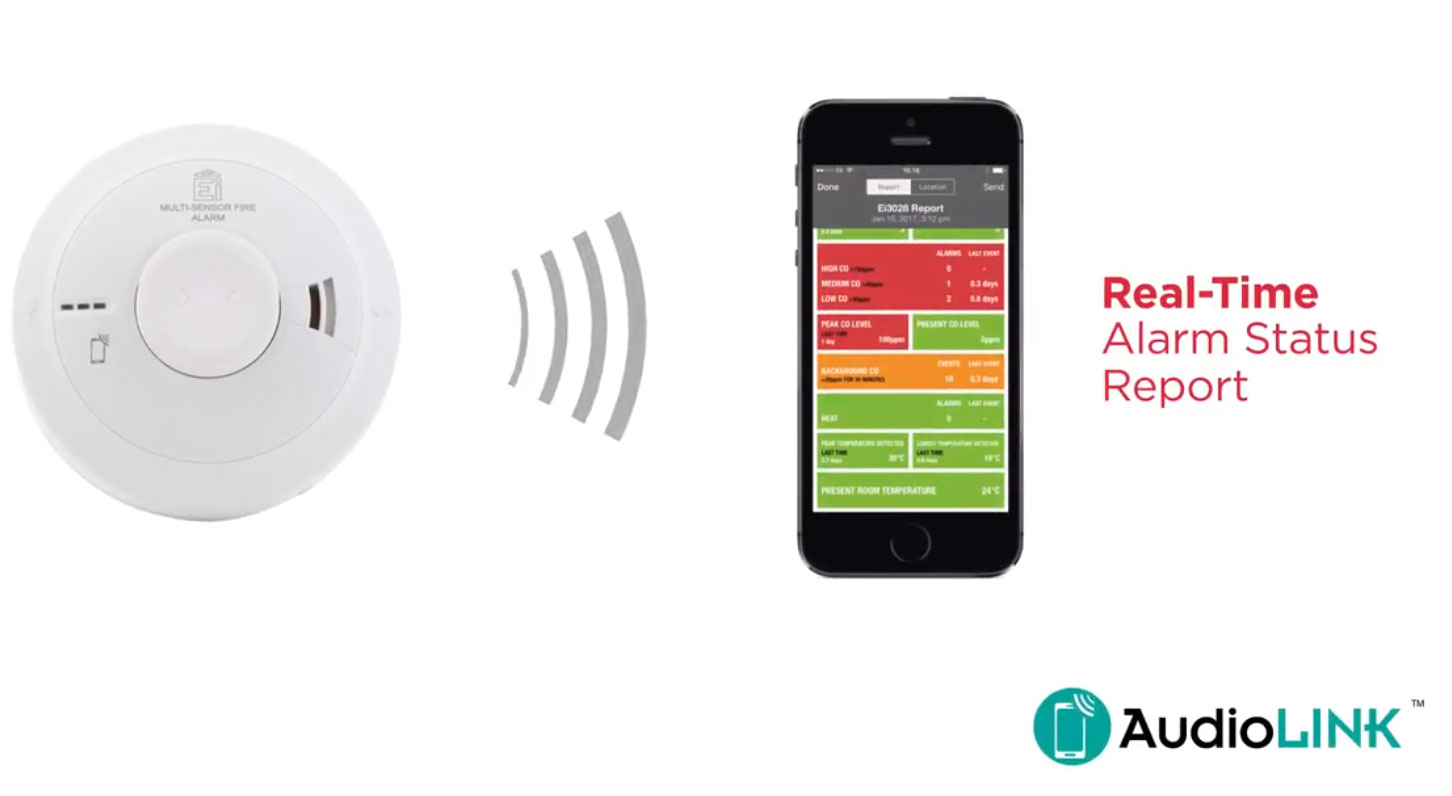 AudioLINK data extraction ensures that you can use data for unit reports, then sends an Alarms Status report delivered directly to your smart phone or tablet via a free app. 
This useful Report includes alarms activations, sensor statuses, records of usage, battery and backup cell status, CO levels recorded, background levels of CO and advice on dust contamination levels.
The Alarm Status Report provides evidence required for the maintenance of records that is required for private Landlords renting out properties within the UK.
Data can be extracted from the AudioLINK alarm repeatedly, and information is stored for life, enabling re-checking of historic records; with report storage and sharing, all of your information can be emailed directly from your device to single or multiple addresses. 
For Landlords, UPRN numbers, landlord details and contractor details can be added to the report. 
It can also be sent as a PDF report or a .csv file for integration with housing management and maintenance systems; ideal for a Landlord with multiple properties to check in on.
Extraction of data can be done in 3 easy steps: press the alarm 3 times, allowing the alarm to emit a number of beeps which your phone will pick up, then the AudioLINK App will generate and display the Alarm Status Report.
The Aico 3000 Series is the most intelligent home alarm protection system out there
Included in the 3000 Series is the
Ei3018
CO alarm,
Ei3016
Optical Smoke Alarm, the
Ei3028
Heat and CO alarm and the
Ei3014
Heat Alarm.
The inter-connectivity between the 3000 Series, made so simple by the Ei3000MRF module, means that you can comprehensively protect your property and stay informed at all times.
Place an Ei3014 Heat Alarm in your kitchen or garage, an Ei3016 in your landing or hallway and an Ei3028 or Ei3024 in your bedroom, dining room or living room. They will all communicate via RF, and with SmartLINK and AudioLINK, will guarantee you Full Circle Protection.
This intelligent IoT system will give you a complete overview of your fire-protection system. With full data extraction reports, underlying RadioLINK connectivity and real-time notifications straight to your mobile you'll be placed at ease, knowing the 3000 Series has you protected.