It can be tempting for any of us to have a go at DIY tasks instead of calling in a registered builder or electrician. In fact, studies have shown the younger generations (those aged 35 and below) are far more likely to take on 'risky' DIY projects.
However, home DIY - especially any task involving electric devices - can be very dangerous. Around 70 people die and over 350,000 are seriously injured every year by electrical accidents at home.
In a survey of registered electricians, a third had seen electric shocks caused by mishandled DIY, and of those 15% said it had caused an electrical fire.
In this article, Sparks will take you through the basics of how to keep yourself safe when undertaking DIY.
Top tips for DIY preparation
Graphic via Infographic:
DIY Nation
, Electrical Safety First.[/caption]
Before you get to work you will want to ensure you are prepared and prevent risks of electric shocks and fires while you work.
Here are some top tips on how to do this:
First things first - shut off the power. If you're doing any work near electrical wiring or power supplies, you should shut off the power in your fuse box. Use battery-powered tools, as they carry no risk of electrical shock. To be sure that power is off before beginning DIY, plug an appliance into your sockets and check to see if the lights switch on. If they don't, you are good to go.
Locate cables in your wall. It is all too easy to accidentally drill, nail or screw things into cables hidden inside your walls. A high-quality cable detector can help you to identify buried cables before you start working, so you avoid the risk of an electric shock.
Use an RCD (residual current device). An RCD can be an absolute lifesaver in the event of a DIY mishap, as it will cut off the power in the event of an electrical fault. Ensure you have an RCD (consumer unit). If you can't use a fixed RCD, look at the plug-in RCD alternative.
Examine your power tools carefully. Before using any power tools, check the lead and plug are in adequate condition for use. If you can see signs of damage (such as frayed wires) get the equipment repaired immediately; do not think about using it.
When working with an appliance that has a power lead, take care at all times so you don't accidentally cut through or trip over the lead.
If you are unsure about something, please obtain advice from a registered electrician. The best way to avoid any electrical hazards in home DIY is to seek the expertise of a professional.
Remember: DIY can be rewarding and fun - but also dangerous. If you feel uneasy about anything during the process, don't DIY.
Top tips for electrical safety during DIY work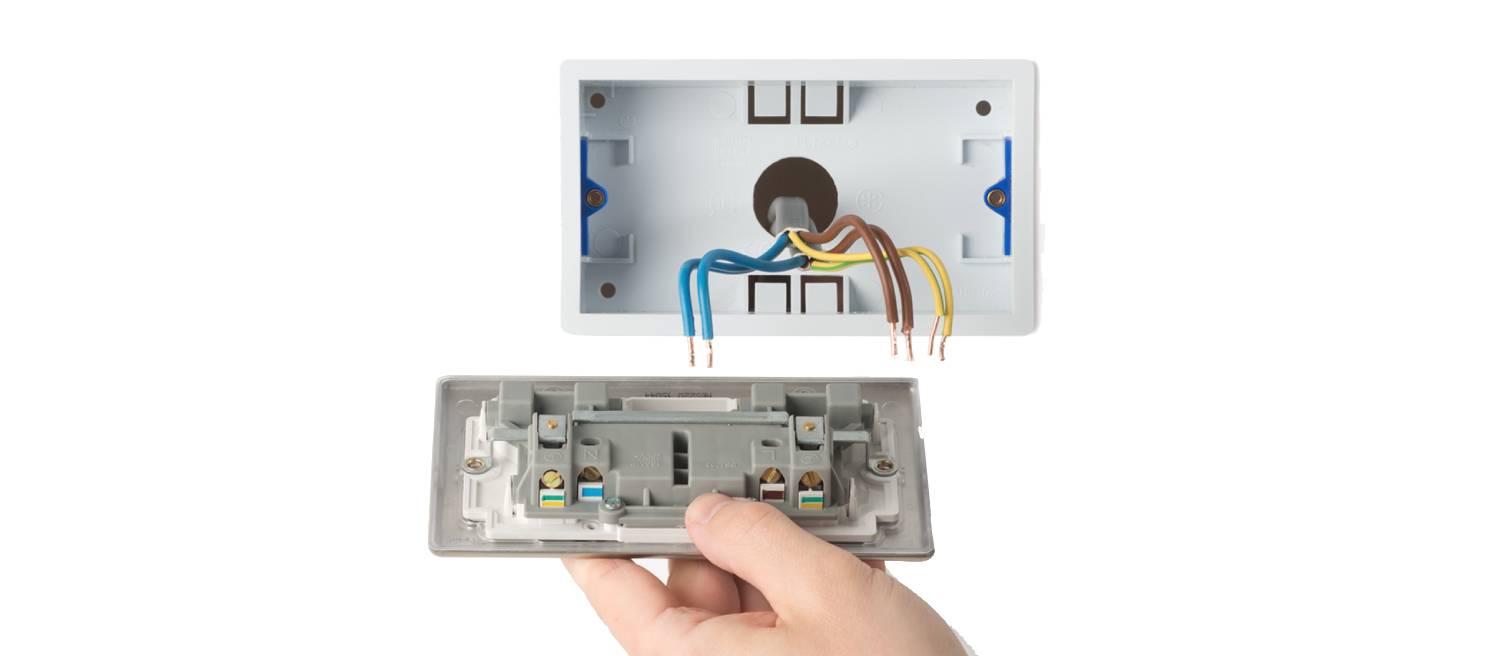 Once you have taken the steps above and feel fully prepared then it is time to start working! However important preparation is, you must, of course, be careful during the entire duration of your DIY work.
Here are some helpful tips on how to stay safe while you DIY:
Be careful while you handle electric appliances with wet hands. Electricity and water form a deadly combination. If you touch an electric socket or appliance with wet hands, you could be putting yourself in dire trouble.
Also, take note of how sweaty your hands are getting and wipe them dry regularly. The danger is greater with sweat because salt water is a great conductor of electricity.
If you are installing a new electric outlet in bathrooms and kitchens, ensure it is a safe distance away from the sink or shower.
In case an electrical fire breaks out, do not use water to put it out. It is a popular misconception that water will put out any type of fire. In the case of electric fires, water acts as a fuel that aggravates the situation.
You need to use a fire extinguisher that is recommended for use on electric fires. Baking soda can also snuff out flames on the stove or in the oven if a fire occurs in the kitchen.
If you are working on lighting, then make sure that your appliances are kept away from flammable materials. This includes common household items such as upholstery, drapes, and beds. If the two come in prolonged contact, the chances of an electric fire are increased.
DIY can be rewarding and fun - but remember to follow these tips and stay safe DIY work can be appealing - to look at a room's light set up and know that you configured it yourself is very rewarding.
But DIY can be dangerous and even fatal. Even electricians who work with electricity all day are the ones most prone to injuries - so it clearly only takes one small mistake.
Recognising the most dangerous electrical safety hazards can help safeguard people's lives.