Panic buying
took an
unusual twist this week
, after it was announced that the standard
100W bulb
would no longer be available from most UK high street retailers. As part of
a voluntary scheme
set up by the government, participating retailers will no longer stock the
100W incandescent bulbs
in a bid to encourage people to buy more eco-friendly fluorescent and halogen bulbs.
The supermarket giant Sainsburys and department store John Lewis have both already run out of 100W bulbs completely, as shoppers stock up before supply ceases completely. Staff at hardware chain Robert Dias reported that shoppers had been filling their baskets with the last of the stock, buying hundreds of bulbs at a time. The bulbs will be phased out entirely by the EU by September this year and plans are in place to phase out all incandescent bulbs by 2012.
It is hoped that the switch-over to more eco-friendly bulbs will cut 5 million tonnes of carbon dioxide a year. This bulk-buying appears to have arisen over concerns that the energy saving alternatives are not actually compatible with many standard light fittings.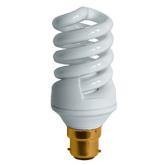 A report, issued by the Department of Food and Rural Affairs in 2006 found that half of all sockets in British homes were incompatible with energy-saving lights. Dimmer switches and lights on timers are often unsuitable as are chandeliers and outdoor lights. However the Department has now withdrawn the report on the basis that the findings were based upon out-of-date information from the late 90s. Newer fluorescent light bulbs now fit a wider range of light fittings and the manufacturers are working on making the strength and quality of the light as good as the traditional incandescent bulb.
Sparks Direct will be stocking 100W bulbs until September and has a plentiful stock in store, so come and get them while you still can!
!!!  Check your compatibility !!!
If you have older light fittings, particularly ceiling lights, that may well have been in use since your home was built, it is likely they won't work with the newer energy efficient bulbs. Check all your fittings as soon as possible. Now is a great time to update your fittings and Sparks has some fantastic lighting solutions available at great prices now! Check out our huge range at www.sparksdirect.co.uk - the Lamps and Tubes section - either Energy saving ligthts or Incandescent lamps section.