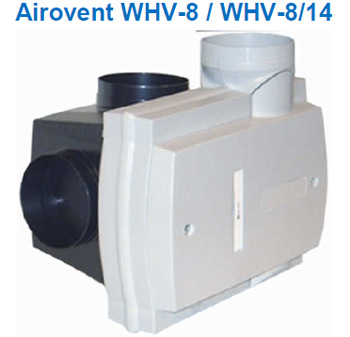 Even though we have already introduced
the Airovent system
(whole house ventilation solution from Airflow), below are some more specs regarding this system - with a link towards the updated specs. All the
Airflow Airovent WHV-8 / WHV-8/14 extractor fans
are designed to provide extraction levels that comply with the latest Building Regulations 2010 (PART F). With three speed settings for low, medium and high speed extraction
Airovent WHV-8
and
Airovent WHV-8/14
provide quiet and continuous ventilation. The Airovent WHV-8/14 R model comes equipped with a remote control and built-in humidity sensor for effective use.
Remember: By continuously extracting stale, moist air from the whole house, the Airovent ventilation system creates a healthier indoor environment. This helps to alleviate the problems of dampness and condensation, so benefiting both the fabric of the building and occupant health.
These extractor fans are designed for continuous operation;
The Airovent WHV8 range executes simultaneous extraction from multiple rooms;
Using the Airovent helps reduce condensation problems;
All these fans have low noise, long life motors;
Four inputs for duct connections;
The Airovent range has optional versions (WHV 8/14 R) with wireless remote control and built-in humidity sensor;
Airovent optional accessories for humidity and timer control;
Ducting, grilles and flow control valves available;
The Airovent range is a low specific fan power;
Application: For use in both new and refurbished houses, flats, apartments and sheltered accommodation;
SAP Appendix Q Eligible;
Full Technical Specs - the Airflow Airovent WHV-8 tech details(pdf);
2 years warranty.
The Airovent Whole House Ventilation System
are an excellent option for whole house ventilation - conveniently located in a loft or cupboard, you won't even notice it's there...
The Airovent Whole House Ventilation Solutions
- Models available via SparksDirect:
Recently, Airflow have updated their Test Results performed with
the Airflow Airovent WHV-8
and
Airovent WHV-814
. Please
see the PDF file
for more specific details.
So, Why Ventilate ? The Airflow fans exceed the requirements of the latest building regulations helping to combat the harmful effects of dampness and condensation and by extracting airborne pollutants such as odours, cooking smells, humid and stale air. The potential hazards to health for occupants and possible damage to the fabric of the building can be largely eliminated.