More and more of our customers are preferring the LED lights to the halogen or fluorescent lights, and most of those looking for LED lights want to dim them.
Using an LED light bulb is energy saving enough, and dimming it will make it even more energy saving.
The LED lights and LED light bulbs are being constantly developed and improved, with more and more "dimmable LED lights" available on the market from reputable manufacturers.
However, there seems to be a problem when it comes to dimming the LED lights: who does LED dimmers that would work across the different existing LED lights that can be dimmed?
Some of the Best Manufacturers of LED Dimmers are...
There are at least three main manufacturers we distribute that can offer effective LED light dimmers: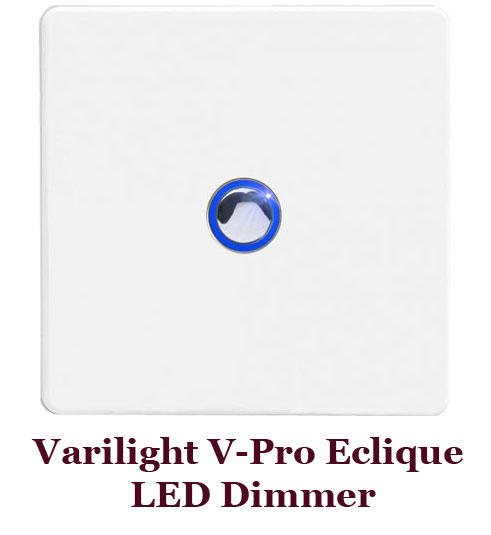 Varilight came out with their V-Pro Eclique range of LED dimmers, offering one or more touch LED dimmers on a flat plate for remote dimming the LED lights.
They come with a tactile touch button with a blue LED glow surrounding it, and they pride of dimming mains voltage, ESL's, GU10, and almost all low voltage applications, as well as most good quality dimmable LEDs.
The V-Pro Eclique 1G - 4G (both the master and the slave units) are flying off the shelf, since many people prefer to have a high quality LED dimmer that allows you to dim the lights both from one location or from multiple locations.
The question is: will this work with ALL the dimmable LED ights out there?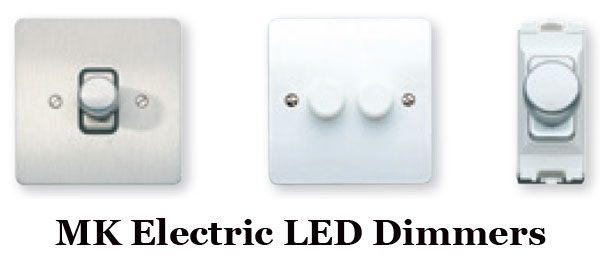 MK Electric also has a wide range of new LED dimmers for a wide variety of LED lamps, assuring us they offer a reliable dimming solution and allowing us to create an ambiance for comfortable surroundings.
You can have either a standalone regular 1 Gang or 2 Gang rotary dimmers or as a MK grid dimmer, both compatible with tungsten filament lamps, low voltage halogen lamps, and dimmable LED lamps.
With a load of 4W - 70W (300W/240VA), these MK LED dimmers can take maximum 10 lamps per circuit and have an intelligent load protection that will prevent lamp wattage exceeding the rating of the dimmer.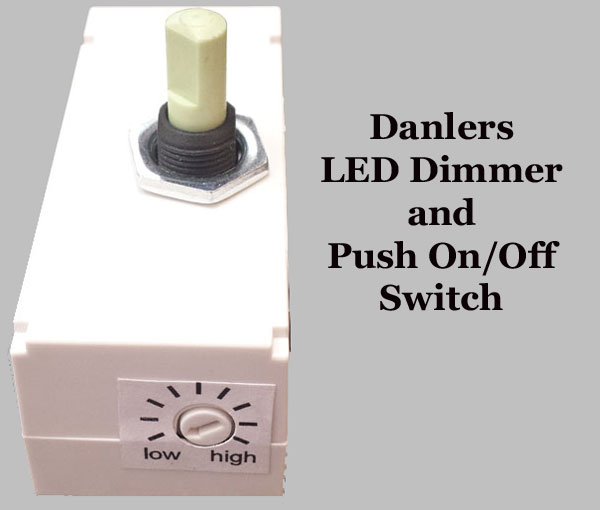 Danlers offers a few LED dimmers and LED dimmer units such as DPDLED. They are compatible with many dimmable LED lamps and LED light fittings and are ideal to retrofit onto many existing wall plates (or they can be fitted onto original equipment manufacturers own plates).
Taking a load of max. 250W, the LED dimmer with rotary dimming control and push ON/OFF switching can be used in both 1-way and 2-way switching circuits, and the adjustable spindle on the back of the product allows you to specify the minimum dim level (to help eliminate lamp instability).
LED Dimmers - We're Almost There!
Looking at the technical specifications of all these LED dimmers we can all agree that we are almost there when it comes to LED dimming.
There are many dimmable LED light and LED light bulbs, and there are quite a few LED dimmers made by reputable manufacturers. However, when someone asks us,
What LED dimmer should I buy? - we don't have an exact answer YET.
The most recommended thing to do at the moment is to check with the LED lights manufacturer's specifications and see which LED dimmers and brands they recommend.
Some LED lights don't work with some LED dimmers, while some LED dimmers work only with some LED lights.
Always read the specifications. Always check with the LED lighting manufacturer.
We are almost there. We're almost at the point of no return, where ALL the dimmable LED lights will work with ALL the LED dimmers. Until then....read the specifications!
Question: what do you guys think? Which work with what? What's the situation with the LED dimmers and the dimmable LED Lights? What is your experience? Leave us a comment below.