The BG Nexus Storm
is a new range of IP Rated accessories designed to protect the potentially dangerous electricity supply in the most ardous of conditions!

BG Nexus Storm Switches and Sockets - Features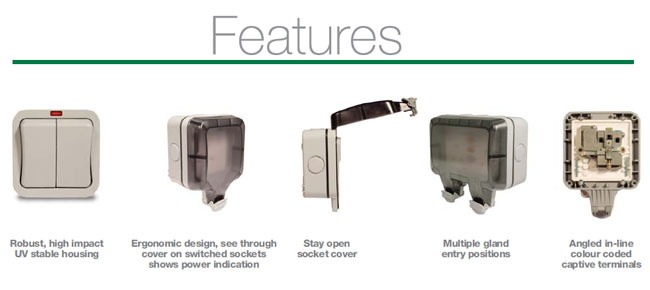 Robust, high impact UV stable housing;
Ergonomic design, see through cover on switched sockets shows power indication;
Stay open socket cover;
Multiple gland entry positions;
Angled in-line captive terminals;
The BG Nexus Storm range of Wiring Accessories
BG Nexus Storm 20AX Switches - switch modules can be interchanged with others from the Grid Range. 1Gang 2 way, 2gang 2 way, 1 gang, 2 way retractive, printed "PRESS", and 1 gang, double pole. All are IP66 Rated, Switches manufactured to BS EN 60669-1
BG Nexus Storm 13A sockets - 1 / 2 gang 13 amp double pole switched socket, unswitched sockets, and 2 gang 13 amp RCD switched socket (latching). IP66 Rated with plug in use! Note: housing will accept accessories from the Nexus Moulded, Metal, Grid and Euro-module ranges (Grid and Euro-module exclude Screwless Flatplate, Metal clad and Brass georgian)
BG Nexus Storm RCD Protection sockets - the WP55RCD, 13 amp RCD protection fused connection unit (latching), with Flexible membrane allows switching without opening unit, Visible indication of power status through see-through cover. RCD manufactured to BS7288. Latching type, 30mA trip current, 40mS trip speed.