Besides
the TimeGuard DS1 Electronic Time Delay Switch
,
the CP Electronics Time Lag Switches
,
the Energy Saving Solutions
include other
PIR Detectors and Time Lag Switches
from
Danlers
. These
Danlers electronic time lag switches
are designed to switch lights, or other loads ON, and then to switch them OFF automatically after the set time lag has elapsed. Their energy saving benefits make these switches ideal for use in stairwells, store rooms and in many other applications.
Main Danlers Electronic Time Lag Switches Functions
Activated by pressing the push button or touch pad.
The time lag settings can be adjusted by a spindle on the bottom edge of the product. The adjustment spindle is inside the waterproof housings for the exterior time lag switches.
As an interior time lag switch, the Danlers TLSW10ILM can be used for multi-way switching using the slave push buttons.
Danlers TLSW10ILM - Plated time lag switch - the 2 wire version
No neutral wire needed;
Direct replacements for existing wall switches;
No neutral wire is needed;
They are very quick and inexpensive to install;
The TLSW10ILM from Danlers has an illuminated push button for easy location in the dark;
The time lag is adjustable from 1 to 10 minutes;
Maximum load: 6 amps (1500W) of resistive, fluorescent or inductive lighting loads, or up to 1 amp (250W) of fans;
Minimum load: 40W of resistive, or for wiring in parallel 40W per time lag switch in the circuit;
Load capacitors (order code CAPLOAD) can be supplied to augment small or non-resistive loads;
Dimensions: 86 x 86 x 12mm;
Wall box depth 16mm;
The Danlers TLSW10ILM Time Lag Switch with Neon, dimensions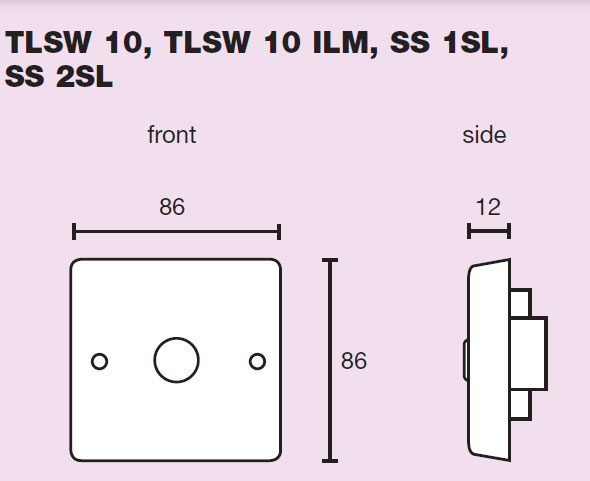 Buy online the Danlers TLSW10ILM Plated Time Lag Switch with neon(a direct replacement for the wall switch, energy saving solution), via the Time Lag Switches, energy saving management solutions.