With
the new Kelvin LED range of Table Lights / Desk Lights
from
Flos
, a new vision in the LED technology is being introduced! This
Kelvin LED Desk Light
is a new addition to
the Flos Kelvin range
, designed by
Antonio Citterio
. Just like the original Kelvin lamps,
the Kelvin LED Light
provides
direct, adjustable light
with
a double arm, fixed pantograph
and
adjustable head
.
Materials: The body is made from cast aluminium alloy and the head features a protection screen in polycarbonate moulded by injection. As for the overall structure, this is made from square tubular extruded aluminium alloy, shined and protected with a transparent liquid varnish. The Flos Kelvin LED models are available in black or white the ON/OFF switch is of an electronic type with optical functioning located on the light's head.
Flos Kelvin LED Desk Lamp / Table Light
The Kelvin LED lamp comes in cast aluminium alloy;
Switching: Electronic ON/OFF switch;
Models available: Black Kelvin LED Lamp or White Kelvin LED Lamp;
Designer: Designed in 2009 by

Antonio Citterio with Toan Nguyen

;
Energy Saving: Low energy consumption, ECO Friendly product;

Note:

Please note that the instruction manual provided in some of the Kelvin LED'S has a misprint stating the lamp can be dimmed. This is a miss-print. The lamp can be turned ON/OFF only.
More

Flos Kelvin LED Table light features

: - Width base:  16.6cm; - Height of 1st arm: 46.7cm; - Height of 2nd arm: 56.5cm; - Width of head: 10cm; - Light Source: 30 x top LED 325 lumen; - Colours: Black, White; - Cable Length: 180cm; - Material: Aluminium.
Applications of the Flos Kelvin LED Desk Lamp
Flos Kelving LED Lamp used as a desk lamp
The Flos Kelvin LED Lamp used as a bedside adjustable lamp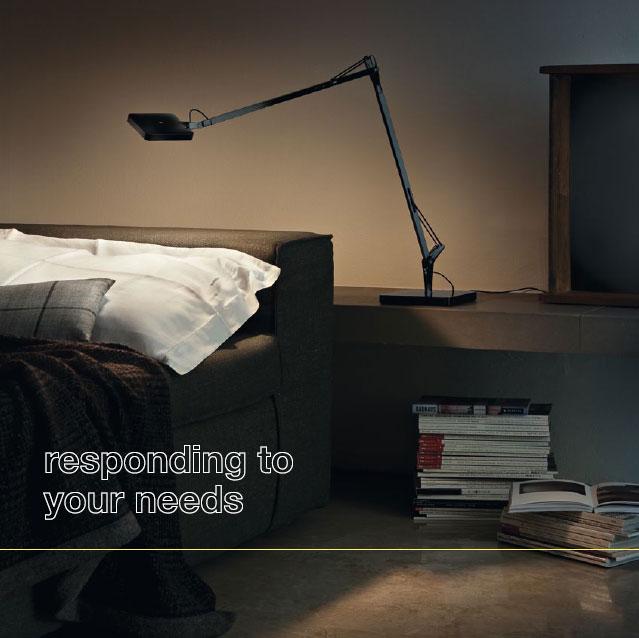 The Flos Kelvin LED Bedside / Desk / Table Lamp - models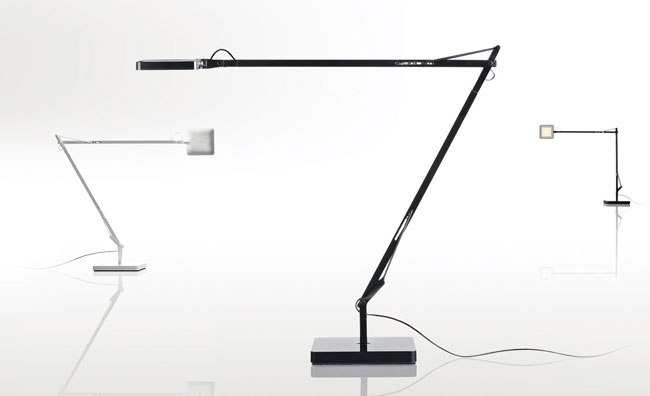 The Flos Kelvin LED Table Lamp
is simply amazing - fully adjustable, it can be "extended" or "folded" to reach wherever you want it to reach. Energy saving, using the LED advanced technology and offering a 8W lamp. Buy online the existing models via sparksdirect(
table lamps from Flos
):
Flos Kelvin LED Table Light, 8W modern LED Desk Lamp in a Black finish - the Flos FZ430;
Flos Kelvin LED Table Light, 8W modern LED Desk Lamp in a White finish - the Flos FZ431;