The New York Times once referred to interior designer Marcel Wanders as "the Lady Gaga of the design world": prolific, bold and omnipresent whether you're aware of it or not.
Please note: this pendant light is no longer available at Sparks; you can view the current pendant lights available via Ceiling Lights.
In everything Wanders designs there's a signature. Generally minimalist, there's always something of a playful nature to his work.
Take the cartoon-classical Parent Chair at Moooi - chunky like a dollhouse version of an antique, it's part of what is essentially a playset for grown-ups.
Even to the artistically illiterate this must be exciting.
This is the man responsible for one of the most eye-catching items in our showroom: the Skygarden ceiling pendant light, a collaboration with the legendary Italian design house Flos.
This is not just a light fitting; it's a wonderful, surprising piece of work that combines Wanders's playfulness with the minimalist aesthetic Flos have been making their own since the 1960s.
On the outside, the Skygarden will fit into the design theme of any room: it's simply an unassuming architectural dome in one of four colours (black, white, rust and matte gold), but the twist is on the inside: a vintage-styled plasterwork design that takes inspiration from a weathered, forgotten antique ceiling in Wanders's old home.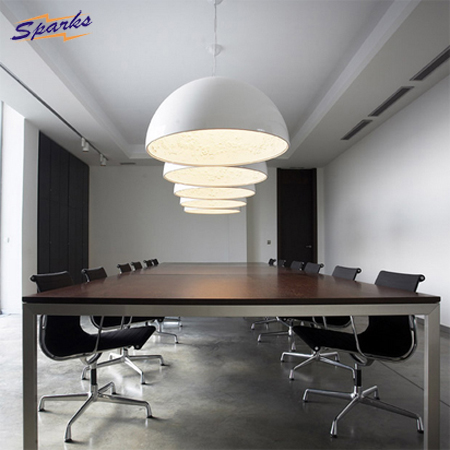 But the cast plasterwork on the underside of that dome isn't just beautiful, it's also functional: the light reflects off all those surfaces to provide a warm, diffuse light that's better for overall visibility throughout the whole room without being too overpowering for the eyes.
With its modern, minimalist looks and surprise classical twist, the Flos Skygarden is a perfect combination ceiling light and conversation piece.
Marcel Wanders's award-winning ceiling pendant is available now in our Archway showroom or in our online store.