There are many good reasons to install a wireless alarm system like the Infinite Prime, but it is important to think about how to use it.
So why might one purchase and install a wireless system? Are there any reasons not to install a modern interconnected system?
There are some very good arguments for and against these systems, and we'll take a brief look at just a few of them here.
Note: this wireless intruder alarms may not be available at Sparks anymore; see the current offering of wireless intruder alarms here.
The Pros of Wireless Intruder Alarms
It's very easy to install and later re-fit the system if you decide to redecorate - or even move home.
Great for renters! Because the Infinite Prime alarm system is wireless, it is unintrusive: there's hardly even a need to tear the wallpaper, let alone rip the walls apart.
Fully customisable: the system can be expanded with modules that detect smoke or flooding as well as motion and shock for full home protection.
With this product there is little chance of interference with the unique secure transmission setup. So even if your next-door neighbor also installs Infinite Prime, the two systems won't activate one another / interfere with one another.
With the GSM module, the alarm can be connected to a mobile phone network so it can alert a call station, or even call an ambulance when the panic pendant is activated.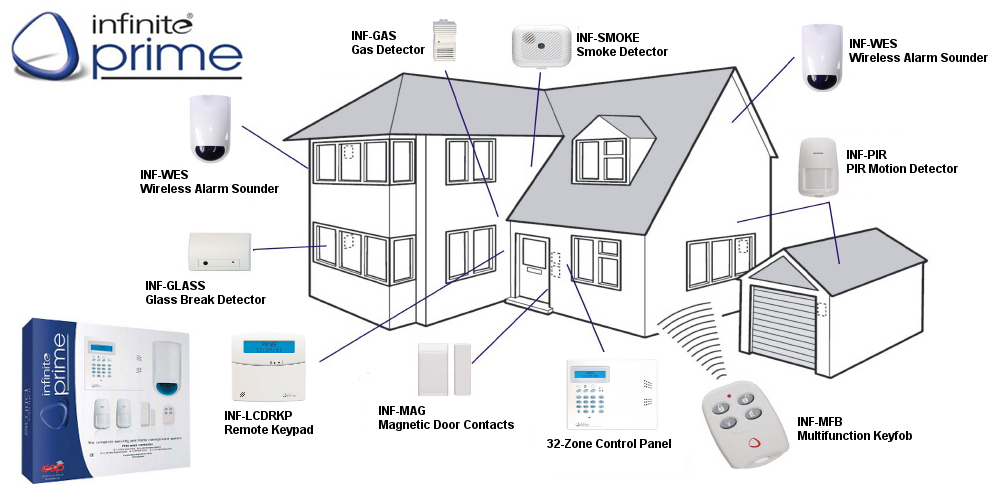 Wireless Alarms: Cons
It represents a higher initial cost than a hard-wired alarm system (but the savings over time are much higher).
Because the system is battery-operated, the batteries will need to be changed fairly regularly; the Infinite Prime system has an estimated battery lifespan of around four years.
The wireless protocol isn't really suited for larger properties; for the highest degree of safety in industrial or commercial builds, a hard-wired intruder alarm system is best.
A wireless alarm setup isn't a one-size-fits-all security solution; there are pros and cons to them. This is just a brief guide to the main points; for more guidance, feel free to drop by our
showroom
in Archway.