We found this interesting article entitled "
The Smoke Alarm - Looking ahead
" via the Electrical Wholesaler News, written by Neil Perdell, National Technical Manager for Aico Limited, and we think it may be useful / informative for all our visitors/customers.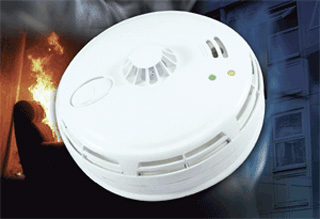 According to the Government's Fire Statistics in United Kingdom 2007 (the most recent annual national statistics that was published) there were 443 fire-related deaths in the UK in that year, the lowest since 1950.
The smoke alarm has undoubtedly played a major role in this downward trend. Manufacturers have made smoke and heat alarms that are more reliable and the move from battery-powered alarms to mains powered units in rented accommodation and new build has certainly helped.
Furthermore, initiatives such as BS 5839: Pt.6: 2004 have offered excellent guidance in both the private and public sector.
But it is ultimately the future that we must look to and find solutions of how to further reduce both the deaths, non fatal casualties and the damage done to property.
The Government, with its Fire Kills public awareness campaign and its revisions to BS.5839 Part 6 in 2004, is doing its part. In fact, BS.5839 Part 6 paved the way for new technologies being introduced at the time that have changed the way we design and install mains-powered alarm systems.
So what are these new all important developments and are you taking advantage of them yet?
New developments in the Fire / Smoke / Heat Alarms Industry
Probably the most important technological development with the domestic smoke alarm since the introduction of mains powered models is the wireless interconnect technology.
The interconnecting of the smoke alarms is a requirement of BS.5839 Part 6 and Building Regulations, but hard wired interconnection is time consuming and disruptive and, as a result, costly.
However, the ability to interconnect alarms by radio signals has made mains powered alarms quicker and cheaper to install and at the same time it made interconnection itself more popular – which increases safety significantly(after all, the interconnected alarms provide an earlier warning).
This technology has been around for some time, but only in recent years has it been used in domestic smoke alarms. The Aico RadioLINK wireless interconnect system uses existing Ionisation, Optical and Heat alarms – with the extra part being a RadioLINK Base that the alarms slide onto.
Each device is independently wired to a permanent mains feed at the nearest ceiling rose. All the devices intended to be on the system are programmed or House Coded together at the time of installation.
With over 16.7 million different codes possible, there's no chance of them being triggered by another system close by. In the event of one alarm detecting a fire, it will immediately send out a signal to all other alarms on the system, sounding the alarm throughout the property.
The ability to interconnect wirelessly has had other knock on benefits, including the ability to link to other devices such as sprinkler systems, Carbon Monoxide (CO) alarms and alarms for the deaf and hard of hearing.
Active systems of smoke detection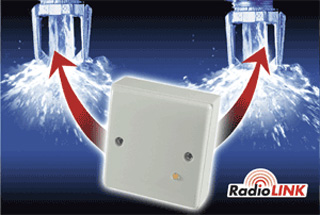 Without doubt, the smoke/heat alarm systems are vital to fire safety in the home, but they are passive and can only warn of a fire. This is where an active system – such as a residential sprinkler system – can be used to complement a smoke alarm system, thereby getting the best of both worlds: early control and early warning.
A typical integrated system would consist of a sprinkler system with a flow switch, a wireless interconnect smoke alarm system and a Switched Input Module, such as the Aico RadioLINK Ei408, that allows one way communication from the sprinkler system to the smoke alarms.
If one of the sprinkler heads is activated, the Ei408 is triggered and an RF signal would be sent to the smoke alarms, triggering them.
The Carbon Monoxide Alarms are also now being seen as an essential safety device in the home, but it's been recognised that there is a potential problem of audibility due to the siting requirements.
The CO alarms need to be positioned in close proximity to the appliance most likely to produce CO fumes, but this is often away from the bedrooms.
What happens if there is a sudden, serious leak during the night when occupants are asleep? Will they hear the alarm before it is too late?
The simplest and most cost-effective way to overcome this is to interconnect the CO alarm(s) with suitable smoke and heat alarms. Again, an additional module is required – a CO Alarm Interface. If CO is detected, all the alarms (CO and smoke) will sound, providing crucial extra alarm audibility and coverage within a property without the need to double up on alarms or sounders in areas where CO detection is not usually required.
This can also offer significant cost savings and make quality CO protection more economically viable. However, it is recommended to use an Alarm Locator switch, which identifies the source of the alarm (either a possible fire or a possible CO leak) so the appropriate action can be taken.
The Multi sensor technology
Another piece of new technology which has really made waves is
the Multi-Sensor fire alarm
. Previously, this kind of powerful coverage was only available on panel based systems, but the technology has now been developed for use in domestic applications too.
The Multi-Sensor contains both an optical and a heat sensor in a single unit, so no matter what type of fire breaks out, the two sensor technology will pick it up. Over the next few years it is expected that the Multi-Sensor alarm would set the Best Practice standard for specifiers wishing to provide the fastest warning and best protection.
You can also expect to see it being used to solve problems in difficult areas, where traditional units may be prone to false alarms.
The remote control capabilities caught the industry largely by surprise and many professionals were initially unsure just what to make of it. It is now becoming more and more clear that this new technology has significant implications for the future.
In a nutshell, the remote control technology means that householders can test and hush their alarms from a conveniently sited wall mounted switch. This means that they do not have to reach up to the ceiling and manually operate the alarm.
The safety benefits, especially for the elderly or infirm, are obvious. Even more: because it's so simple and convenient, people are more likely to test their alarms regularly. Remote control has had further implications too.
On larger systems, it was hard (and potentially confusing) to identify precisely which alarm had triggered.
Remote control helps to eliminate this problem by also having a locate function which identifies the triggered alarm, making larger systems and greater coverage even more viable.
The final area worth mentioning is the growth in provision for people who require special levels of protection. Of course, remote control has an obvious role here.
Alarms for the deaf
and hard of hearing have been around for a while, however, their importance is being increasingly recognised and, thanks to developments such as wireless technology, it's easy and relatively inexpensive to extend coverage out of the bedroom and into, say, the living room with visual warning indicators.
The Smoke Alarms are Saving lives
It's hard to quantify how many lives smoke alarms have saved over the years, but one thing is certain: the smoke alarm is a vital life saving device.
With continued R&D investment in the alarms and the introduction of technology that cost effectively allows for greater coverage in a property and improved systems, the smoke alarm will continue to save lives for many years to come.