The Vitesse Modular range of modular systems from CP Electronics are reinventing the lighting distribution systems!
The Vitesse Modular™ range
represents the culmination of years of research into how lighting distribution systems are wired and installed. As a result, it addresses all the issues that persist with most of the other systems available. Previously introduced via
the Vitesse Modular VITM4 system
and
the Vitesse Modular finalist at the Lighting Design Award 2010
, here are some more features of this innovative yet simple modular system.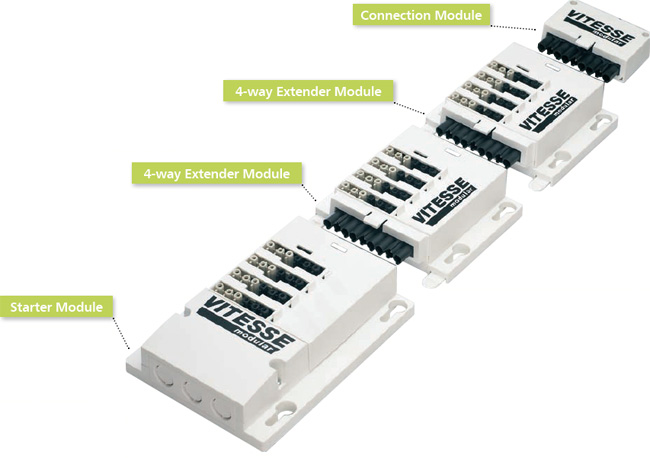 As its name suggests,
the Vitesse Modular system
relies on a modular design which means you simply add 'modules' as and when they are needed.  Packed with innovative features,
Vitesse Modular™
is a cost effective method of providing power and control for lighting installations in industrial, commercial and retail buildings.
The Vitesse Modular - It grows and adapts to suit the installation
From 4-way to 16-way using the 4-way extender modules... it couldn't be simpler!
Once
the Vitesse Modular™ system
is installed, modules can be added (or removed) depending on future requirements. Also, as there are so few parts, you don't have to waste space in a warehouse or vehicle with a huge variety of different parts just in case you might need them.

Expandable number of outputs from 4-way to 16-way;
Easy to tailor the system to suit the installation – just add on modules and accessories as you need them;
Keep the number of parts simple and to a minimum.
The Vitesse Modular System - Choice of switching or dimming
The Vitesse Modular™ system from CP Electronics
offers you the choice of switching or dimming to suit your installation.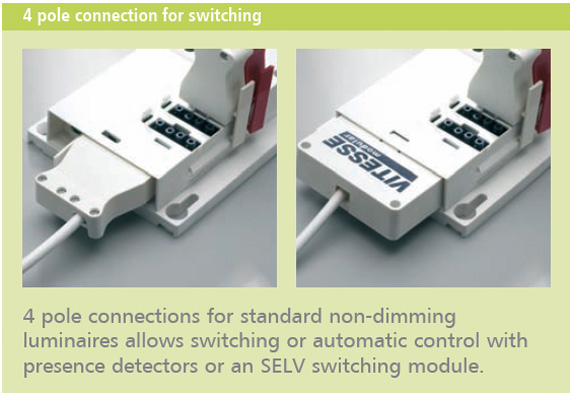 The 4 pole connections
for standard non-dimming luminaires allows switching or automatic control with presence detectors or an SELV switching module.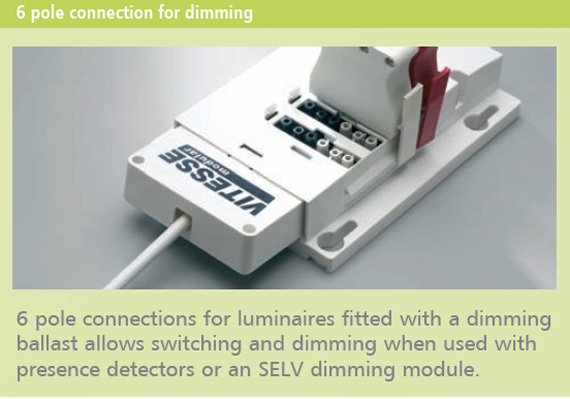 The 6 pole connections for luminaires fitted with a dimming ballast allows switching and dimming when used with presence detectors or an SELV dimming module.
CP Electronics Vitesse Modular - Extensive range of presence detectors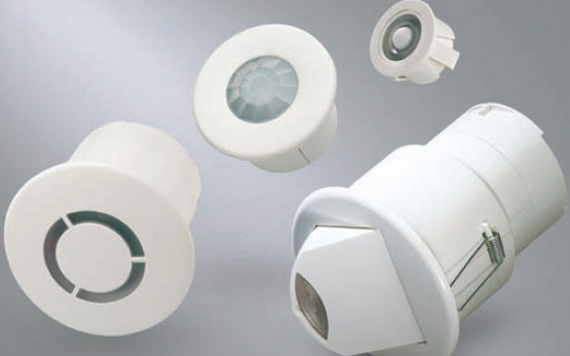 The guys at
CP Electronics
are at the forefront of innovative detector design and the superb range of
PIR and Microwave presence detectors
are available pre-wired for easy installation. It is also easy to connect switches to provide absence detection when installing
Vitesse Modular™
. What is the difference between presence and absence detection? Presence detectors provide automatic switch on and off whilst absence detectors provide manual switch on and automatic switch off.
Where can you get the CP Electronics Vitesse Modular range of modular devices? Check out the Ceiling Rose and Marshalling Boxes section for the Vitesse Modular 4 range.  Also, you can purchase the Microwave Presence Detectors that work with the Vitesse Modular 4(like the CP Electronics MWS6-PRM low profile microwave presence detector, the CP Electronics MWS3A-PRM adjustable microwave presence and absence detector, etc).