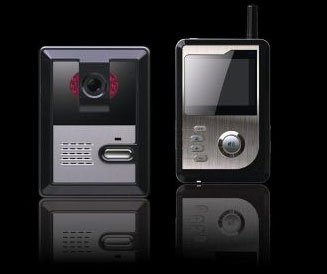 The Vu-Com wireless colour video door phone system L2000WK
allows you to
screen all your visitors
from
within the safety
of your home or office. Not just a simple door phone system - not just an audio door entry system - this time it is
a video door entry monitoring
, and it is
wireless
!
You don't need to open your front door to unknown callers ever again - you have a camera to see them, and the incorporated speaker + MIC renders an accurate sound! You can see, hear, and talk to your visitors on a mobile handset from almost anywhere in or around your premises(within the radio range specified). Then, when you are completely happy that the caller / visitor is someone you want to see at that moment in time, you can either answer the door yourself, or use the electronic release button on the handset which unlocks the door automatically and allows them in. Note: The electric unlocking of the door requires you already have an electric door lock fitted, this is not supplied with the kit.
The Vu-Com wireless colour video door phone kit comprises a stylish weatherproof call station with a simple plug in power supply plus a modern portable handset with wall or freestanding docking station / cradle and a plug in charger.
Wireless Colour Video Door Entry Phone Kit - Features
Portable wireless handset;
Handset to handset audio intercom;
Infra red camera for night vision;
Free field range 300 metres;
Identify and screen the callers/visitors;
Remotely unlock the door;
Surveillance mode;
Very simple installation;
Expandable to 2 handsets and 2 call stations;
Security, safety & peace of mind in one neat package.
The L2000WVK Wireless Video Door Entry Kit is composed of: - The Wireless Video Handset for L2000WK, Vu-Com wireless video entry system; - The Wireless Call Station, part of the Wireless Video Camera Door Entry System.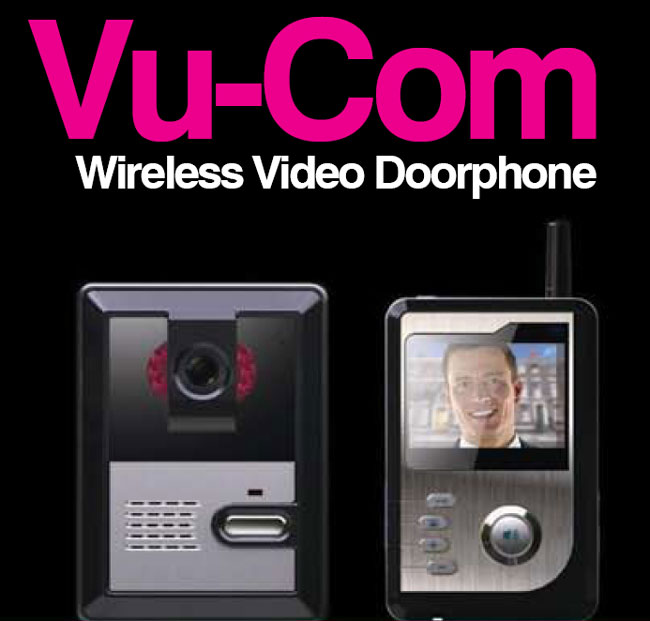 The
Vu-Com Video Door Entry

L2000WK

system
is very
easy to use
and just as
easy to install
because it is wireless! Therefore there are no unsightly interconnecting wires or cables that require routing through your home of office! Moreover,
each handset
can monitor and operate up to two entrances - and if you use two handsets on the same system, they can also page one another with the linked audio facility!
The Vu-Com Wireless Video Door Entry kit is composed of: the Call Station(Wireless Call Station, part of the Wireless Video Camera Door Entry System) and the Mobile Handset(Wireless Video Handset for the Vu-Com wireless video entry system). You can purchase these via SparksDirect.co.uk - at the Door Entry Systems, Video Door Entry Systems.