When it comes to fire safety and electrical fires, we can become very complacent due to a feeling of familiarity. However, overlooking important security issues such as electrical safety can be fatal. Every year, around 70 people are killed and 350,000 injured due to home electrical accidents.
Electricity causes almost half of all accidental house fires in the UK; they threaten both your property and your possessions, and possibly your life.
The reasons behind these frightening statistics become obvious if you consider the typical, modern lifestyle. We use an array of appliances and gadgets in everyday aspects of our lives including cooking, washing and gardening, and many of these can pose an electrical fire risk.
Thankfully, we here at Sparks can provide you with advice that will enable you to avoid the likelihood of an electrical fire in your home.
Our tips for keeping on top of electrical safety in your home
Ensure you have at least one Residual Current Device (RCD)
An RCD
is a potentially life-saving device, for it is designed to prevent you from receiving a fatal shock at home (if you were to touch a bare, live wire, for example). It's primary purpose is to turn the electricity off automatically if it detects a fault.
This means that an RCD will provide some degree of protection against electrical fires. RCDs provide a higher level of protection than ordinary fuses and circuit-breakers. Under UK safety standards almost all sockets in new electrical installations (and new sockets) must be protected by an RCD.
There are three main kinds of RCD: fixed, socket-outlet and portable. Fixed RCDs are the most important kind of RCD to have installed in your home.
They are placed in the consumer unit (fusebox) and provide protection to individual or groups of circuits.
The socket-outlet type has an inbuilt RCD, which offers protection to the person in contact with equipment plugged into the socket, as well as from the lead.
Portable RCDs will plug into any standard socket-outlet, and you can then plug your appliance into the RCD. Portable RCD types are commonly used for outdoor appliances, such as mowing the lawn or trimming hedges.
Have an Electrical Installation Condition Report (EICR) periodically
An
EICR
is a periodic inspection report on a property's safety in relation to its electrical wiring . This report has also been called the 'Landlord Safety Test' or the 'Homebuyers Test'.
The tests are carried out by qualified electricians. We would highly recommend that you have an EICR inspection carried out every 10 years for your home. The primary purpose of an EICR is to guarantee the safety of the resident and to ensure they are not susceptible to electrical shocks and/or fires. You can have one arranged by clicking on this link.
Precautions when using portable heaters
Place the heater on a level surface, away from anything that may knock it over.
Make sure the heater is at least a metre away from combustible materials, and do not use it to dry your clothes on.
Do not leave the heater ON and unattended for an extended period of time.
Never power a heater from an extension lead. These leads can become overloaded and start electrical fires.
Electrical Safety First (ESF) has a free online '
Product recall checker
' where you can find if your portable heater (or any other item) has been recalled.
Other general tips for preventing the occurrence of electrical fires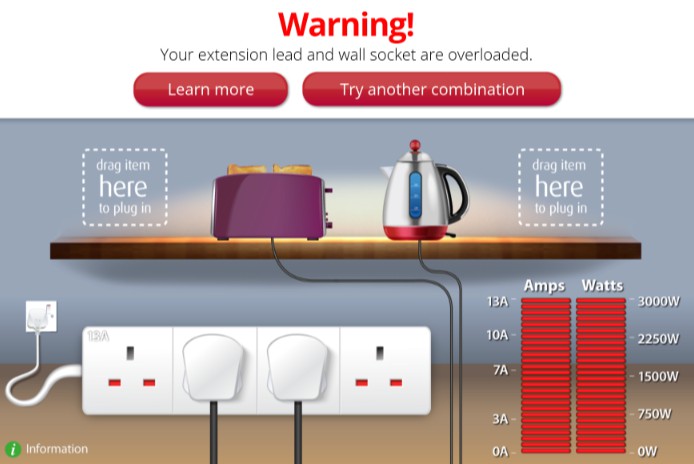 Ensure that you have conducted an EICR in due time, you are RCD protected and use portable heaters safely; these are some of the crucial steps to take in preventing electrical fires. Here are some other general tips:
Don't overload electrical adaptors by plugging too many appliances into one socket, especially those with a high electrical current rating such as kettles, irons and heaters. Visit this link from ESF to ensure your sockets are safe.
Check flexible cables for damage, wear and tear, and see that the plug is fastened securely to the cable. Don't use the appliance unless both it and its cable are in adequate condition.
Don't store combustible materials, such as clothes, papers or cleaning materials close to your service head (cutout fuse), electricity meter or fuse box.
Hand-held electrical appliances, such as hair dryers and straighteners get heated during regular use. Make sure that when you have finished using them, you switch them off, unplug them and store them away safely.
Check your sockets regularly – if you see burn marks or they feel hot, get a registered electrician to check if they need repairing or replacing.
Make sure that you have a working smoke alarm on each floor of your property – if a fire does start, this will give you a chance to get out safely.
If you follow these tips, you should have significantly reduced the risk of an accidental electrical fire in your home.