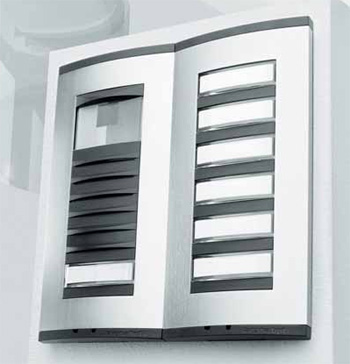 The innovative entry panel system for audio door entry control from BPT merges
the utmost modularity and functionality
with
the most advanced aesthetic values
contemporary design has to offer. Being very easy to install,
the Targha range of Door Entry Systems
is particularly suitable wherever leaving the existing structures untouched is of paramount importance.
On our website, at the Fire and Security category, you can find both the Audio Door Entry Systems and the Video Door Entry systems, where the Targha Panels from BPT are located. Read more below about the Targha Audio Entry Systems and the Targha Vandal Resistant Entry panels.
Targha Audio Door Entry System - Features
The Targha Audio System with keypad offers integrated access control;
The LED backlighting system provides an appealing illumination of the buttons;
Camera option: Colour or black & white camera option;
Rain Protection: Built-in rainshield;
Available in 4 colours: anodised aluminium, anodised brass, white and greyhound grey;
Slim lines: each panel is only 207mm high, 99mm wide and 28mm deep
Versions: The Targha Audio Panels come as surface panels but can also be recessed using a back box. In the recessed version, Targha compositions can be created either horizontally or vertically;

Remember:

The Targha audio entry panels require a HA/200 audio unit;
These panels take twelve buttons thanks to split buttons: They replace the standard buttons to serve twice the number of users.
Surface mount
or
recessed,
Targha's slim lines
make a discreet statement. Each panel is only 28mm deep, 207mm high and 99mm wide.  Being able to choose the most suitable colour means that
the Targha Audio Control System
can change its appearance to fit in with any surroundings and architectural style.
The Targha Vandal Resistant Entry Panels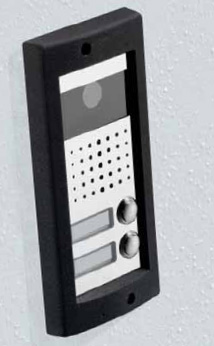 The
vandal-resistant Targha entry panel
blends a
particularly attractive design
with
a highly solid structure
. Special
burglar-proof screws
and
the mechanical qualities of the buttons
ensure that they are hard-wearing and tamperproof. The special technical features assure outdoor resistance and the materials used - stainless steel and 4mm thick polycarbonate - enhance Targha's
tamperproof and knock-resistant
properties. Each panel has back box dimensions of 198mm high, 90mm wide and 51.5mm deep with the front plate measuring 207mm high, 99mm wide and 22mm deep. More features:
Plates: 2 millimetres thick stainless steel vandal resistant front plates;
The buttons: are hardwearing and tamperproof, their mechanical qualities and special shape leave no room for foreign bodies to be inserted;
The name covers are shatterproof and made from clear polycarbonate a good 4 mm thick;
Special burglar-proof screw: this means that the entry panel can only be opened with the special tool supplied;
The Targha Vandal Resistant Panels are designed to be installed either horizontally or vertically: a feature that enables it to meet requirements in terms of aesthetic and space in a singularly elegant manner;
Check out the slim lines: each panel is only 208mm high, 99mm wide and 22mm deep;
Reinforced recessed embedding box features an anti-removal device, specially designed to assure unbeatable resistance against aggression of any kind;
Remember: The Targha vandal resistant audio entry panels require a HA/200 audio unit;
To recess the panels, you will need a HTS/VR back box.
To purchase online these audio entry panels -
the Targha range from BPT
- check out
the Audio Entry Panels
where you'll also find: