If you are looking for discreet downlights that provide ambient lighting and fire-rated safety, look no further than
Astro Lighting Trimless Downlights
collection.
All of the lights in this range have a subtle white finish and can be plastered into the ceiling to provide light - without attracting undue attention. So if you want to replaster your ceiling or are about to build a house, why not consider these trimless downlights to be plastered in.
The lights comply with the British Standards BS 476 Part 21 test for fire resistance (load-bearing elements) as well as meeting the following building regulations: Part B - Fire Safety, Part C - Moisture Protection, Part E - Acoustic Rating.
Most of the lamps in this range are compatible with LED lights, and run on low voltage levels which make them eco-efficient as well as safe!
Astro Trimless 12V Downlight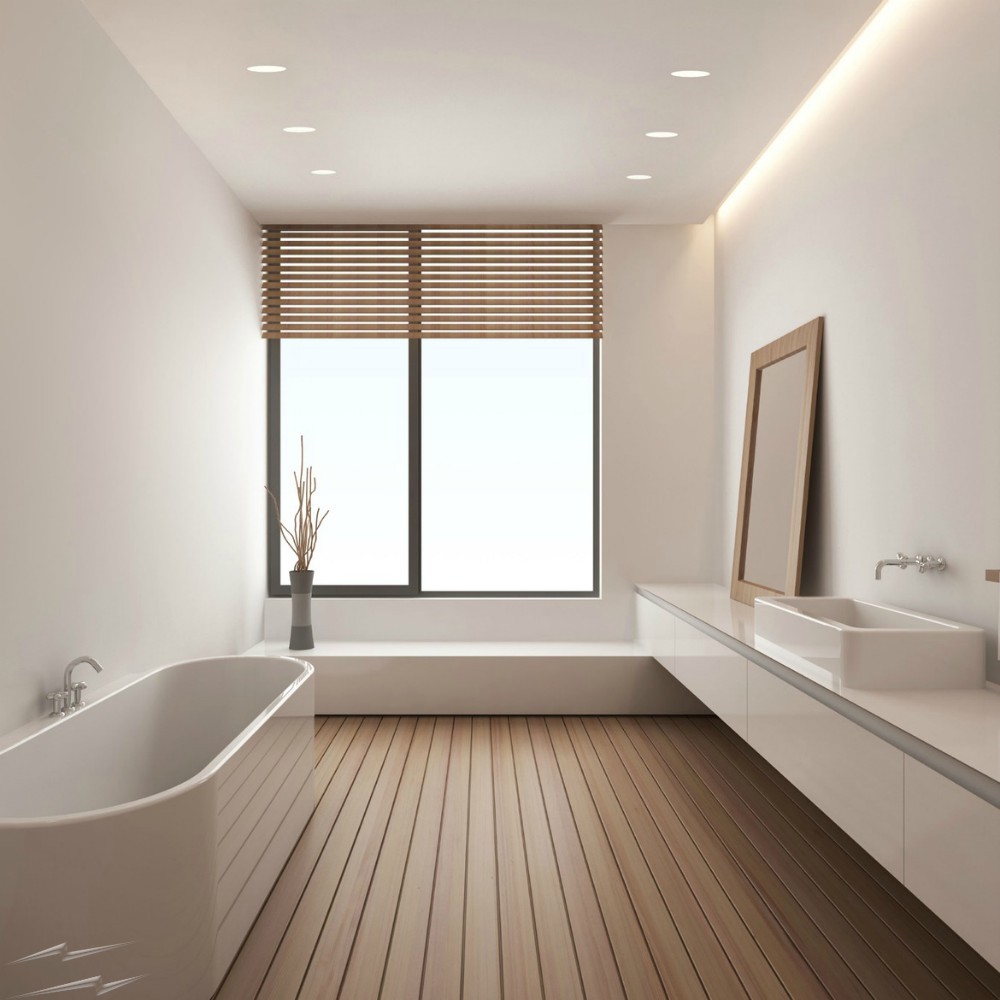 This fire-rated downlight operates on a low voltage of 12V and will fit discreetly into any ceiling in your home. The purpose of a fire-rated downlight is to ensure that there are no weak spots in your ceiling so they maintain the integrity of a building's structure, to prevent collapse. This means that safety is a huge benefit that comes with owning this light.
The Trimless 12V is ideal for ceiling mounting, in particular before the ceiling is plastered, as it will fit in seamlessly once the plastering is complete. It has small dimensions, being only 79mm in diameter and 115mm in depth.
It houses a single 50W Max GU5.3 bulb, which is not included. Its high IP65 rating means it can be installed in bathroom zones 1-3, which includes wet areas such as above the shower.
What's more, it is dimmable and uses a low voltage control gear. This means it can provide ambient lighting particularly in the bathroom or the shower; you could have a shower in gentle low light in the morning as you wake up, for example.
Astro Trimless Round Downlight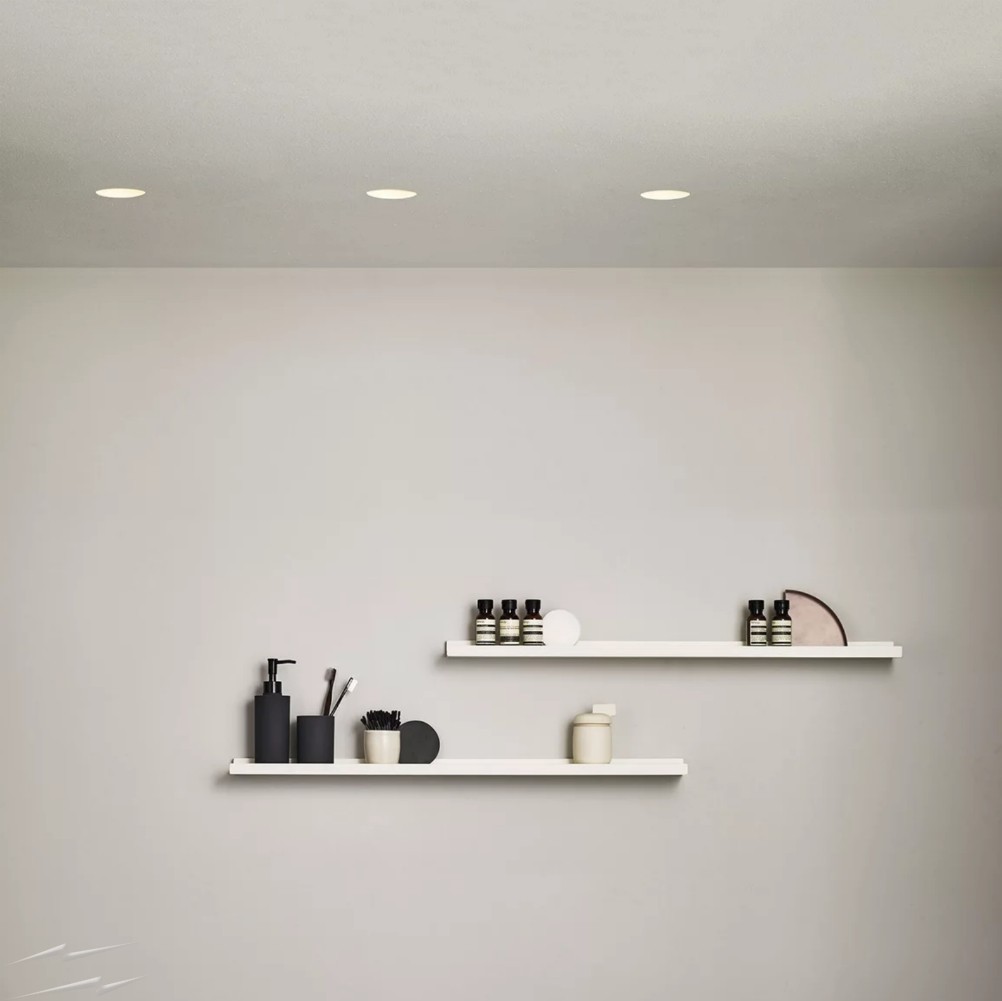 The Trimless Round downlight is a recessed round downlight and is 90 minute fire-rated, for the user's safety. The 90 minutes given is the maximum time that a fitting of this kind can last before collapsing during a fire- it should be enough time for you to get to safety.
The light used is a 6W LED GU10 (not included), which makes it a highly energy-efficient device. We sell a dimmable GU LED lights for a low cost here at Sparks, which is compatible with the Trimless range.
This recessed fitting has a depth of 150mm and is small with a size of 79mm (diameter) by 115mm (depth). It is ideal for fitting in plaster ceilings due to its matt white finish; however, the fixture must be installed before you start plastering.
With its white finish and IP65 rating, the Trimless Round downlight is a natural candidate for installation in zones 1-3 of a bathroom. The glass diffuser in this fitting ensures a glare-free, even spread of light while the trim-free design gives this light a very smooth aesthetic. Like the 12V, this fitting is dimmable for your convenience.
There is an adjustable variant of the Round, with a 40-degree beam angle (approx), which allows you to direct the 2700K of warm white light wherever it is most needed.
Astro Trimless Square Downlight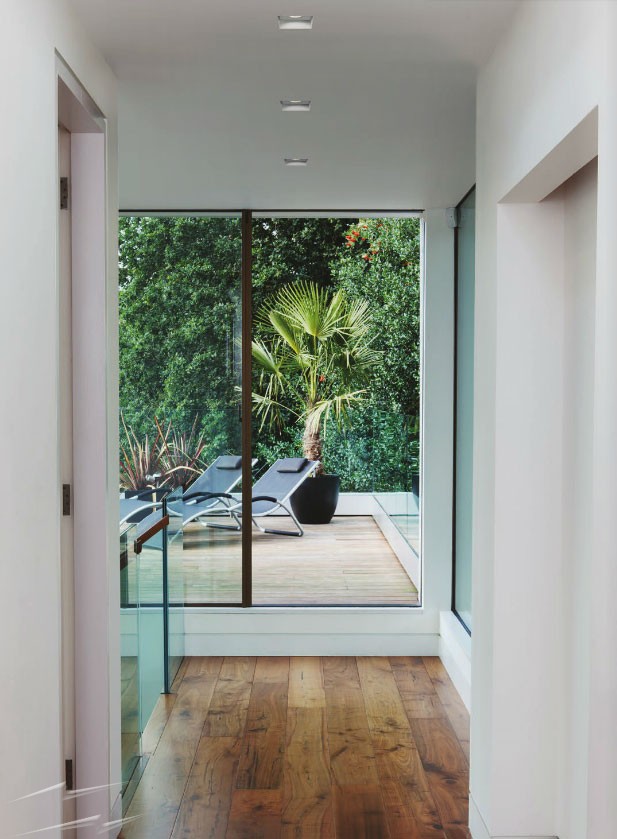 The Trimless Square Ceiling recessed downlight is finished in white. It should be placed before you have your ceiling plastered. Once it has been fitted, plaster the ceiling up to the edge of the light - this will give it a discreet and sleek appearance.
This square fitting measures 90mm (height) by 90mm (width), with a recess depth of 150mm. Like other lights in the Trimless range, it is entirely unassuming with its small size and white finish.
The Trimless Square is IP65 rated, making it suitable for bathroom zones 1-3; this downlight is ideal for bathrooms, bedrooms and living rooms. They would also look fantastic running along a hallway and staircase in a series. Like the other lights in this collection, this light is also fire-rated for your protection.
Astro Trimless Twin Downlight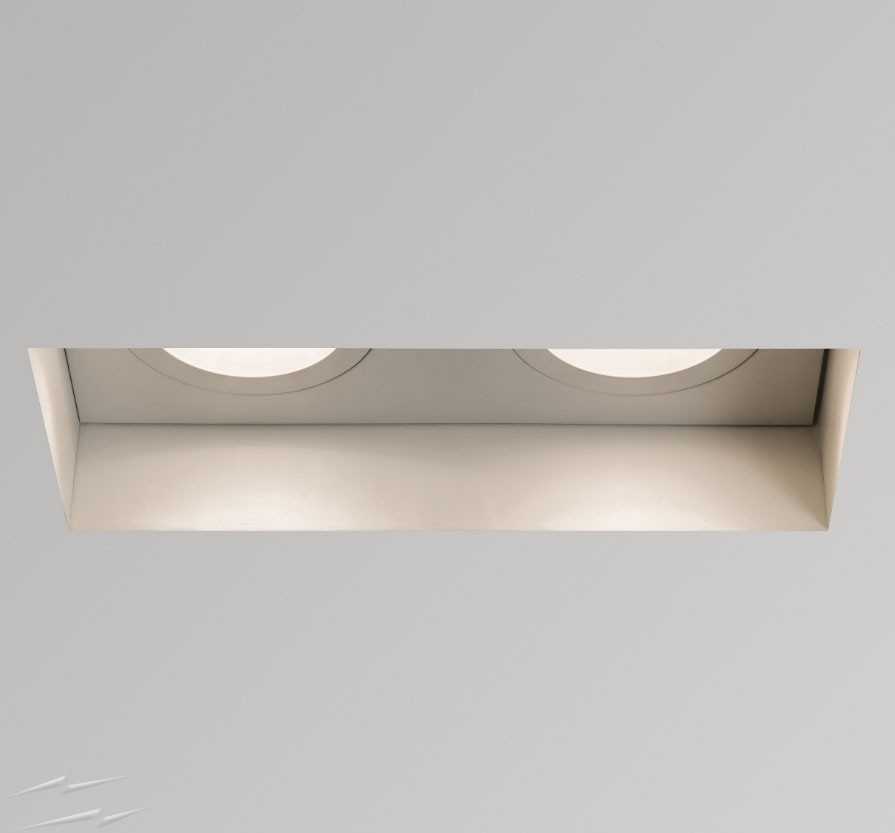 The Twin trimless downlight features two tilting lamps, each 6W Max LED GU10 (not included). The fitting is 90 minute fire-rated and recessed - it is best applied for fitting in plaster ceilings (it must be installed before plastering).
With dimensions of 208mm (height) x 104mm (width) x 162mm (depth) this is the largest light in Astro's Trimless collection. The minimalist interior ceiling light is suitable for bathroom zone 3 with an IP rating of IP20: it looks great when placed in a hallway, dining room or living room.
The two lights have a complete rotational angle of 360 degrees along with a tilt angle of 35 degrees. Their versatility is perfect when you wish to draw attention to important spots in your home - the staircase in your main hall for instance.
This modern range of recessed lights designed by Astro Lighting offers a stylish lighting solution without the fittings themselves being noticeable to the bare eye. The fact that the lights need to be fitted before the ceiling is plastered ensures that they are unintrusive.
The Trimless range are unobtrusive, fire-rated ad eco-friendly - Astro has made a noteworthy achievement in the field of recessed downlights. Get them now if you want downlights that provide peace of mind - as well as smooth dimmable lighting.