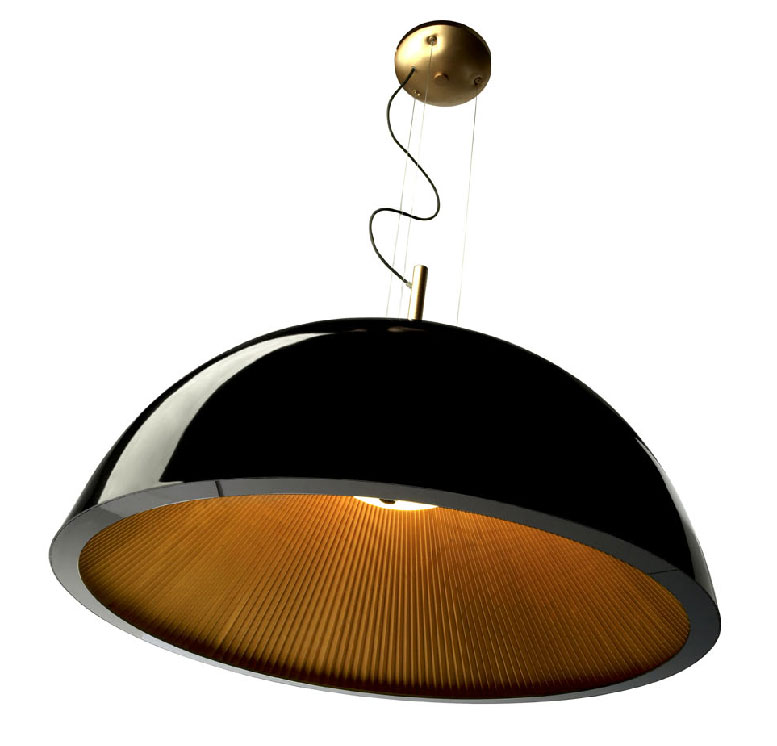 The
Umbrella
Hanging Pendant is a chandelier which in
the Umbrella series
, from the GROK range of lighting fixtures- the contemporary design brand by LEDS-C4.
The WIS Design was inspired by the everyday use of an umbrella - the Umbrella Pendant is a light fitting inspired by an umbrella on a sunny day where the sun shines through the fabric and creates a soft ray of light. Available in black exterior & gold interior and white exterior & silver interior.
The Umbrella Pendant lamp comes in two different sizes, the largest one being 1 meter in diameter, and the smaller, 60cm. Also available as a table and a floor lamp. This whole range is an impressive, ideal collection for stately spaces and for modern style. And, via SparksDirect - at the Pendants category, you can purchase the Umbrella Designer Collection Pendants for £382 + VAT only!
Under its GROK brand, LEDS-C4 lighting manufacturer proposes a broad line of products featuring the combined concept of contemporary design, quality and innovation. The Umbrella Pendant Lamps have been conceived for the European market although their acceptance knows no borders. GROK itself is inspired in the original designs of famous national and international designers who share their creativity.
The exclusive contemporary design of GROK goes together with an attractive saleability which makes GROK offer specific solutions to the various issues to be considered when lighting anything, from shops to private homes. Read more below about the features of the Umbrella Pendants, the dimensions, and some applications of the Umbrella Large Pendant for indoor use.
Umbrella Pendant, Designer Collection - Features
Finishes available: - Black lacquered outer with gold pleated inner shade; - White lacquered outer with silver pleated inner shade. # Opal glass diffuser;
Size: 600mm diameter, minim drop 520mm, max. drop 1500mm -

large pendant

;
Lamp used: 3 x PL E-14 Osram 11W, Energy Saving lamp;
Cannot take more than 3 x 11W -

energy saving pendant

;
The contrast between the glossy domed exterior and the pleated metallic interior diffuser -

irresistibly draws the attention

;
Manufacturer: LEDS-C4; model number 00-2727-AP-05/00-2727-AQ-78;
Uses opal glass diffuser for the light;
F Marked: Suitable for mounting on normally flammable surfaces;
Materials: Fabric, PVC, Polyethylene, Triplex opal glass;
Pendant: suspended installation;
Ideally used in the living room, in the hotels, restaurants, large dining rooms, etc.
Class 1 electrical;
Weight: 9kg;
Protection against electrical shocks (includes other measures based on the connection of accessible conductive parts to an earthing conductor).
To purchase online these pendants - excellent quality, large ceiling hanging pendants - choose from the finish you want(the Black lacquered exterior & Gold plated interior LX600 or the White Lacquered exterior & Silver Plated interior LX601) and order online the Umbrella Pendant for Interior use!