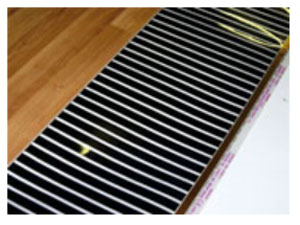 The LH underfloor heating solution from BN Thermic
can be installed
under laminate
and
engineered wood floors
to provide a sole source of heat and
a luxurious warm floor
. These
under-laminate-floor elements
consist of
a specially formulated semi-conductive medium
, coated onto
polyester film
. The power is fed to this resistive coating by way of
copper conductors
that are fixed to the longitudinal edges of the heating areas. This structure is insulated by
a lamination of polyester based films
that totally cover the element and is wider than the conductive heating area, forming
strong clear edges
that are designed to accept subsequent fixing to sub floor surfaces. The
ultra-thin LH heating elements
can be installed directly under laminate floors without the need for screed or adhesive.
A layer of DEP6 insulation placed below the LH heating element will provide the necessary thermal insulation and sound deadening. In poorly insulated properties supplementary heating may be required. The low temperature LH floor heating elements produce a gentle heat that evenly warm the entire room. Note: The LH laminate heating elements should not be installed in bathrooms or on top of wet floors.
Under Laminate Floors Heating - More features
The elements covered by 10 year warranty;
There are two different widths are available with standard lengths up to 10m;
Other non standard lengths are available on request;
4m long 'live' and 'neutral' cables are fitted;
6mm thick insulation and ultra-thin heating film and vapour barrier ensures minimum floor build-up;
A number of elements are used to fill the floor area and are connected in parallel.;
Choice of digital thermostats (must be ordered separately);
The length of an LH element can be reduced on site without the need for special tools;
Range includes DEP6 low profile insulation/sound deadening material and VB heavy duty vapour barrier;
The underfloor LH heating elements should be installed by a certified electrician and in accordance with the latest IEE Regulations;
The DEP6 low profile insulation boards prevent downward heat loss, provide sound deadening and are a suitable 'non-abrasive' surface for LH installation;
LH heating element is supplied fully prepared, cut to size, tails fitted and insulated ready for installation; Note: These under-laminate-floor elements - offering warm floors - are not a 'do it yourself' product.
Preparing, Measuring, and Installing the LH Laminate Heating Elements
Draw a plan of the floor identifying areas occupied by fixed furniture such as the kitchen cabinets (it is recommended that the heating elements would not be installed in these areas).
Draw the heating elements side by side on to the plan leaving a minimum gap of 50mm between the wall and the edge of the heating element.
Whenever possible, keep the element ends fitted with the live and neutral cables along one wall. This should be the same wall on which the thermostat is mounted.
The LH installation area must be covered by VB Vapour Barrier before the floor surface is laid.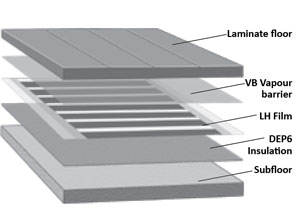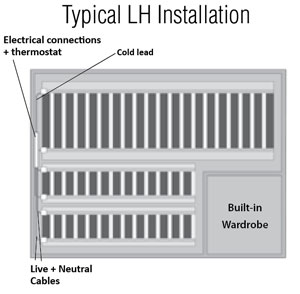 Choose the Thermostat for the Underfloor Heating System
There are 4 thermostats available for these laminate floor heating elements:
Ranges of Under Laminate floor Heating Systems available
As seen in the table below, there are mainly two ranges of laminate floor heating solutions:
the LH4 range - Width: 400mm overall, 330mm heated;
the LH10 range - Width: 1030mm overall, 1000mm heated;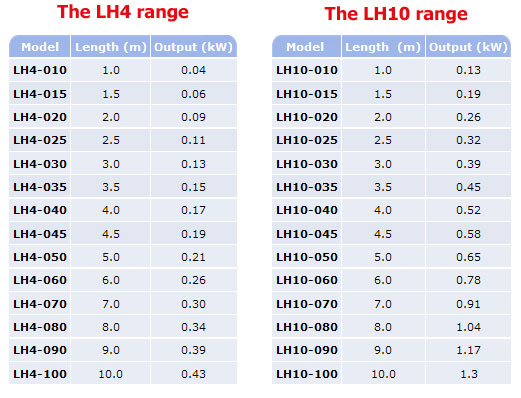 You can purchase online the Underfloor Heating Systems for Laminate floors - the LH heating elements from BN Thermic - via SparksDirect, at the Underfloor Heating Solutions section.