Carl Kammerling have caused excitement in the building industry, as they are now releasing wheeled versions of their highly successful Technicians Toolcase Max. We discussed this tool case in a
previous article
, outlining the key reasons for its popularity among tradespeople.
The Technician's Wheeled Toolcase is set to make a similar splash, as builders seek a product that can transport their heavy loads, and store their equipment accessibly. Carl Kammerling are experts in the field of workplace functionality and we here at Sparks are excited to promote their new product.
The main benefits of the Technician's Wheeled Toolcase
https://www.youtube.com/watch?v=BSRu-9DuVRM
The Wheeled Toolcase has been designed for all-terrain purposes, meaning it should survive trips to even the most challenging of work sites.
Plus, it can effortlessly transport a full toolkit with a weight capacity of approximately 20kg (with power tools and so on). This is the maximum weight that Health & Safety regulations will allow a tool case to hold.
Looking at its construction, the tool case is made from tough 600-denier polyester, which is what allows for its superb strength and durability.
Its balanced design includes a hardened chassis, wheels and a telescopic handle. This means you can easily wheel larger toolkits, test equipment and power tools. For instance, the C.K Electricians Premium ToolKit would fit in - with no problem.
This premium toolkit contains a tool case of its own, six screwdrivers, two types of pliers among its very long list of tools. And, despite this, it would fit into the Wheeled Toolcase with room to spare!
The areas where it can be used are limitless: from factory sites to commercial premises. The ground covered is often rough, so tough large wheels and capable handles are major bonuses.
In addition, this product offers additional health benefits. A common malady suffered by tradespeople is back problems, which are a significant cause of loss of working days in many industries.
The Wheeled Toolcase is therefore the perfect solution for a tradesperson who is unable to get his vehicle close to a particular job. They would normally have a long, tiring walk with a heavy toolkit that could leave them with back strains and other problems. However, Carl Kammerling has offered the ideal solution with the release of this product.
CK Magma Wheeled Toolcase - features and safety
[gallery size="full" link="none" columns="2" ids="14099,14098,14097,14096,14095,14094,14093"]
CK Magma Wheeled Toolcase provides some undeniably impressive features to go alongside its sturdiness and weight-load capability.
It boasts an extra-wide compartment with red lining for high tool visibility, which means that picking out the right tool is made that much easier.
Presuming you need this Toolcase, it is safe to assume you have plenty of equipment - the special lining will help you find the one you need easily. There is an impressive total of 35 deep square pockets and tool holders for efficient tool storage.
The tool case also has a zip down front panel featuring tool and A4 document storage, which is useful for keeping maps and buildings specs in.
Charles Whitfield, the Product Developer at C.K. Magma spoke extensively about the practicality of the Wheeled Toolcase and what its features would mean for tradespeople. He stated that:
The many features include an exceptionally tough and durable construction for all terrain use; a generous capacity and efficient storage for the larger toolkit, all designed to make a real difference to tradesmen who are looking for high quality and efficient portable tool storage equipment.
The view from an expert: a real tradesperson's thoughts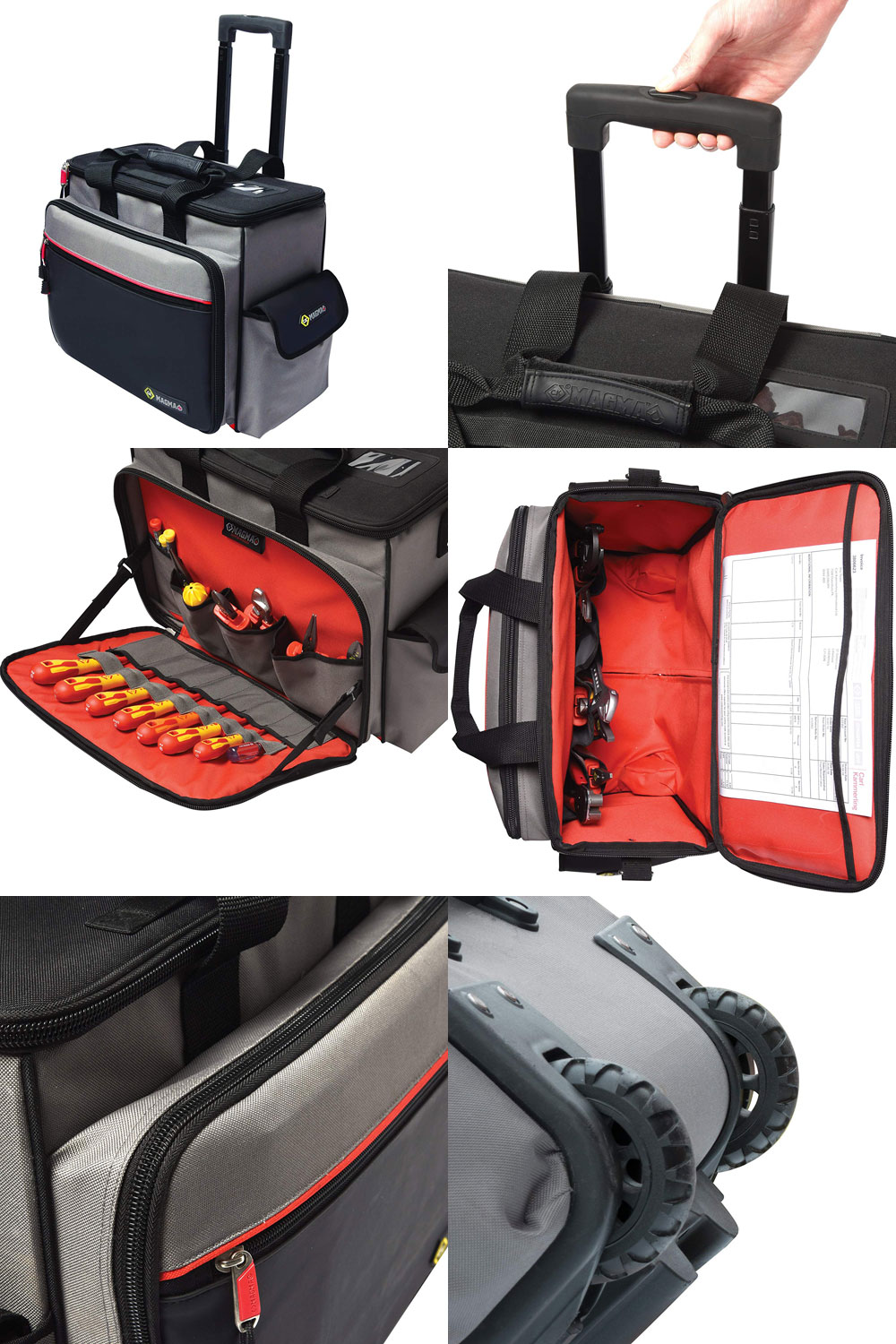 Len Lilley used the Technicians Wheeled Toolcase as he went about construction in a home he was working on. He reported his insights to the reputable Professional Electrician site.
Lilley said that he had been a firm fan of C.K Magma's products for a while now. And it's safe to say he was not disappointed by their latest offering.
He believed that the nature of the Wheeled Toolcase could help the user to better manage the weight of the equipment that they have to take on-site, and that it seemed like a 'useful and unique' concept.
The mobility of the tool case was another feature that caught his eye, as the durable wheels made him feel in complete control - despite its heavy weight! He said it coped with ever-changing terrains throughout the day with no problems to speak of.
He also has an example of the practicality of the tool case. He said that the distinctive red lining compartments meant that he no longer had to leave any specific tools at customers houses, as he could easily locate them in the tool case. Lilley said this meant that he could more readily notice if there was anything missing amongst his tools.
Asked if he would recommend the tool case to other electricians, Lilley said:
Absolutely! It's a great solution to help you navigate busy sites where you're required to lug around heavy tools and equipment… All in all it's a terrific product and well worthy of the recent Top Product award it received from PE's readers.
So if you are a professional electrician, what is stopping you from investing in this wonderful product from Carl Kammerling? It will take a great weight off your back as you work - and will likely become one of your favourite pieces of kit on-site.