This blog post is a question, and we would really appreciate if we have some honest answers from our readers and customers.
In a world that is constantly on the move, always connected, and where the desktop PC is not as used as our smartphones and tablets, it is no longer impossible or inconceivable to order online from a mobile device.
That's why recently we at Sparks Electrical have invested money, energy, and lots of time into re-doing our website in a mobile-responsive online store.
We would like to accommodate even the most technologically-advanced of our users, while at the same time the design and menus are non-challenging but rather simplistic and easy to use for even the most technologically-challenged of our visitors.
With this in mind, we would like to ask the question,
Do You Shop for Electrical Items Online via your Tablet or Smartphone?
If you're wondering what "electrical items" mean, we refer to lights, switches, sockets, light bulbs, heating elements, ventilation fans, etc.
We already know that most of us shop for their digital items online and via the smartphones - we shop for cameras, mobile phones (at least price comparisons), smartphones, tablets, computers, memory cards, etc.
But what about the electrical items? Do you shop for your switches and sockets by using your iPhone?
Do you use your Android tablet to shop for floor lights or ceiling lights?
Let's say, when you go to work and you remember that you need a downlight or a wall lamp, do you search for it on google and then buy it on your iPhone?
Or, let's say, during your lunch break, do you browse for cheaper lights or cool-looking switches and sockets?
Why do We Ask This Question...
Ever since we switched to the new website we have been wondering,
Was it smart for us to move to a mobile-responsive website? Or is it something that only in 2-3 years we will see developing?
Our friends at
Cyber-Duck convinced us
that it's worth it to invest in this now, and so.... we are now not only online on your PC, laptop, notebook, or MAC, but we "fit in your pocket" by fitting on your smartphone screen or on your tablet screen.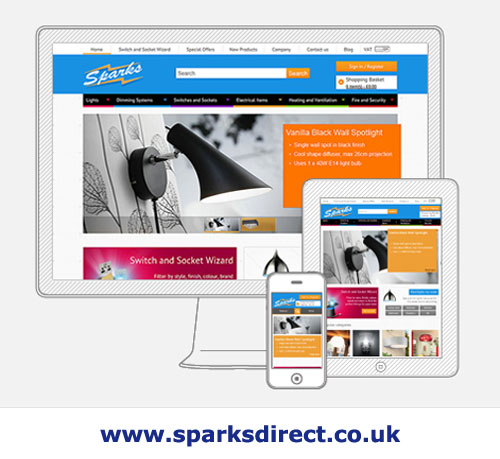 When analyzing the orders we get through our online store and the calls we have from our customers, we noticed that quite a few of you guys use your mobile device / tablet to visit our website and order.
That's why we want to get a larger poll, asking both electricians and contractors and regular people,
Do you guys shop for your light fittings / electrical items online by using your smartphone or tablet?
Pictures credit: question mark (
wikipedia
) and
a screenshot of our site here
.
<<<< thank you for your answers - in advance! :) >>>>