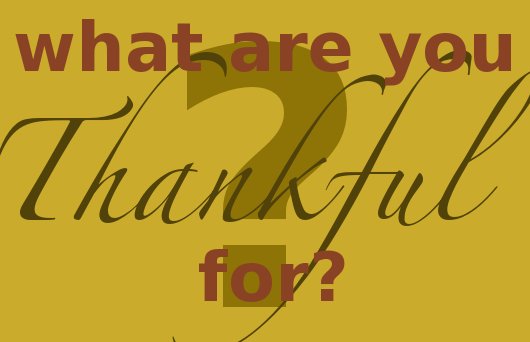 You may say that Thanksgiving was yesterday, November 23rd 2012, and you may also say that Thanksgiving is an American thing, not a British one. Why not focus on Black Friday or, even worse, on the Boxing Day sales?
It is because we would like to be thankful. Yes, it is good to run a business, work daily, do your best in what you do, make money, offer good advice for customers looking for lights and switches and sockets, and many other things. But from time to time - not only once a year - it is good to STOP and be thankful.
Are You a Thankful Person?
If you are a career driven person, it's not that common to be thankful. It is much easier to work hard, deal with all the problems, make sure you do what you have to do, and so many other things - than to stop and be thankful for the little things in life.
Are you a thankful person? I don't mean, Do you say Thank You to people who do things for you? No, in the bottom of your heart, whether things go according to your plan or not, are you thankful? Though the sun is not out for days, are you still thankful for life, health, your family, your job, and so many other things?
What are You Thankful for Today?
In my opinion, we shouldn't be thankful only once a year, when we're reminded by "the Thanksgiving Holiday" showing up as
#Thanksgiving
on twitter or by the news of the "turkey holiday". We would like to "pass on the mic" to some of our workmates here in store and to some of you, our visitors and readers, to tell us
One Thing You are Thankful For Today
.
We made a small compilation of things we are thankful for right now, today. They may not be BIG things, and they may not be amazing accomplishments, but we are thankful for these. They are first person thanking sentences, since we personally are thankful for specific things.
I am thankful for life. I am still breathing, I am still healthy, I am still alive, and I am going on still. I thank God I have life and I live here and now (W.M).
I am thankful for my mom and my dad. There are too many things to be thankful for when it comes to my parents, but what stands out the most is that they love me and understand me (E.M).
I am thankful for my family - my wife and three children are happy. I am so thankful to have a happy family. (G.)
I am thankful to God for giving me a lovely and loving wife. I am thankful for my marriage life (S.M)
I am thankful for being healthy. It may be cold outside and many are getting sick these days, but I am still healthy. I am thankful for this. (J.L)
I am thankful for my job (it helps me pay my bills) and for my mum, who loves me and cares for me. (M)
I am thankful for my kids, with everything that comes with them (pains and aggravations, joys and sorrows). I thank God for my kids. (N.C)
What are YOU thankful for today?
This weekend, think about it. Share with us one thing you are thankful for. People don't usually work in the weekend, so why not take this time to stop and ponder over this, then share with us what you are thankful for.
Picture credit: What are You Thankful For? via here.