The Aico Ei2110 Multi-Sensor alarm is the best solution for the Ultimate Protection! Coupled with the Aico Ei168RC RadioLINK, this Aico Ei2110 with RadioLINK has multiple uses and can be fitted to work together with multiple other devices!
Note: this Aico alarm is no longer available; see the current Aico Domestic Fire Alarms here.
New from Aico is the Multi-Sensor Ei2110 fire alarm. Up to now there have only been three types of alarm available – optical, heat and ionisation.
Each one is best suited to a different fire type (e.g. flaming, smouldering etc).
The Aico Ei2110 Multi-Sensor changes all that. It has two sensors in it – optical and heat – so it gives the best response to all different fire types.
The information below can also be found via Aico Electrical Wholesaler Tips - What Works with What?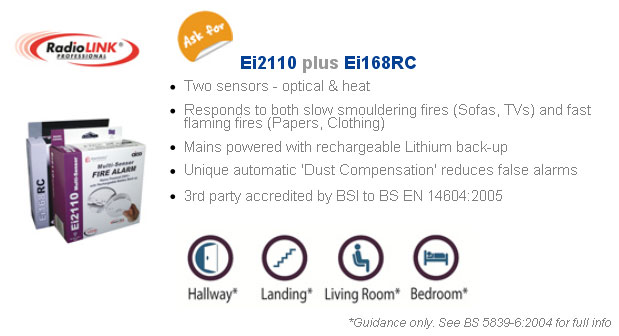 Main features of Aico Ei2110 plus the Aico Ei168RC Base
Two sensors - optical & heat;
Responds to both slow smouldering fires (Sofas, TVs) and fast flaming fires (Papers, Clothing);
Mains powered with rechargeable Lithium back-up;
Unique automatic 'Dust Compensation' reduces false alarms;
3rd party accredited by BSI to BS EN 14604:2005;
Ideal for: Hallway, Landing, Living Room, and Bedroom(Guidance only. See BS 5839-6:2004 for full info);
Aico Ei2110 Multi-Sensor alarm for the Ultimate Home Protection;
Frequently Asked Questions – the RadioLINK technology for Aico heat/smoke alarms;
Alarm sensor types and their positioning, wiring and interconnection;
What other Aico Alarms does the Aico 2100 Multi-Sensor Alarm with RadioLINK work with?
Aico Ei2110 Multi-Sensor Alarm - working with a Relay Module, the Aico Ei428
# Mains with rechargeable back-up
# Volt-free relay contacts
# Ei428SK available pre-wired for Warden Call
It is working with a Remote Control Switch, the Aico Ei411H
# Test and Silence alarms
# Identify triggered alarm
# Battery powered (10 year life)
# Ei412 available with CO indicator light
It is working with a Switched Input Module, the Aico Ei408
# Connect to switched contacts (e.g. sprinkler flow switch)
# Triggers alarms when contacts close
It is working with a Alarm for Hearing Impaired, the Aico Ei170RF
# Mains with battery back-up
# Strobe and vibrating pad for pillows
# Ei171RF strobe only also available
It is working with a Carbon Monoxide (CO) Alarm, the Aico Ei262
# Mains with rechargeable back-up # Wireless interconnection with smoke alarms (must use Ei412 Switch)
It is working with a Call Point, the Aico Ei407
# No replacing glass
# Reset with key
# Completely wireless
# Battery powered (10 year life)
It is working with a Repeater Module, the Aico Ei420
# Mains powered
# Repeats RF signals
# Extends range