It's all about saving energy plus saving money when it comes to outdoor lights. The design is also important, but sometimes in the dark all you need is a good light fitting mounted on the wall, giving enough light for you to see the pathway or the door.
Or all you need is a flood light in the back garden that would switch itself on when the presence of a person is detected. More and more light fittings outdoor work together with a PIR, a presence detector.
What's the Problem with Outdoor Lights with PIRs?
The principle of a presence detector unit (a PIR) is that it saves you energy and time - when it detects the presence of a person, it switches the light ON, and when no one is there, the light is OFF.
But when it comes to outdoor lighting and the IP rating and waterproof and other standards like these, it is not so easy to fit a PIR unit with the wall lights.
First of all, the IP rating will be lost if you drill into the case of the light fitting. Also, if the PIR malfunctions or becomes defect, the light fitting will also be lost.
Lighting manufacturers are still struggling with this problem.
Any Solution for the PIR Triggered Outdoor Lighting?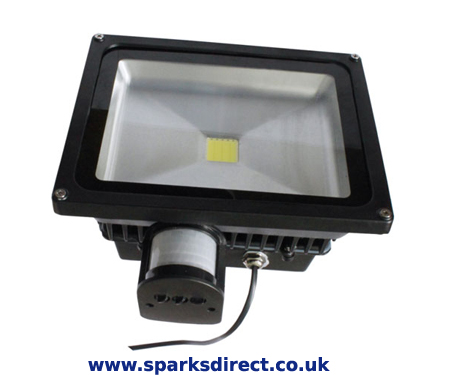 So, what is the solution? We asked our specialists here in the showroom and, no matter how much we want to have a wall mounted light fitting with a PIR (so that we will never worry about turning ON or OFF the fitting), the manufacturers today don't have a proper solution for this.
For the wall lights though it is recommended to use light fittings like the 7408GB Scenic Wall Lamp and AX0562 Homefield Wall Light - together with an energy saving light bulb.
This is the best way to save energy while still saving some money on the outdoor lights.
When it comes to flood lights though, you can get some really good fittings like ES95 30W LED flood light with PIR integrated! You can always use a wall-mounted flood light or a garden light with PIR integrated!
What is your opinion on this? Is it necessary for the wall lights to also have PIR integrated? Or is it OK to just have them energy saving and low cost? Let us know in the comments and make sure you visit our website at Sparks Direct.