The USB sockets meet a very modern need - too many chargers plugged into the wall socket or the extension cord! The iPhone or Android phone needs to be charged, the tablet needs to be charged, and even the photo camera needs to be charged - they all need to be charged, and if you have 2+ adults in a house, this may mean that up to 5-6 devices need to be charged at one time!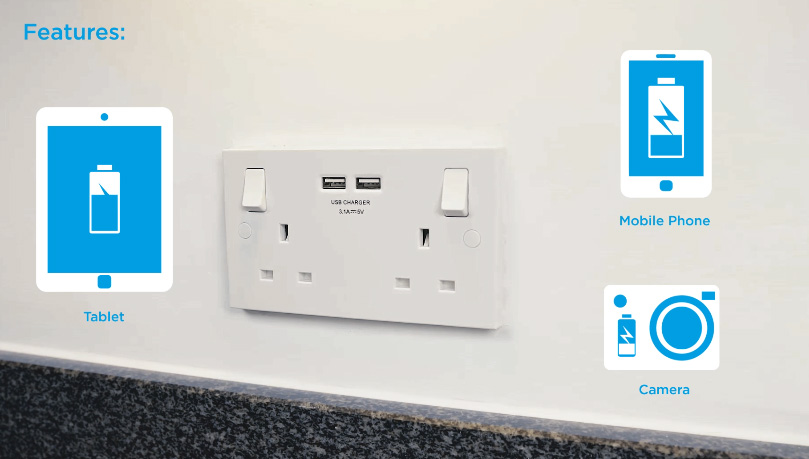 ​
The USB sockets come in very handy in this case: they free up the wall sockets of the growing demand for device charging, and you don't have to worry about the voltage / amperage: the "smart usb charging" function makes sure enough current is being sent over to your battery. Most USB sockets fit into 25mm wall boxes for ease of installation, and they can be either in a white plastic or a flat plate metal.
Twin USB Charging Sockets - Benefits
Charge your iPad, iPod, iPhone, Samsung Galaxy, Android smartphone, and Android Tablet from the wall socket, as well as the camera and other mobile phones.
2 Type A USB sockets totalling 2.1A output, 5V, with Smart USB charging.
Choose the desired finish: match the existing switches and sockets finish by choosing the chrome, brushed steel, screwless, white, or other finish from the USB sockets available.
Smart USB charging: the USB socket is in standby mode when the device is fully charged or not in use; it detects the USB device and ajudsts the charging pattern to suit, plus it protects the device in the even of an overload.
Easy to install: you can simply replace your twin kitchen / bedroom / study wall socket like-for-like with the twin USB socket + 2 x 13A plug socket - easy to install, colour coded terminals for quick identification.
Select the USB Socket Type you Need
Choose the style, finish, and type of USB socket you want; at this moment in time we can offer you:
Floor USB sockets with a single 13A socket.
Single 13A Plastic Socket with 2 x USB sockets.
Forbes and Lomax flat plate 1 gang or 2 gang USB sockets in all their popular finishes.
Heritage Brass low profile, flat plate, and stepped plate twin USB sockets with metal rockers.
Twin plastic USB sockets from BG with rounded edge or square edge.
Schneider USB sockets, both in plastic slim and in flat plate metal, including the screwless plate.
Power tower with 3 x 13A sockets and 2 x USB sockets for kitchen.
MK twin USB socket with 2 x 13A sockets.
Under Cabinet power station with 2 USB charger sockets.
Euro and Grid USB charger modules in white plastic from either BG or Schneider.
Extension lead with dual USB ports, complete with 2m lead and surge / spike protection.
USB Sockets on SALE - Special Price!
And right now we have a great promotion running at Sparks with special prices for some of the twin sockets, such as:
BG Nexus 922U Square Edge White 2 Gang 13A Switched Socket with 2 x USB ports - as low as £6.99 + VAT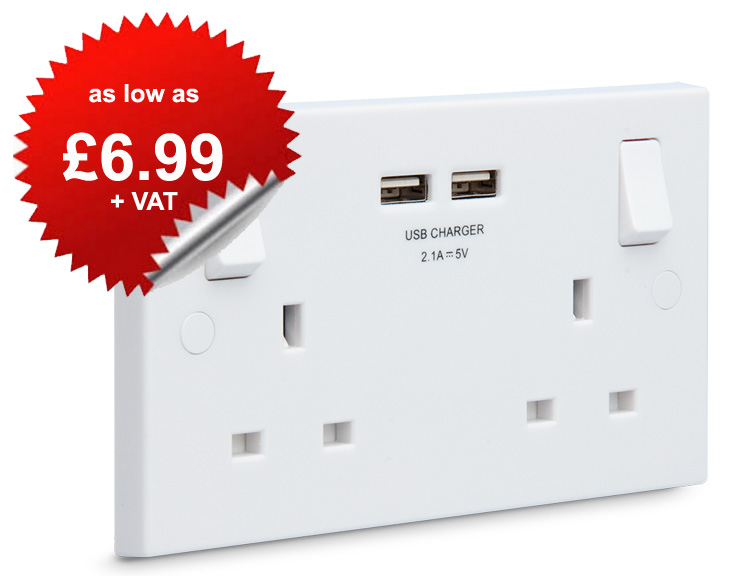 BG Nexus 822U Rounded Edge white 2 Gang 13A Switched Socket with 2 x USB ports - as low as £9.99 + VAT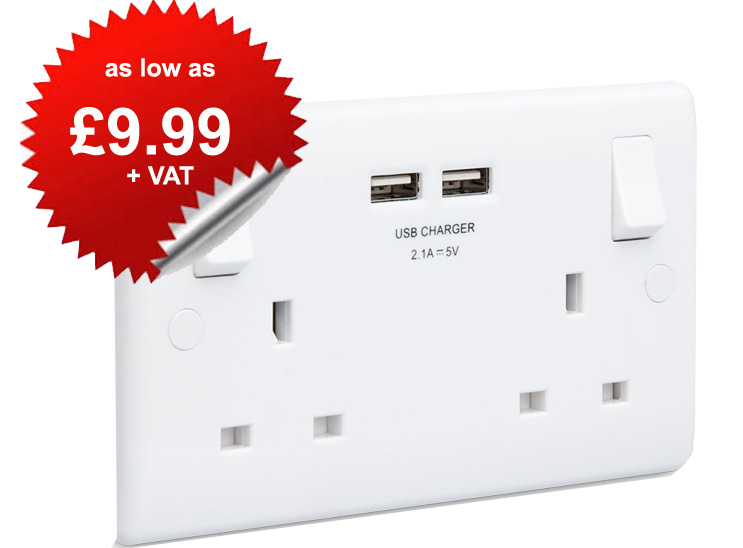 BG Nexus NBS22U Brushed Steel Flat Plate Twin 13A Socket with 2 x USB Ports - as low as £14.99 + VAT
BG Nexus FBS22U Screwless Brushed Steel Flat Plate Twin Socket with 2 x USB Ports - as low as £15.99 + VAT