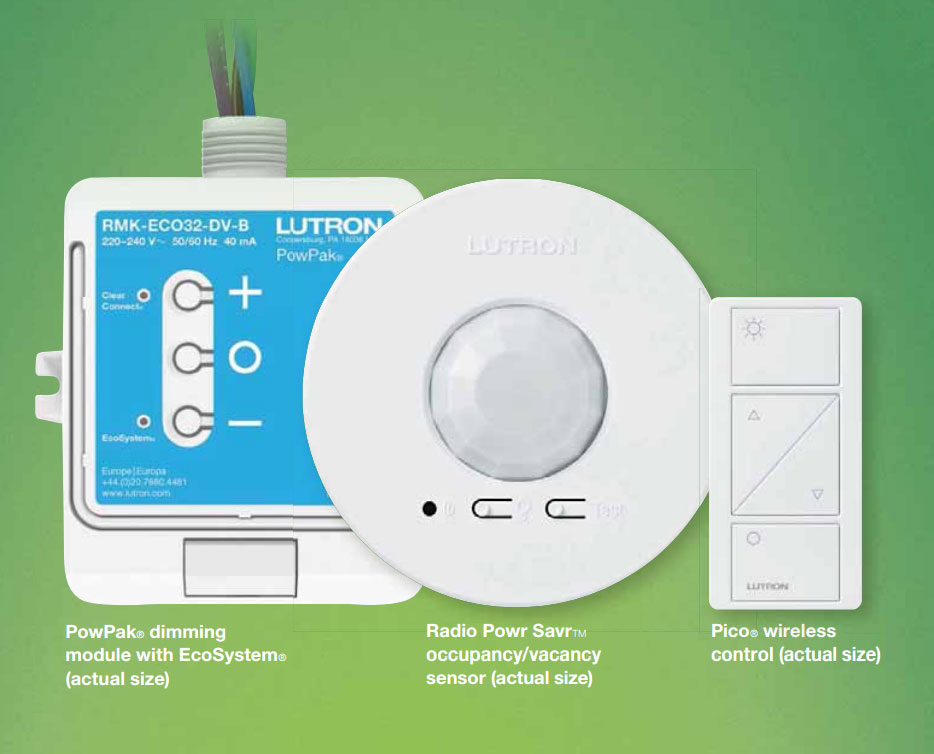 ​
The Energi TriPak from Lutron is a family of wireless energy saving products that feature a wide range of Radio Powr Savr sensors, Pico wireless controls, and PowPak load controller. When you combine these components, you can save up to 60% of lighting electricity usage, increase occupant comfort and prductivity, control virtually all loads (even the LED lighting loads), and reduce the installation and programming costs!
According to statistics, the annual electricity use in commercial buildings is approx. 20% for lighting, 21% for cooling and ventilation, 26% for heating, 5% for office equipment, and 26% on other things. Lighting accounts usually for 20% or so of electricity usage in new construction and retrofit commercial applications, such as classrooms, offices, etc.
With Lutron Energi TriPak you can establish an energy saving strategy with the help of the automatic occupancy / vacancy sensing and daylight harvesting.
Proper lighting is beneficial to space occupants, so by providing task-appropriate lighting and at the same time a good individual lighting control, Lutron Energi TriPak improves comfort and occupant satisfaction (which results in increased productivity), and at the same time saving £££ on the energy bills.
The best thing about the Energi TriPak from Lutron is that it requires no additional wiring. The components of this system communicate wirelessly via Lutron's reliable Clear Connect RF (Radio Connect) technology, and simple button pressing controls the switching or dimming.
What is Lutron Energi TriPak and Why should we Use it?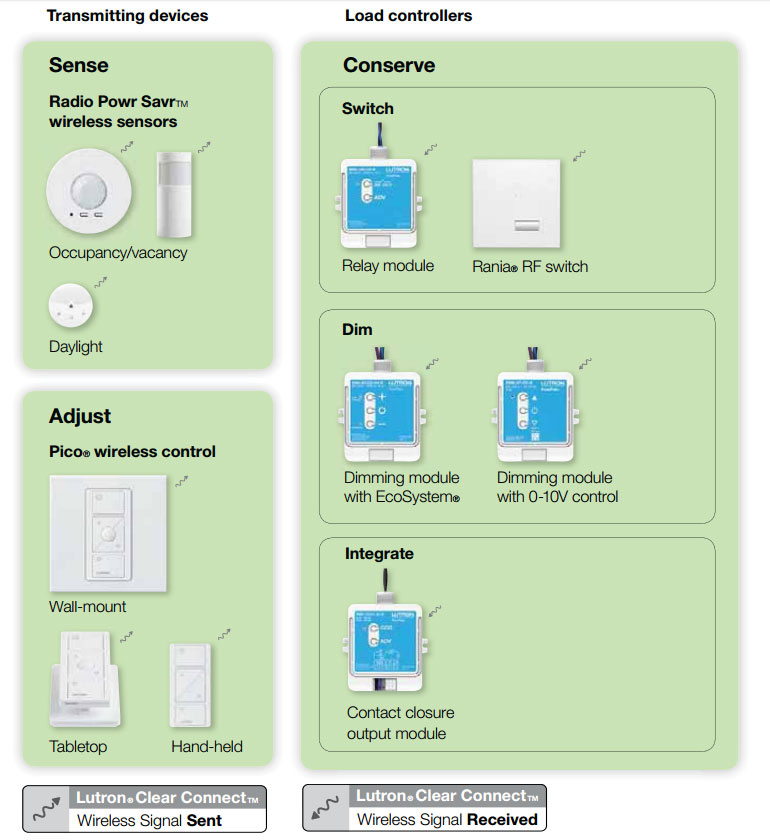 The Energi TriPak from Lutron consists of transmitting devices that send out radio frequency (RF) commands to the load controllers. The load controllers receive the wireless command and perform the appropriate action (based on the information received).
The transmitting devices include sensing devices such as wireless sensors (occupancy / vacancy sensors and daylight sensors). The adjusting controls are the Pico wireless control (which can be wall mounted, table top, or hand held).
Furthermore, the load controllers are either switching modules (relay modules and Rania RF switch), dimming modules (dimming module with EcoSystem and dimming module with 0-10V control), or contact closure output modules.
What are the Energy Saving Benefits of Lutron Energi TriPak?
Easy to install: all the points of control are wireless, so it is quite simple to install them, with no new wiring needed.
Simple to program: simple button programming procedure for all the devices.
Cost effective: since the overall labour and cabling costs are reduced (due to the wireless communication), you don't have to "break the walls" or "break the bank" to install it.
Potential savings on lighting in electricity consumption
Occupancy/vacancy sensing: it turns lights on when occupants are in a space and off or dimmed when they vacate the space. Energy saving: 20 – 60% Lighting
Daylight harvesting: dims electric lights when daylight is available to light the space. Energy Saving: 25 – 60% Lighting
High-end trim: sets the maximum light level based on customer requirements in each space. Energy Saving: 10 – 30% Lighting
Personal dimming control: gives occupants the ability to set the light level. Energy Saving: 10 – 20% Lighting8
Plug load control: automatically turns off loads after occupants leave a space. Energy Saving: 15 – 50% Controlled loads
HVAC integration: controls heating, ventilation and air conditioning systems through contact closure. Energy Saving: 5 – 15% HVAC