The Importance of Brightening Up Your Kitchen
Some people think they can choose any lighting for their kitchen as long as they serve their purpose. The truth is, brightening up your kitchen serves many purposes. Here are some reasons why it's crucial:
Improve visibility
One of the main reasons you're installing proper lighting in your kitchen is to ensure you see everything. Lighting helps you quickly look for appliances, utensils, whiteware, and more. Most importantly, you want to ensure you don't hurt yourself when preparing food or cutting meat and vegetables. Proper lighting also allows you to cook more efficiently, especially when checking if your food is already done.
Some people also enjoy eating in the kitchen. Can you imagine eating a delicious meal with poor lighting? How else can you enjoy your meal if you can't see what you're putting in your mouth? Good lighting can make your meals look more palatable and every bite more flavourful.
Add beauty
Proper lighting also adds beauty and enhances the overall aesthetic of the whole kitchen. You can experiment with the different types of lighting mentioned below. For example, under-cabinet lighting can illuminate the area below it, highlighting nice kitchen worktops, whilst also making food preparation easier and faster. Furthermore, you can use accent lighting to highlight the décor in your kitchen or your collection of chic fine china for example.
Lighting can also make your kitchen look more prominent. You can soften shadows, specifically those found between the ceiling and cabinets. Install uplighting on top of the cabinets to make the kitchen look roomier.
Save on electricity
Did you know that using proper lighting to brighten your kitchen can also help you save on electricity?
For instance, a cabinet LED light or a USB rechargeable light can brighten your kitchen effectively without worrying about paying more for your electricity consumption when compared to using regular lighting. Most of them last longer too.
Set the mood
Like other parts of the house, the kitchen must be inviting and welcoming. It must be a place where you (and any guests) can feel comfortable. So how do you set the right mood? The answer is using the appropriate light to brighten your kitchen.
Natural light from your kitchen windows can improve your mood and well-being. Some studies prove that brighter light can intensify one's emotions while low light can steady your emotion.
You can utilize the sun's natural light during a sunny day to brighten your kitchen. But what about when it's rainy or cloudy? Most importantly, how do you ensure it stays bright at night? This is where different types of lighting come in.
Types of Lighting to Brighten Up Your Kitchen
Did you know that you don't need to give your kitchen a total makeover and spend more than necessary to make it brighter? Check out these lighting types that'll instantly bring life to your kitchen:
1. Downlight
A downlight is a type of light fixture that shines light downward to illuminate a space below. Typically, it is only partially visible because a portion is recessed into the ceiling. Downlights work well as kitchen lights.
It is a terrific way to draw attention to your essential kitchen items. It can light up your kitchen island and food preparation area. There are a lot of options with downlights and they come in different subtypes and materials, too.
2. Under-cupboard light
Under cupboard lighting, as its name suggests, refers to lights mounted beneath a cupboard, illuminating the space directly below a row or group of cabinets. It is most frequently used in kitchens as it provides additional lighting to help with food preparation.
There are many kitchen lighting options with under-cupboard lights. Some of them are rechargeable through USB and come in different materials and colours. There are strip lights and round ones as well, such as these matte black, white, and brushed chrome, among many others.
3. Strip light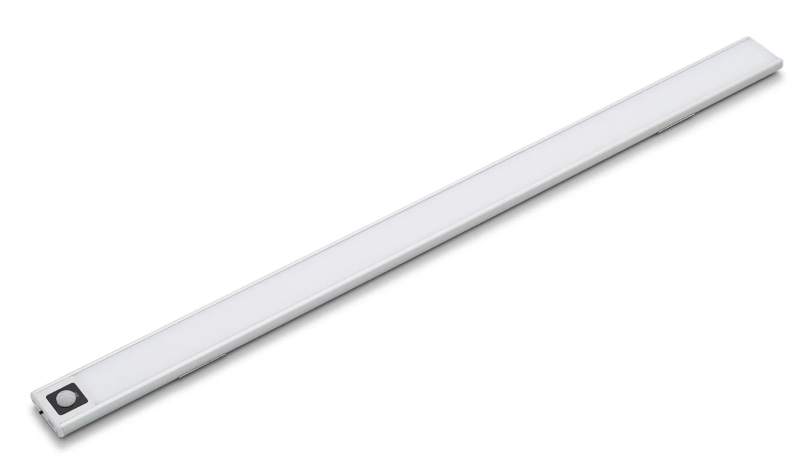 You can also incorporate LED strip lights in your kitchen using a self-adhesive strip light. These can also be particularly helpful for odd surfaces where it may be difficult to install conventional lighting. Strip lights can be attached onto almost any surface, thanks to the flexible nature of the strips and the adhesive base which make them incredibly versatile.
They can also be fitted against a kitchen backsplash, and then hidden behind a cutlery or knife stand, or appliances to add a nice touch of mood lighting to the room. This could give a nice touch of elegance when entertaining guests or hosting parties in an open-plan kitchen/lounge space.
4. Spotlight
Spotlights in the kitchen aim their beam in a specific direction. These provide depth in the space and can highlight a particular area. They can be beneficial in smaller rooms because these lights also give the impression of spaciousness.
Spotlights are placed onto the surface of your ceiling as opposed to downlights, which are recessed into your ceiling. Also, spotlights are far simpler to install and don't require any particular skill.
In the kitchen, spotlights are quite helpful since they let you draw attention to a specific area, like the countertop where you chop vegetables. You can often regulate the direction and intensity of the light in your kitchen thanks to the fact that kitchen spotlights are frequently movable or dimmable.
5. Smart lights
Do you want to automate or control your lights remotely? Smart devices are becoming increasingly popular, and you can opt for smart lights too. Incorporating them increases the convenience of turning your kitchen lights on and off.
Smart LED bulbs have software connected to an app, smart home assistant, or other smart accessories, eliminating the need for conventional wall switches. It will give your kitchen a modern, elegant, and relaxed atmosphere.