This is a very useful guide we found via
Eglo
(one of our light fittings suppliers) entitled
Light and Space
, and we thought it may help each one in understanding
how light works
, where to place the light fittings in a home/office,
what is the difference between the direct and the indirect lighting
, and
how does the light influence everything
!
The main purpose of light is to
brighten up a room
. An important factor to consider however is
how the eye is affected
. But of course there is another function we may not forget:
the room should be illuminated appropriately depending on which mood we're trying to achieve
. Lighting is partly responsible as to whether a room is inviting, cool or unpleasant. The recent advances in the
lighting design
offer uncountable possibilities and ideas to achieve a balance, which invite comfortable living, however, a good planning is essential.
Different living areas allow multiple illumination choices –
spot lights
,
wall lighting
,
uplighters
,
halogen tracks
,
table and floor lamps
and the list goes on. An important requisite are
the sufficient power points
, so that whether you're building or refurbishing, you would make sure
your lights can be powered in the right places
.
Good basic illumination, through a switch right at the door, is the first step towards achieving the right balance. Then you move on to mood building, through illuminating different objects such as paintings, sculptures or reading areas, work and communication spaces, which all require optimized lighting. Various levels of brightness underline the atmosphere in a room and provide the ultimate step to the ideal lighting balance.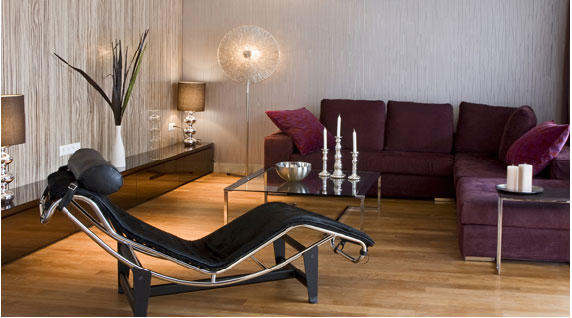 Eyes are able to take in direct and indirect lighting.
Direct lighting
, such as the warmth of a lit candle, usually releases a comforting sensation. However because direct light is mostly unshielded -
an indirect approach to lighting is preferential and more beneficial to the eyes
. This type of light is reflected through walls and ceilings. Again there are various methods of indirect illumination.
The light source could be concealed
within a ceiling fresco or integrated behind a curtain blind or wall recess. However, in order to guarantee a wide lighting angle, the illumination source should be located at an adequate distance to the area to be illuminated. It is important to have the source above eye-level. Ceiling uplighters should not be mounted below 1,70 metres.
Please note: Small rooms with low ceilings require good planning before opting for uplighters, since their effect could be vastly diminished. To purchase any light fittings offering direct or indirect lighting, visit
the Lights section
on our website.