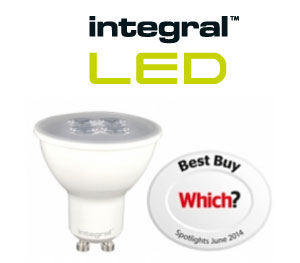 In June 2014 Integral LED was awarded by "Which?" with the "Best Buy for GU10 LED bulb" in the categories of durability, performance, and energy saving.
The tests they performed and the results they obtained can be found on their website, but one thing is certain: after a rigorous testing against many of the big name LED manufacturer brands, Which? has awarded the "Best Buy (Spotlights)" in June 2014 to the Integral LED made GU10 PAR16 5.3W 3000K non-dimmable LED lamp.
October 2022 update: this particular LED lamp has been discontinued and replaced by the more energy-saving and energy-efficient GU10 lamps on our website.
What we are talking about is a retrofit LED lamp which delivers a warm light and brightness, being the equivalent to a 50W halogen bulb (see the manufacturer announcement on their blog).
Also, this LED lamp features quad-high output Everlight LEDs, has an anti-glare refractor, and is finished in aluminium and plastic with a GU10 lamp cap and a thermally efficient body. Great for both commercial use and domestic applications.
This LED light bulb is a perfect replacement for the once-efficient but now energy-wasting and quite inefficient 50W halogen lamps, and this LED lamp can help you reduce your electricity bills by up to 85% instantly.
Think about it: you can save money every month on electricity with a fast payback of less than a year!
Technical specifications for this Awarded LED Lamp
Wattage: 5.3W (equivalent to 50W halogen lamp)
Dimming: non-dimmable LED lamp
Type: GU10 PAR16 LED light bulb
Light color: warm white 3000K
Anti-glare refractor, high quad output Everlight LEDs.
Lumens: 350 useful lumens (370lm nominal)
Lumens per watt: 69.8lm/W
Construction: plastic and aluminium heat-sink
Dimensions: 52mm length, 50mm diameter
Mains voltage LED lamp, 50Hz
IP rating: IP20 rated.
Energy rating: A+
More specifications and technical details together with more other pictures and videos for this awarded BEST LED Spotlight in 2014 can be found via our dedicated page for this GU10LS5W LED lamp at SparksDirect.co.uk.
Please note: this LED lamp has now been replaced by more energy-saving and energy-efficient LED lamps, all of which can be seen via GU10 LED Lamps.