One of the most common questions our customers ask us when it comes to light fittings is,
Can this lamp take LED lights?
and the next question immediately follows,
Can I dim this LED?
Using an LED lamp in a light fitting seems to not be enough - now we need to make sure we dim the LEDs!
The LED technology is in a continual development and improving, and there are better and higher output LED lamps in all the available lamp caps (including ES/E27, GU10, MR16, BC, etc) being put out at least once every two months. Many of the LED lamps are dimmable (though they are a bit more expensive than the non-dimmable ones), and here's where problems come in: what dimmer works with this LED lamp?
Not every LED dimmer works with every LED lamp, but there are some who are tested and recommended by most LED lighting manufacturers. Part of these are the Varilight V-Pro range (earlier introduced here, with the video for setting up and customizing the LED dimmer), and today we would like to introduce another LED dimmer module: the Hamilton Litestat LEDstat.
Intelligent LED Dimmer from Hamilton Litestat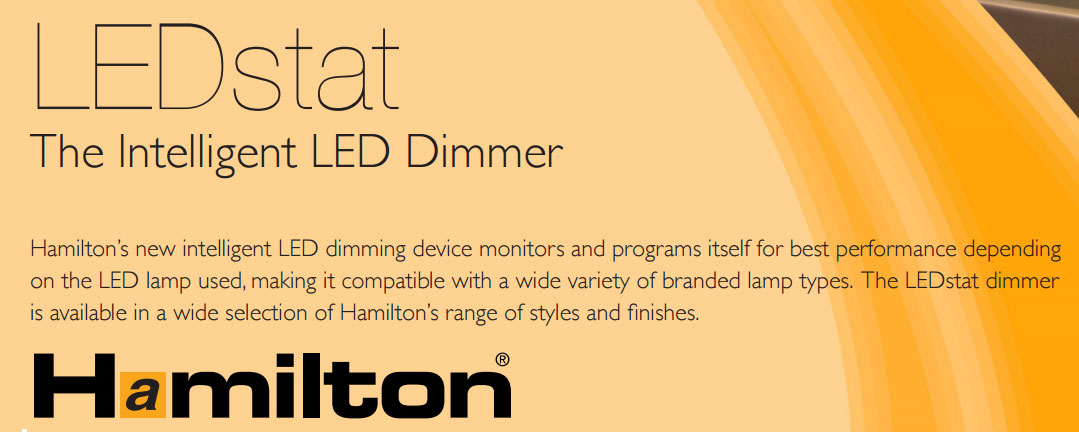 The LEDstat from Hamilton Litestat is a 5-100W electronic On/OFF auto detect intelligent LED dimmer module, a "Universal Grid LED Dimmer" that can easily replace the existing dimmer switch or regular switch. This LED dimmer resolves the compatibility issues between LEDs and dimmers - it is an intelligent LED dimming device which monitors and programmes itself for the best performance (depending on the LED light bulb used).
It is compatible with a wide variety of LED lamp types, and it has already made its mark while undergoing independent testing. Here is what some of testers had to say about the LEDstat from Hamilton,
"This new dimmer has been developed in response to a common industry problem of operational performance compatibility issues between the LED lamps used and a conventional dimmer. The last thing a contractor needs is to be called back to a recently installed job to resolve these, costing him both time and money! Our research and development process has ensured that LEDstat's design and performance delivery is second to none. We are confident that this is a truly revolutionary piece of technology – one we are proud to bring to market." (Ian Hamilton, managing director of Hamilton Litestat)
"This dimmer is truly the first product we have seen that provides constant results with all branded lamps tested." (Jeremy Turner, FAB Controls Ltd)
LEDstat from Hamilton - Resolving compatibility issues between LEDs and dimmers (via, The Electrical Portal)
"This new innovation by Hamilton has already made its mark while undergoing independent testing" (via, Connecting Industry)
"LEDstat delivers optimum dimming performance when the same brand of LED lamp is used" (via, Lighting News)
LED-STAT nominated for the awards in 2014 (via, Luckins Live)
LEDstat from Hamilton makes the finals of the Electrical Industry Awards in 2014! (via, Total Lighting Magazine)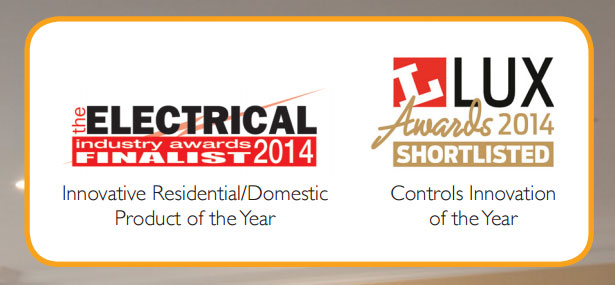 Ian Hamilton, LEDstat Interview
https://www.youtube.com/watch?v=w4z41tHz2-Q
What is so special about this LED dimmer? Here are some of its smart features:
This LED dimmer is "phase adaptive", which means that it thinks before it acts. It comes with an integrated sophisticated microprocessor which analyses the connected LEDs and tetermines the best dimming curve necessary to achieve a maximum performance. No need to set it up to obtain the best performance: the LED dimmer sets itself up! When this LED dimmer is installed and is first powered up, the LEDstat begins its analysis and emits a short series of audible beeps to confirm when the process is complete.
Similar size and design to a standard dimmer / switch module, allowing you to easily replace your existing dimmer with the highly performant LEDstat. It can be mounted onto the same wide choice of faceplate designs and finishes, and with the help of a little kit (which needs to be ordered separately, see GRIDKITW), you can safely fit this LED module into most Hamilton, MK, BG, Crabtree, Schneider, DETA, Hager, Wandsworth grid ranges.
Soft Start: the soft start of this LED dimmer extends the LED lamp life and comes with a min/max level setting, an auto manual dimmer model, a multiway dimming operation, and in 1-4 gang options.
Compatible with multiple kinds of light sources like incandescent lamps, mains halogen, mains dimmable LED lamps, dimmable LV electronic transformers, and dimmable LED lamps.
Intelligent LED dimmer module: besides being a "universal grid LED module", this LEDstat dimmer allows you to dim from 5-100W load of LED lights, and can work both with leading edge and with trailing edge LED lamps.
When replacing a LED lamp, don't worry about it: LEDstat will automatically determine the best dimming curve necessary to achieve maximum performance to suit the new brand mix. And what's best, you experience smooth dimming yet without any mains noise or acoustic noise when in operation!
Did we mention that this LED dimmer sells like "hot bread" in
our showroom
via the counter? You can also purchase the LEDstat dimmer module from Sparks
here
; watch the LED start up guide video via youtube below.
https://www.youtube.com/watch?v=sPfxHWiGeko