From time to time we like to let our visitors and customers know of our clearance lines, especially the LED light fittings that are both very popular and are on SALE at the moment.
Out of the hundreds of LED ceiling lights, wall lights, interior or exterior lights, etc we have selected the Top 3 LED ceiling fittings - light fittings from great manufacturers that can use LED lamps or fittings that include the LED lamp in them.
Latina Square Glass Ceiling Light takes LED Lamps

Manufactured by Astro Lighting and ideal for interior ceiling lighting, the Latina Square Glass fitting is a 9cm x 9cm recessed fitting with stunning features.
You can safely use an LED light bulb with this fitting, and as for the price, you can't get anything better than that: as low as £3 + VAT per fitting (if you buy over 10).
Great as a kitchen light, bathroom light (zone 3 only), office light, corridor light, etc. Search for it on our website for: 5506.

Illuma Shower Downlight in Chrome with Fire Protection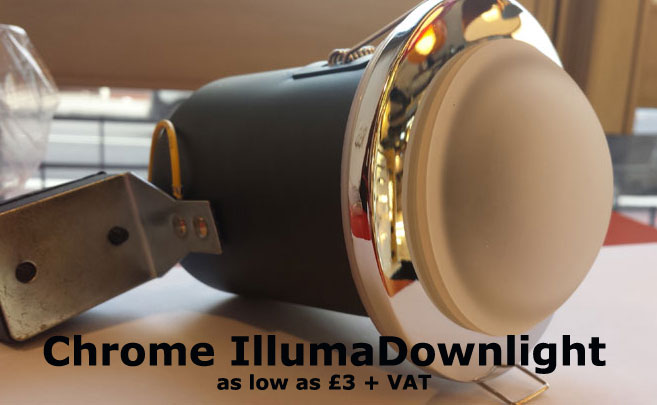 Coming with two interchangeable glass covers, this Illuma Fireseal downlight is fully IP65 rated (can be used in the shower) and fire rated (can be used in a fire rated ceiling, being tested up to 130 minutes).
It can use an LED light bulb and is fully dimmable as standard. Ideal for damp and humid environments such as kitchens, bathroom, showers, exterior soffits, etc. Search on our website for: DF1082CH.
Twin LED Adjustable Downlight on Rectangular Bar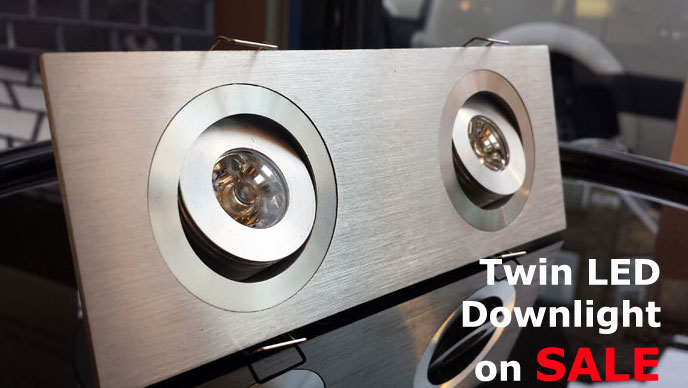 The Astro Lighting Nardo LED downlight is an adjustable fitting with two LED round spots (included) fitted on a brushed aluminium rectangular base.
Energy saving fitting (2 x 1W LED spots, cool white) for mounting anywhere in the office or at home, either by itself or in a group of LED downlights.
Can be purchased online - search for AX5590 on our website - or you can see it in our showroom in Archway, North London.
If you're re-thinking your lighting design at home or you're looking for a cheaper LED downlight, maybe even a fire-rated downlight that can take LED lamps, bookmark this article for further reference - and don't forget to share it with your friends!