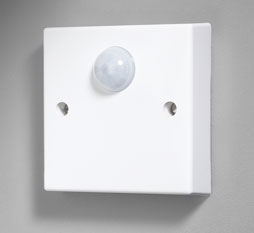 The PDS Presence Detection Switch
replaces a single gang light switch - it detects movement using a PIR sensor and turns the lights on/off. An internal light sensor is provided for additional energy saving. This
Presence Detector Switch
is a low cost, fast fit presence detector. A built in light level sensor can be set to keep lights off if there is sufficient natural light.
The PDS range of Presence Detector Switches do not require a neutral connection so that they can quickly replace an existing light switch. An optional override facility allows the following functions:
The lights can be turned off - for example during a presentation or at night in a bedroom;
The lights can be turned on even if there is sufficient natural light, and then automatically turn off when occupancy has ceased.
The
PDS-ABS/OV presence detector switch
functions as an absence detector. The lights do not turn on automatically, only when the override button is pressed, after which the lights will turn off automatically when occupancy has ceased. The detector should be
sited
so that the occupants of the room fall inside the detection pattern shown overleaf, at a recommended height of
1.2m to 1.5m
. Note that
the higher the sensor is installed the shorter the detection range will be
.
Key features & Benefits of this Presence Detector Switch
Low cost - Quick payback;
No neutral connection - You can use with existing wiring;
Shallow design - Will fit low profile BS switch boxes;
Integral light sensor - Keeps lights off if there is enough natural light;
Adjustable 1 hour timing - User comfort;
With or without override - This switch allows user control;
Multi-way switching - 1 way 2 way or intermediate switching;
Relay output - Capable of switching up to 5A of fluorescent lighting;
Detection pattern - Up to 9 metre coverage.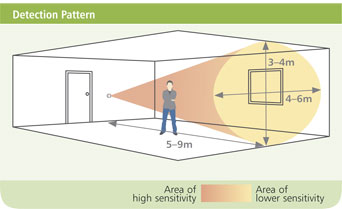 Note:
This device should be installed by a qualified electrician in accordance with the latest edition of the IEE wiring regulations
To find this PDS PIR Wall Mounted Presence detector Switch and more other - visit the Occupancy Detectors and Switches (via the Energy management solutions).