With the continual technological advancement in the LED lighting industry sometimes it is hard to keep the step with what's the most current one.
But have no fear, we at Sparks Electrical Wholesalers have a lot of hands-on experience both with physical customers and online with our e-commerce site, and we can offer you the advice you need for an educated choice for your lighting.
Specifically, today we will present six features of the ELAN COB LED downlights that set them apart, making them Top of the Range and the Best LED Downlights out there at this point in time. Hear us out and then let us know what do you think.
1. 10W LED Downlights - Energy Saving
This ELD Lighting made ELAN range of fixed downlights uses
the latest in the LED lighting
, with a very high lumen light output (580lm) and with a 40 degree beam angle.
Energy saving Chip-On-Board with remote driver for improved performance and heat management. Top of the notch LED downlights.
2. Fully Dimmable LED lights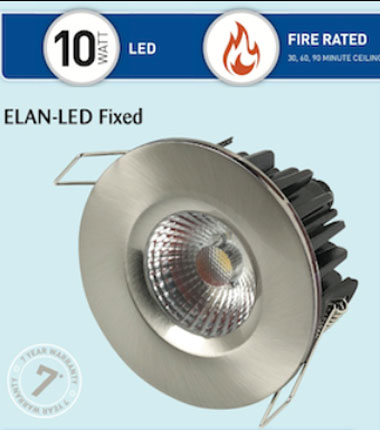 As if the LED lights are not energy saving enough, the ELAN LED fixed downlights are also
fully dimmable
with all types of switch.
Fully dimmable means that they can go all the way from the full brightness to the "complete darkness" as needed. This kind of technology is not incorporated in most other LED lights (which are max. 30% dimmable).
3. Fire Rated Fittings
In order to comply with the latest
Building Regulations
, the ELAN LED downlights are fire protected up to 30, 60, and 90 minutes.
This means that when you purchase these fittings you can count on them to withstand fire for 30, 60, and even 90 minutes.
Energy saving - check. Dimmable - check. Fire rated - check. Wait, there's even more!
4. Fully IP65 Rated Lights
The
IP rating
allows or hinders you from using a certain light fitting in the bathroom or even in the shower.
The 10W ELAN LED fixed downlights are fully IP65 rated, which allows them to be used as ceiling recessed lights in the bathroom and even in the shower.
They are fully protected against dust, particles, and even the splash of water.
5. Chips-On-Board LED technology
Read more about what COB technology implies here, but in simple terms, it means that it is a LED lamp that looks like a dichroic lamp, allowing you at the same time to dim the light to virtually 0%.
The latest COB reflector technology incorporated in the ELAN-LED fixed downlights delivers the look and feel of a halogen luminaire but with all the benefits of LED!
6. Price: Best Value for Money!
You would expect that such a fitting with so many great technologies and protections incorporated would cost as much as £50 + VAT, but you can't be more farther from the truth.
We didn't talk yet of the warm white / cool white options, the interchangeable finishes / bezels, the incorporated driver, the small size, etc.
But the price is more than affordable - the ELAN-LED fixed dimmable downlights are available at SparksDirect at the Best Value for Money! Check out their prices online - they are continually dropping!